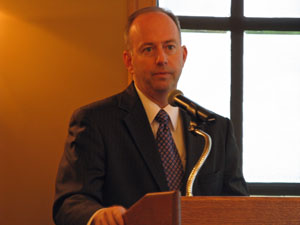 George Lemieux
Former US Senator George LeMieux anchored our March lunch with his insights on the economy – nationally, in the state, and locally in Palm Beach County.
With charts that show our current economy in the worst recovery in 100 years, and the expectation of another six years to return to 2000 levels of family income, the state of our national economy is not strong. In Florida, results are mixed. We have the highest foreclosure rate (1 in 300) of any state, but there is an optimistic story on job growth. Traditional sectors like tourism and agriculture are being augmented by biotech research and manufacturing. In the county for example, we have Scripps and Max Planck, but also the production of military helocopters, and a port that can take advantage of our location on the trade routes to and from Central and South America. Our low tax environment and pleasant climate should give us an advantage over other states.
Nationally, he sees a big problem in the size of the debt. With historical low interest rates, the $200B interest on the federal debt is the fourth largest category of spending – after only the military, Medicare and Medicaid. When rates rise, and if we continue borrowing another trillion each year, it could soon reach $1T in interest and overwhelm everything else.
On a more optimistic note he gave some examples of future opportunities for Florida, including the possibility of "destination health care" where we could be the go-to place for high end health care (presumably competing with Costa Rica).
He mentioned that his new endeavor with Palm Beach Atlantic – the LeMieux Center for Public Policy is starting their lecture series this month on Thursday March 21 with former Presidential Advisor and Harvard School of Government Professor David Gergen.
Also at the meeting were Congressional candidates Alan Schlesinger for CD18 (Patrick Murphy) and Ilya Katz for CD23 (Debbie Wasserman Schultz).
FEATURED SPEAKER: Former Senator George LeMieux
Native south Floridian and a life-long republican, George LeMieux was a candidate for the Florida House of Representatives, and served as Chairman of the Republican Party of Broward County. He was in the office of the Florida Attorney General and Chief of Staff to the Governor. As an accomplished attorney, he has argued before the United States Supreme Court. He served as United States Senator from Florida (2009 -2010); and, ran as candidate in the Republican Primary seeking the U.S. Senate seat held by Democrat Bill Nelson. He is a strong voice for pro-growth tax reform, an ardent supporter of increased fiscal responsibility in Washington, and a tremendous conservative leader for all Floridians.
Monday, March 18, 2013
11:30 am…Doors Open; Registration
11:45 am…Buffet Begins
12 pm to 1 pm…Program
Bear Lakes Country Club, 1901 Village Boulevard, WPB 33409 (Valet Parking)
Members/$20 Guests/$25
Pay at the door / Affirmative RSVP "no-show" will be invoiced.
RSVP by March 14 Please via email: info@gopclubpb.org or phone: (561) 832-0695 (leave message)
Join/Renew your membership through December 2013
Please respect Bear Lakes Club Rules: Cell Phones Silenced / Business Casual Attire (No Jeans Please)
**NOTE** Apply Now for the 2013 Anne Roberts Memorial Scholarship.
The Republican Club of the Palm Beaches' Scholarship was named after a long-standing and active member of our Club, Anne Roberts.
The 2009 recipient, Nicole Vega, from Berean Christian High School, aspired to be a civil engineer. After much mentoring by several Club members, Nicole has changed her studies to major in Communications with a minor in Political Science at Palm Beach State College.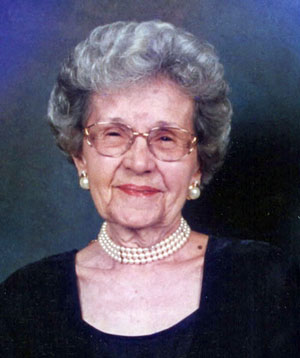 Anne Roberts
In 2010, one scholarship was awarded to Cindy Morris, mother of 5, in her final year with 3.7 GPA at Palm Beach Atlantic College School of Education with endorsements in special education and English and a second language.
The second 2010 scholarship was awarded to James Shackelford, majoring in accounting at Florida Atlantic University. With his passion for politics, he is active in student government and volunteered for Allen West and Marco Rubio campaigns. After receiving his masters in Finance, James plans to attend law school.
In 2011, there were four scholarships awarded. John Clark attending Florida State University, Jason Ferrara attending University of Alabama, Shirley Schaff attending Northwood University and Kimberly Twoey attending Palm Beach Atlantic University.
In 2012, there were 5 scholarships awarded: James Schackelford in his 3rd year at Florida Atlantic University and Daniel Kozell entering Florida State University. We continued to follow John Clark, Jason Ferrara and Shirley Schaff.
The Anne Roberts Memorial Scholarship is available to any Republican undergraduate or graduate student seeking to further their education. Students must have a GPA of 3.0 or above and plan to attend an accredited college. Applicants must be Palm Beach County residents and registered (or pre-registered under 18 yrs. of age) Republicans. Current members may refer applicants for this scholarship. The deadline for this application is April 30.The winner will receive $500 to be sent to the school they will attend. Award will be presented at the monthly luncheon May 22, 2013.