NOTE: This event is SOLD OUT
The Republican Club of the Palm Beaches
and
The Republican Club of the Northern Palm Beaches
Invite You to Attend their joint meeting
on Wednesday May 28
featuring:
Adam Putnam
Florida Agriculture Commissioner and former Congressman
Adam Putnam is one of the Republican Party's brightest stars with an equally bright future.  He is going to speak with us about the state of our State, our optimistic future under Republican leadership, and the way that we Republicans can work hard to earn a victory this coming election season.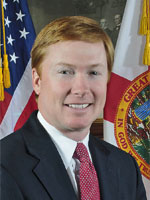 As Florida's Commissioner of Agriculture, Adam Putnam serves in Governor Scott's Cabinet and oversees one of Florida's largest and most important industries – agriculture. His priorities include fostering the growth and diversification of Florida agriculture as a means of creating jobs and growing Florida's economy.
Prior to his current position, Commissioner Putnam served five terms as Congressman for Florida's 12th Congressional District; and before that he served as a member of Florida's House of Representatives. He has been recognized as a leader on a variety of issues, including water, energy, and government transparency and efficiency. Commissioner Putnam has been acknowledged for his efforts to bring comprehensive restoration to the Everglades, and modernize programs to ensure Florida agriculture remains a leader throughout the nation  He is a graduate of the University of Florida and holds a Bachelor of Science in Food Resource and Economics.
We are very fortunate to have one of our best and brightest elected leaders as our guest.  We hope you will join us.
Make sure you submit your RSVP in advance by clicking on our link below

or by emailing info@gopclubpb.org, or by calling 561-855-0749.
  Please respect Club rules: Cell Phones Silenced, Business Casual Attire, Please No Jeans
Republican Club of the Palm Beaches
PO Box 2585
West Palm Beach, FL 33402
(561) 855-0749
The Republican Club of the Palm Beaches
Invites You to Attend its meeting
on Wednesday April 23
featuring:
Dr. Larry Kawa
We are excited to announce that our speaker on April 23 is going to be Dr. Larry Kawa, who founded and operates a successful orthodontics and oral surgery practice in Boca Raton. Dr. Kawa has taken on the Obama administration by filing suit against the federal government arguing that the decision to defer the implementation of the "employer mandate" is unconstitutional. He has been a frequent speaker on the issue of Obamacare.
In addition he has worked on outreach efforts to the black community on economics and fiscal conservatism and serves on the Board of the Black Republican Council of South Florida. As a conservative political activist he has served as the President of the Palm Beach County Chairman's Council, Florida Regional Chairman of Physicians and Dentists for Mitt Romney, and Finance Chair for Adam Hasner. He also the founder of American Courage, a conservative Political Action Committee.
In addition to his professional and political activities, he is also heavily involved in volunteer activities. He is closely involved with the Boy Scouts, the Girl Scouts, the Haven (a home for abused and neglected children), Bartons Boosters (program of underprivileged children), and the National Children's Dental Health month project. He has served as the official team orthodontist for the Florida Panthers since 1997
His philanthropic activities include serving on the board of Propel, helping underprivileged children, and being a sponsor for Operation Cash for Candy for the United States Marine Corps and Operation Hire Our Heroes.
Dr. Kawa has been a frequent and entertaining speaker so we look forward to having him at our club. Be sure to join us for what will be a very interesting presentation by Dr. Kawa. We hope you will be able to join us.
Pay at the door (RSVP "No Shows" will be invoiced.)
Make sure you submit your RSVP in advance by clicking on our link below:

Please respect Club rules: Cell Phones Silenced, Business Casual Attire, Please No Jeans
Republican Club of the Palm Beaches
PO Box 2585
West Palm Beach, FL 33402
(561) 855-0749