Several months ago, during the heat of the primary election, all the Republican candidates for the county's congressional districts were asked to attend our lunch this week, the day after the winner had been declared. We would congratulate the winners and commiserate with the losers, and all would have the chance to come together in unity to defeat the Democrats in the fall election.
The response was gratifying, as nine of the ten candidates for disticts 18, 20, and 22 attended, thanked their supporters, and said they would do their part to help defeat incumbents Patrick Murphy, Lois Frankel and Alcee Hastings. (Only Calvin Turnquest did not attend.)
From left: Paul Spain, Beverly Hires, Carl Domino, Fran Hancock, Alan Schlesinger, Nick Wukoson, David Wagie. Not shown: Jay Bonner, Andrea McGee
Carl Domino prevailed in district 18, receiving 38% of the vote in the district (47% in Palm Beach County). The other candidates whose campaigns in general had targeted Carl as the front-runner, split the remaining vote among themselves, suggesting it would have been a different race with fewer candidates. Coming in second was Alan Schlesinger with 24%, followed by Beverly Hires, Brian Lara, Calvin Turnquest and Nick Wukoson. Carl gave us his thoughts on the November contest, listing All Aboard Florida (he is opposed, whereas his opponent was "for it before he was against it"), Obamacare (will vote to repeal, but what is really needed is a replacement), and immigration as top issues.
In district 20, Jay Bonner, who did not have a primary opponent, laid out his challenge – that the district is 4 to 1 Democrat and designed to elect a minority candidate. His approach will be to attract voters with a faith agenda, bringing his message to the churches where the conventional Democrat positions on social issues are not strongly supported.
And in district 22, which spans Palm Beach and Broward Counties, Paul Spain was the winner, bringing in 43% of the vote against Andrea McGee (35%) and David Wagie (23%). Paul is ready to take it to Lois Frankel with his message of fiscal responsibility, opposition to Obamacare, and support for Israel.
---
Starting in September, the club will be picking a night for phonebanking at the GOP Victory Center. Details will follow.
Also in September, we will have Florida CFO Jeff Atwater on Friday, September 26 (note the day change), and in October we will have a session on the November ballot questions (3 state, 2 county, some local), with pro and con speakers and discussion on the issues. Join us!
Some pictures from the event:
Join us on Friday, September 26, at Bear Lakes for Florida CFO and local favorite Jeff Atwater. Running for his second term, Jeff will update us on his campaign and what's happening in Tallahassee these days.
A fifth generation Floridian, Jeff Atwater was born in 1958 and lives in North Palm Beach. He has a BS in Finance and an MBA from the University of Florida and prior to starting a political career, has worked as a community banker for more than 25 years. He served on many local boards, including the NPB Chamber, United Way, the Boy Scouts and Roger Dean Stadium.
Elected to the North Palm Beach City Council in 1993, he served as Vice Mayor, then was elected to the Florida House in 2000, and the Senate in 2002, becoming Senate President from 2008-2010.
In 2010, in his first statewide race for Chief Financial Officer, he defeated Democrat Loranne Ausley with 57% of the vote.
As CFO he has opened the state's books to the public through a comprehensive website, including audits and vendor contracts in addition to detailed budget information. In other initiatives, he has pushed for insurance reform and prosecution of insurance fraud, particularly associated with PIP (Personal Injury Protection) claims for staged accidents.
---
Friday, September 26, 2014
Program Noon – 1PM, Buffet starts at 11:45AM
$20/Members $25/Guests
Pay at the door (RSVP "No Shows" will be invoiced.)
Make sure you submit your RSVP in advance by clicking on our link below:

Please respect Club rules: Cell Phones Silenced, Business Casual Attire, Please No Jeans
Republican Club of the Palm Beaches
PO Box 2585
West Palm Beach, FL 33402
(561) 855-0749
ATTEND our AUG 27th luncheon for our Kickoff to Victory on November 4th, and be the first to hear our Republican Congressional nominees bask in their victories in the primaries from the day before. All of the other candidates in CD's 18 and 22 have pledged to be there to show their support and solidarity.
Our candidates for CD 18 include: Carl Domino, Beverly Hires, Brian Lara, Alan Scheslinger, Calvin Turnquest, Nick Wukosen. For CD 22, our candidates include Andrea McGee, Paul Spain, and David Wagie. Jay Bonner, who is not opposed in the primary, will be speaking as the CD 20 nominee.
Find out how our primary winners plan for success in the November election and what our club members can do to help them.
Please RSVP by August 25. We hope to see you there.
---
Also …
With the upcoming primary election approaching on August 26, it is important for voters to get as much information as possible about the candidates. Our website for our Republican Club of the Palm Beaches has a very informative voters guide to help you get this information. Please share this link with your friends as well. Click here: "Vote 2014 PBC Voters Guide".
For your information, there are registered Republicans running for office in three School Board Districts: John Michael Hartman in District 3, Tom Sutterfield in District 4, and Joe Moore in District 6. Be sure to participate in the primary elections and please support Rick Scott and other Republican candidates in the general election.
---
Wednesday, August 27, 2014
Program Noon – 1PM, Buffet starts at 11:45AM
$20/Members $25/Guests
Pay at the door (RSVP "No Shows" will be invoiced.)
Make sure you submit your RSVP in advance by clicking on our link below:

Please respect Club rules: Cell Phones Silenced, Business Casual Attire, Please No Jeans
Republican Club of the Palm Beaches
PO Box 2585
West Palm Beach, FL 33402
(561) 855-0749
Every two years, during the summer of an election year, the county GOP hosts a "Jamboree" at the South County Civic Center. With a barbecue lunch under the pavillion roof, surrounded by covered booths hosted by candidates and political clubs, it is gathering place for the GOP faithful and those who seek to represent them at all levels of government.
This year was no different, although there are fewer contested races than in years past, and thus fewer candidates to strut their stuff. With the absence of a Senate race or close primary for Governor, the intensity was somewhat subdued, but the stakes are as high as ever, and those in attendance were asked to help get our candidates over the finish line.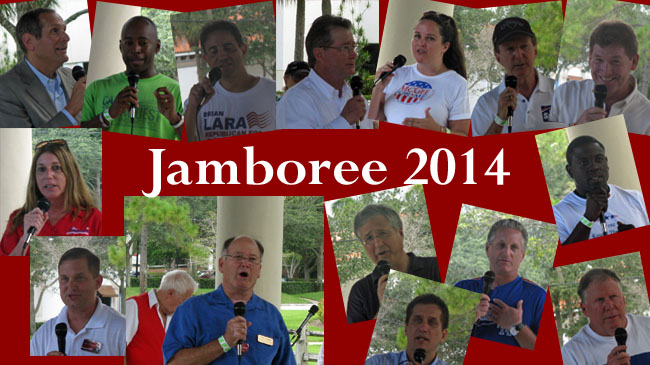 Clockwise from upper left: Alan Schlesinger, Calvin Turnquest, Brian Lara, Jay Bonner, Andrea McGee, Paul Spain, David Wagie, Kesnel Theus, Joseph Moore, Andrew Schaller, Thomas Sutterfield, Steven Abrams, MC Peter Feaman, Stuart Mears and Ellyn Bogdanoff.
With Committeman Peter Feaman as MC, the candidates made their pitch.
Three of the six Republicans seeking to challenge Patrick Murphy in CD18 were present, including Alan Schlesinger, Brian Lara, and Calvin Turnquest. And in CD22, all three of Lois Frankel's challengers – David Wagie, Paul Spain and Andrea McGee participated, as did our challenger for Alcee Hastings CD20, Jay Bonner. There is no Republican challnger against Ted Deutch in CD21.
At the state level we had Ellyn Bogdanoff, seeking a rematch with Maria Sachs in SS34. After the redistricting shuffle left two sitting Senators to go head to head in 2012 for a D+9 district, Sachs prevailed with 53% of the vote. With turnout expected to be less favorable to Democrats in this midterm, the rematch could have a different result. Stuart Mears, challenging Mark Pafford for House District 86 was with us as well.
None of the executive candidates (Governor, AG, CFO, Agriculture) were present.
At the county level, we heard from Steven Abrams, running for re-election as county commissioner in district 4, and Andy Schaller who is seeking the open seat in district 6 vacated by term limited Jess Santamaria, and school board candidates Joseph Moore, the district 6 challenger to incumbent Marcia Andrews, and Thomas Sutterfield for the open seat in district 4.   Kesnel Theus, who is running against Peyton McArthur for the open seat on the Port Commission joined us as well.