Join us on July 22 at Bear Lakes Country Club, for Senator George LeMieux, co-founder of the LeMieux Center for Public Policy at Palm Beach Atlantic University.
Senator Lemieux will discuss "The 2016 Presidential Race and Why it Matters".
Currently Chairman of the Board of the Gunster Law Firm, Senator LeMieux has broad experience in Washington and Tallahassee, having served as both as US Senator and chief of staff to former Governor Charlie Crist, chairman of the Governor Jeb Bush re-election campaign, and as a Broward county GOP Chairman. From politics to public policy, he will give us his perspective on the issues and events of the day.
Read Senator LeMieux's recent op-ed on U.S. Supreme Court overreaches in the Tampa Bay Times.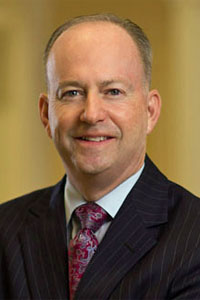 Wednesday, July 22, 2015
Program Noon – 1PM, Buffet starts at 11:45AM
Bear Lakes Country Club
1901 Village Blvd.
West Palm Beach, FL 33409
$20/Members $25/Guests
Pay at the door.
Make sure you submit your RSVP in advance by clicking on our link below:

  Please respect Club rules: Cell Phones Silenced, Business Casual Attire, Please No Jeans
Republican Club of the Palm Beaches
PO Box 2585
West Palm Beach, FL 33402
(561) 855-0749
---
George LeMieux focuses his practice on resolving business and governmental disputes, and advising CEOs and "C" level executives on business, law and politics from a state and national perspective.
He has advocated for clients before state and federal trial and appellate courts, as well as governmental agencies and regulatory bodies.
George served as Florida's 34th United States Senator in the 111th Congress. In the United States Senate, he served on the Commerce, Science and Transportation Committee, the Armed Services Committee, and the Special Committee on Aging. He successfully passed legislation on health care fraud, export promotion, rating agency reform, small business promotion, as well as a treaty resolution on tactical nuclear weapons.
George served as Florida's deputy attorney general overseeing more than 400 attorneys and appearing before appellate courts on behalf of the state of Florida, including the United States Supreme Court. George also served as the Governor's chief of staff overseeing all state agencies and operations. In that role, he negotiated a gaming compact with the Seminole Tribe of Florida.
George LeMieux serves as the chairman of the board of the Gunster law firm.
This year, the Republican Club of the Palm Beaches was happy to award the Anne Roberts Scholarships to five deserving scholars – two new awards and continuing support for three previous winners.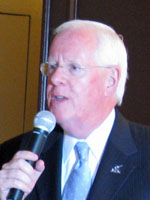 The awards were presented by William Fleming, President of Palm Beach Atlantic University. In his remarks, he highlighted the strengths and accomplishments of PBAU, most particularly its focus on the American Free Enterprise system. Unlike many peer institutions that are openly hostile to the ideas of the free market and capitalism in particular, President Fleming leads an organization that lives and breathes free enterprise, and instills in its students the importance of character, morality and public service.
PBAU is also a partner with former Senator George LeMieux in the LeMieux Center for Public Policy which is located on campus.
The new scholarship recipients are (Click on their name to read their winning essay):
Aaron grew up in Tampa but resides in West Palm Beach at Palm Beach Atlantic University where he is studying Political Science and History. In addition to being a scholar he excelled in music in high school where he was a Concert Master in the Honor Band and led the Marching Band. He is presently interning with the Republican Party of Palm Beach County, expecting to graduate in 2017. Following graduation, Aaron intends to use his leadership skills and education as an officer in the US Army after which he will again become involved in politics and public service.
Ryan graduated from Glades Day School, attended Palm Beach State, and is now enrolled at the University of Florida studying Political Science. He was a member of the Republican Executive Committee and led the Western Communities Caucus. He served in the campaigns of Governor Rick Scott and other campaigns for US Congress and City Commissions. Ryan will graduate in 2017. He may not be specific about his future but we see a great political and public service life.
Our returning scholars are:
Daniel Kozell
Daniel grew up in Palm Beach County, graduating from Jupiter High School. He is studying Mechanical Engineering at FSU. He interned at Simmons and White, Inc, Civil Engineering firm in West Palm Beach and was an undergraduate research assistant at Florida Center for Advanced Aero-Propulsion at FSU. He is presently Children's Ministry Coordinator for his church in Tallahassee, ministering to young adults with disabilities. He will graduate in 2017.
Dylan Brandenburg
Dylan grew up in North Palm Beach, graduated from SunCoast Community High School in Riviera Beach and is studying Computer Criminology at FSU. He also works part time at Florida's Division of Insurance fraud under the administration of CFO Jeff Atwater. Dylan should graduate in 2017.
Hanna Matry
Hanna graduated from PB State with an AA degree before her graduation from our local William t. Dwyer High School. She is in her final year at UF studying Aerospace and Mechanical Engineering. In addition to working through school and tutoring in math, she has worked with the Design and Manufacturing Lab at UF and the rocket team at UF. She is spending her summer at the Aircraft office of NASA's flight Facility in Wallops, VA as an engineering trainee, working on engineering modifications towards some of NASA's airborne science missions. Her dream is to become an astronaut or work in her field at NASA's Cape Canaveral facility after graduation.
Hanna was unable to be with us at the meeting, but her mother, JoAnna Matry, provided us with the following video:
---
Candidates present included former RCPB President Rick Kozell who has thrown his hat into the crowded ring for the Republican primary for Congressional District 18. Rick is the brother of Daniel Kozell, our scholarship winner.
Some photos from Delia:
Support the Republican Party and join us for our 14th annual lobsterfest hosted at Broken Sound Country Cub in Boca Raton. The event will begin with a cocktail reception, followed by dinner and a desert. Featuring Lieutenant Governor Carlos Lopez-Cantera,Congressman Ron Desantis, Congressman Jeff Miller and many more to come!
Please Join us for the awarding of the 2015 Annual Anne Roberts Scholarships and celebrate the day with our young scholars.
Presenting the awards for the club will be our featured speaker, Palm Beach Atlantic University President William Fleming.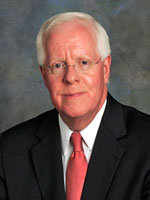 Wednesday, June 24, 2015
Program Noon – 1PM, Buffet starts at 11:45AM
Bear Lakes Country Club
1901 Village Blvd.
West Palm Beach, FL 33409$20/Members $25/Guests
Pay at the door (RSVP "No Shows" will be invoiced.)
Make sure you submit your RSVP in advance by clicking on our link below:

  Please respect Club rules: Cell Phones Silenced, Business Casual Attire, Please No Jeans
Republican Club of the Palm Beaches
PO Box 2585
West Palm Beach, FL 33402
(561) 855-0749
---
William M. B. Fleming, Jr. was elected 8th president of Palm Beach Atlantic University on May 7, 2012, after serving as interim president for the previous 14 months. Up to that time, he served Palm Beach Atlantic as vice president for development, joining the University in 1992.
Under President Fleming's leadership the University has gained significant momentum as illustrated by ratings as a "best" choice in U.S. News & World Report and The Princeton Review, and inclusion in the President's Higher Education Community Service Honor Roll. In the fall of 2013, the University brought in a record class while maintaining strong academic standards.
Further, the University has established four Centers of Excellence; was chosen as a model for community engagement by the NCAA Division II; and increased its local economic impact to $326 million in 2013. In addition, the Rinker Athletic Campus officially opened on Sept. 4, 2014. President Fleming has been instrumental in raising more than $142 million for Palm Beach Atlantic during his tenure as vice president for development and president.
Prior to coming to Palm Beach Atlantic, Fleming served in several administrative roles at Wingate University and Guilford College, both in North Carolina. He received his Bachelor of Science degree in political science from Guilford. Judson University in Illinois presented him with an honorary doctorate degree. He lives in Wellington, Fla. with his wife, Pam. They are members of St. Peter's United Methodist Church and parents of two sons.