PBAU President William Fleming Presents 2015 Anne Roberts Scholarships
---
This year, the Republican Club of the Palm Beaches was happy to award the Anne Roberts Scholarships to five deserving scholars – two new awards and continuing support for three previous winners.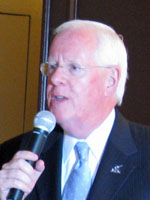 The awards were presented by William Fleming, President of Palm Beach Atlantic University. In his remarks, he highlighted the strengths and accomplishments of PBAU, most particularly its focus on the American Free Enterprise system. Unlike many peer institutions that are openly hostile to the ideas of the free market and capitalism in particular, President Fleming leads an organization that lives and breathes free enterprise, and instills in its students the importance of character, morality and public service.
PBAU is also a partner with former Senator George LeMieux in the LeMieux Center for Public Policy which is located on campus.
The new scholarship recipients are (Click on their name to read their winning essay):
Aaron grew up in Tampa but resides in West Palm Beach at Palm Beach Atlantic University where he is studying Political Science and History. In addition to being a scholar he excelled in music in high school where he was a Concert Master in the Honor Band and led the Marching Band. He is presently interning with the Republican Party of Palm Beach County, expecting to graduate in 2017. Following graduation, Aaron intends to use his leadership skills and education as an officer in the US Army after which he will again become involved in politics and public service.
Ryan graduated from Glades Day School, attended Palm Beach State, and is now enrolled at the University of Florida studying Political Science. He was a member of the Republican Executive Committee and led the Western Communities Caucus. He served in the campaigns of Governor Rick Scott and other campaigns for US Congress and City Commissions. Ryan will graduate in 2017. He may not be specific about his future but we see a great political and public service life.
Our returning scholars are:
Daniel Kozell
Daniel grew up in Palm Beach County, graduating from Jupiter High School. He is studying Mechanical Engineering at FSU. He interned at Simmons and White, Inc, Civil Engineering firm in West Palm Beach and was an undergraduate research assistant at Florida Center for Advanced Aero-Propulsion at FSU. He is presently Children's Ministry Coordinator for his church in Tallahassee, ministering to young adults with disabilities. He will graduate in 2017.
Dylan Brandenburg
Dylan grew up in North Palm Beach, graduated from SunCoast Community High School in Riviera Beach and is studying Computer Criminology at FSU. He also works part time at Florida's Division of Insurance fraud under the administration of CFO Jeff Atwater. Dylan should graduate in 2017.
Hanna Matry
Hanna graduated from PB State with an AA degree before her graduation from our local William t. Dwyer High School. She is in her final year at UF studying Aerospace and Mechanical Engineering. In addition to working through school and tutoring in math, she has worked with the Design and Manufacturing Lab at UF and the rocket team at UF. She is spending her summer at the Aircraft office of NASA's flight Facility in Wallops, VA as an engineering trainee, working on engineering modifications towards some of NASA's airborne science missions. Her dream is to become an astronaut or work in her field at NASA's Cape Canaveral facility after graduation.
Hanna was unable to be with us at the meeting, but her mother, JoAnna Matry, provided us with the following video:
---
Candidates present included former RCPB President Rick Kozell who has thrown his hat into the crowded ring for the Republican primary for Congressional District 18. Rick is the brother of Daniel Kozell, our scholarship winner.
Some photos from Delia: