Senator George LeMieux for July Lunch
---
Join us on July 22 at Bear Lakes Country Club, for Senator George LeMieux, co-founder of the LeMieux Center for Public Policy at Palm Beach Atlantic University.
Senator Lemieux will discuss "The 2016 Presidential Race and Why it Matters".
Currently Chairman of the Board of the Gunster Law Firm, Senator LeMieux has broad experience in Washington and Tallahassee, having served as both as US Senator and chief of staff to former Governor Charlie Crist, chairman of the Governor Jeb Bush re-election campaign, and as a Broward county GOP Chairman. From politics to public policy, he will give us his perspective on the issues and events of the day.
Read Senator LeMieux's recent op-ed on U.S. Supreme Court overreaches in the Tampa Bay Times.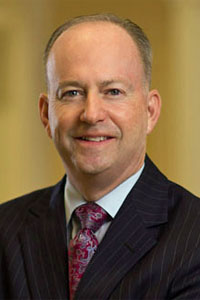 Wednesday, July 22, 2015
Program Noon – 1PM, Buffet starts at 11:45AM
Bear Lakes Country Club
1901 Village Blvd.
West Palm Beach, FL 33409
$20/Members $25/Guests
Pay at the door.
Make sure you submit your RSVP in advance by clicking on our link below:

  Please respect Club rules: Cell Phones Silenced, Business Casual Attire, Please No Jeans
Republican Club of the Palm Beaches
PO Box 2585
West Palm Beach, FL 33402
(561) 855-0749
---
George LeMieux focuses his practice on resolving business and governmental disputes, and advising CEOs and "C" level executives on business, law and politics from a state and national perspective.
He has advocated for clients before state and federal trial and appellate courts, as well as governmental agencies and regulatory bodies.
George served as Florida's 34th United States Senator in the 111th Congress. In the United States Senate, he served on the Commerce, Science and Transportation Committee, the Armed Services Committee, and the Special Committee on Aging. He successfully passed legislation on health care fraud, export promotion, rating agency reform, small business promotion, as well as a treaty resolution on tactical nuclear weapons.
George served as Florida's deputy attorney general overseeing more than 400 attorneys and appearing before appellate courts on behalf of the state of Florida, including the United States Supreme Court. George also served as the Governor's chief of staff overseeing all state agencies and operations. In that role, he negotiated a gaming compact with the Seminole Tribe of Florida.
George LeMieux serves as the chairman of the board of the Gunster law firm.