November Meeting Features "A Tribute to our Troops and Veterans"
---
In November, we highlight our veterans and active duty military.
Join us at Bear Lakes on Wednesday, November 18 to hear Colonel Arthur DeRuve discuss the contributions that our military has made to the establishment and preservation of our great nation. Colonel DeRuve will refer to all who have worn the uniform of our country, from the Colonialists to our current Boots-on-the-Ground armed forces members. He will describe how the accomplishments of our greatest leaders throughout our history, in preserving our Republic, would not have been possible without the soldiers/sailors/marines/airmen & coastguardsmen who put themselves in harm's way for the United States of America.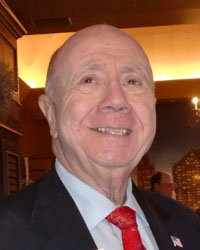 Colonel Arthur DeRuve
The meeting will also feature patriotic songs by members of Dimensional Harmony from Boynton Beach High School, who will also be featured at our December Christmas / Hanukkah Celebration.
Wednesday, November 18, 2015
Program Noon – 1PM, Buffet starts at 11:45AM
Bear Lakes Country Club
1901 Village Blvd.
West Palm Beach, FL 33409
$20/Members $25/Guests
Pay at the door.
Make sure you submit your RSVP in advance by clicking on our link below:

  Please respect Club rules: Cell Phones Silenced, Business Casual Attire, Please No Jeans
Republican Club of the Palm Beaches
PO Box 2585
West Palm Beach, FL 33402
(561) 855-0749
---
Colonel Arthur DeRuve was commissioned a second lieutenant through the college ROTC program. After serving two years with the 2nd Armored Division as a cold war soldier in Germany, he remained an additional 28 years in the Army's active reserve, including 11 years as a military liaison officer for West Point. He is a graduate of the Army's Artillery & Guided Missile School, the Command & General Staff College, and the Army War College.
In civilian life Colonel DeRuve served as the regional management officer of the "Office of Hearings & Appeals", the judicial arm of the Social Security Administration, for the states of New York and New Jersey and the Commonwealth of Puerto Rico. He holds a BS degree in political science from Fordham University and a Masters Degree in Public Administration from New York University.