2016 will be an active political year, with Presidential Primary and Municipal elections in March, county-wide non-partisan and primary elections in August, and the general election in November – "the most important election of your lifetime" as they say.
To help us make sense of it all, the club will host PBCGOP Chair Michael Barnett and Executive Director Ryan Hnatiuk in January.
Michael Barnett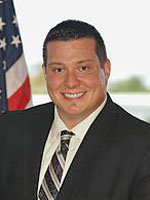 Ryan Hnatiuk
Please join us and be prepared to get active and involved for your favorite candidate(s) as the races heat up.
Wednesday, January 27, 2016
Program Noon – 1PM, Buffet starts at 11:45AM
Bear Lakes Country Club
1901 Village Blvd.
West Palm Beach, FL 33409
$20/Members $25/Guests
Pay at the door.
Make sure you submit your RSVP in advance by clicking on our link below:

  Please respect Club rules: Cell Phones Silenced, Business Casual Attire, Please No Jeans
Republican Club of the Palm Beaches
PO Box 2585
West Palm Beach, FL 33402
(561) 855-0749
---
Michael Barnett currently serves as Chairman of the Republican Party of Palm Beach County. He was born in Queens, New York but has lived in Boca Raton since 1987. He graduated from Boca Raton High School in 1995, the University of South Florida in 2004 with a BA in Political Science, and the University of Miami School of Law in 2007 with a JD degree. Michael has been practicing law since 2007.
Michael has been a life long conservative Republican. A grassroots activist since 1994, he was involved early on with the College Republicans, Young Republicans, and became an REC committeeman in August, 2010. He was elected Secretary of the Republican Party of Palm Beach County in December, 2010, Vice Chairman in December, 2012, and Chairman in December, 2014.
As Secretary and Vice Chairman, Michael helped start the Party's black and minority outreach program, with a heavy focus on the large local Haitian community. The Party's activities and successes in Palm Beach County have made news across the state.
Michael has been grassroots-oriented but has also been able to unite the local Party, earning unanimous support of Republicans across the entire spectrum. "Our job is to get Republicans elected but we must never ever sacrifice principles or values. I am a pro-life, pro-traditional marriage social and fiscal conservative. I believe the Party must stick to its principles while welcoming other groups who share our conservative values."
Michael is an active parishioner at Ascension Catholic Church in Boca Raton. He's a member of the Knights of Columbus, has been on political and missions trips to Haiti, and volunteers at The Soup Kitchen in Boynton Beach, Florida.
---
Ryan C. Hnatiuk has been appointed to the role of Political Director. He was born and raised outside of Flint, Michigan. He, and his wife of 13 years, have one son who is a very active toddler and is a full time job in his own right. Since coming to South Florida, Ryan has had the opportunity to work with various candidates, consultants and fundraisers primarily within Palm Beach County but has also consulted in the counties of Martin, Broward, and St. Lucie. He has worked in various sized campaigns from town council to congressional and county commission seats.
Ryan recently attained his master's degree from Nova Southeastern University in Conflict Resolution and is also a certified mediator. Prior to getting his master's degree he received his bachelor's degree in Political Science from the University of Michigan and a minor in International Relations with primary focus being on Latin American governments and their emerging markets. He is looking to use the skills he has attained to strengthen friendships, build lasting coalitions and open dialogue to attract new people to the Republican Party.
Our Christmas lunch was enhanced by the sweet tones of Dimensional Harmony from Boynton Beach High School and their leader Sterling Frederick.
The a cappella chorus did a range of traditional Christmas songs, including "Silent Night", "Silver Bells", "I'll be Home for Christmas", and "Santa Claus is Coming to Town", as well as this year's signature song "Somewhere Over the Rainbow".
The group is soon heading to London to perform by invitation at the London International Choral Festival starting December 29.
Present at the meeting was also Retired Riviera Beach Police Major Alex Freeman who is a candidate for Sheriff.
Mark your calendar's for next weeks meeting on January 27 which will feature PBCGOP Chair Michael Barnett and Political Director Ryan Hnatiuk.