Dr. Wes Borucki Presents the 2016 Anne Roberts Scholarships
---
Presenting our annual Anne Roberts Scholarships to 2 new recipients and two continuing students, PBAU Professor Wes Borucki gave us his thoughts on the Presidential election and its implications for the Supreme Court.
A Ted Cruz supporter who is now supporting our presumptive nominee Donald Trump, Wes talked about the need for party unity. Trump may be a "roll of the dice" he said, but that is much preferable to the certainty of a what a Clinton win would mean.
Hoping to avoid a court that legislates from the bench, we must avoid the kind of liberal judges Clinton would appoint, and the list that Donald Trump has published is very encouraging. Wes noted the disappointment we have had with some justices in the past, even those appointed by Republican Presidents, Roberts on Obamacare for instance. It was Hamilton, writing in the Federalist Papers who admonished the court to follow the constitution and not their personal views.
Regarding the electoral choices, Wes cautioned to beware the Libertarians – just look at how a Libertarian taking votes from Ken Cuccinelli installed Clinton Crony Terry Mcauliffe as Governor of Virginia. (Mcauliffe won by 2.5% with Libertarian Robert Sarvis taking 6.6% of the vote).
Quite frankly, major party realignments happen every 20 or so years. Perhaps it is time.
---
The 2016 Ann Roberts Scholarship winners are:
TWO NEW SCHOLARSHIPS: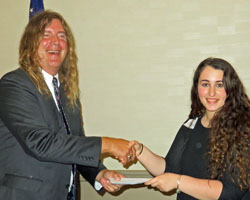 Lauren Staff (Palm Beach Gardens – New Scholarship)
Lauren graduated from Dwyer High School in 2015 and is presently at Gator Land, University of Florida in her sophomore year, majoring in telecommunications. She writes for the Independent Florida Alligator Newspaper and works for ESPN Gainesville Radio 95.3 researching sports statistics. She tells us that Law School is in her future.
Jenna Calderaio (Jupiter – New Scholarship)
Jenna graduated from Jupiter Community High School this year and is headed to Seminole Land, FLORIDA STATE UNIVERSITY,to major in business and entrepreneurship looking forward to a career in product development. She attended the Florida Sunshine Summit in Orlando witnessing 14 presidential candidates which supported her goal to be a strong conservative leader for the Republican Party on a local or national level. (Jenna could not attend the meeting.)
RETURNING SCHOLARS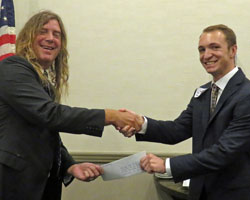 Dylan Brandenburg ( North Palm Beach – Returning Scholar)
Dylan will graduate in December this year from Florida State. As a major in criminology, is working this summer in our local State Attorney's office in the White Collar Crime and Public Corruption area. He has also worked in Tallahassee with the Police Benevolent Association as well as under our CFO Jeff Atwater in the Division of Insurance Fraud. Dylan received 'best witness" at this year's UF Charity Mock Trial Tournament representing FSU of course! After graduation, he hopes to go to Florida State's Law School.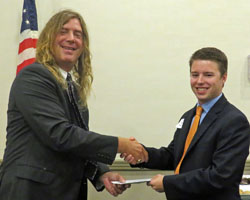 Ryan Walker (Palm Beach County / Glades – Returning Scholar)
Ryan is at the University of Florida ready to graduate next year in political science and international relations. He is very active in his fraternity, Alpha Gamma Rho, which is rooted in agriculture and philanthropy. He helped raise $28,000 for charities that help cancer patients. Ryan is also minoring in Agricultural and Natural Resource Law; he sees Law School in his future. Ryan is involved with Alachua Republicans, College Republicans and is volunteering with the State House for Chuck Clemons (R)
---
Candidates in attendance included
Christina Spain
(SOE),
Paul Spain
(CD21), and
Ron Berman
(FS30), along with surrogate Jim Watt for his son
Andrew Watt
(FH85).
Allen Schlesinger
, who ran for CD18 in the last cycle, said he is contemplating a run for FS30. The meeting was kicked off with a patriotic song from
Chris Noel
.