The Florida Legislative session has just ended, and at our May meeting Representative Rick Roth, Florida House District 85, gave our members a helpful report on the new bills and issues.
Roth served on five committees, including Commerce, Pre-K (Education) Quality, and Agriculture and Natural Resources Appropriations. He explained that it was in committees that bad legislation could be stopped much more easily than on the floor of the House. He learned to appreciate how House Speaker Richard Corcoran set a very good tone for the legislative work. He also learned that there are twelve ways to kill a bill, but of course only one way to pass it–approval by both houses and the governor.
Some of the legislation he promoted, that is now waiting for Governor Scott's signature, include revisions to the Certificate of Need required to build a medical facility (allowing a nursing home to add on a hospice–an increasing need in Florida); limiting funds for Enterprise Florida and Visit Florida bills, to add more transparency and accountability; passing a cap on the taxes for non-homesteaded property, and improving the Stand-Your-Ground immunity for self-defense.
Other legislation that was passed included more regulation of "sober homes," a controlled substances act relating to opiod use, and insurance and non-discrimination regulations that apply to companies such as Uber and Lyft. A bill concerning choice and accountability in education increased public school funding, providing bonuses for exceptional teachers and help for low-performing schools.
Laws relating to medical marijuana did not get passed. Rep. Roth thinks that issue and the budget may be dealt with again in special sessions. He had reminded us at the beginning of his talk that none of the bills that were passed have yet been signed by the governor. (We will have to see what happens to them in the next few weeks.) It was a privilege to have Representative Roth at our meeting, and to learn about what was happening in Tallahassee from someone who is aptly representing us there.
Please Join us on Wednesday, May 24, for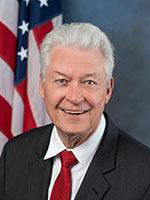 Rick Roth
Florida District 85 Representative
Rick will give us a synopsis of the recently concluded Legislative Session in Tallahassee:
$25/Members $30/Guests
Pay at the door.
Make sure you submit your RSVP in advance by clicking on our link below:

Please respect Club rules: Cell Phones Silenced, Business Casual Attire, Please No Jeans
Republican Club of the Palm Beaches
PO Box 2585
West Palm Beach, FL 33402
(561) 855-0749
---
Rick Roth, a 37 year Wellington resident, grew up in Belle Glade. He is the President of the 5000 acre Roth Farms east of Belle Glade, and has been producing vegetables and sugar cane there since 1976.
Although never holding a public prior to the 2016 election , Rick has been involved in politics for years, including fund-raising for former Governor Bob Martinez, and he has held a variety of leadership positions with the Florida Farm Bureau Federation and the Florida Fruit & Vegetable Association and is on the board of the Sugar Cane Growers Cooperative of Florida.