This year, we were able to fund five young scholars from the Anne Roberts Scholarship Fund – three past recipients who are continuing their studies and two new winners. Eligible applicants must be attending or plan to attend an accredited institution and have and maintain a 3.0 GPA. New applicants also submit a 500 word essay on the importance of a higher education.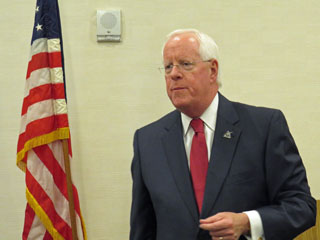 The awards were presented by William M. B. Fleming, President of Palm Beach Atlantic University. In his remarks, Mr. Fleming contrasted his institution with others which have been in the press lately with riots, shutdowns of conservative speakers and other challenges to diverse thoughts and opinions. PBAU is "not burning", he said, and there are no "safe speech zones" necessary.
Unlike those schools who feel it necessary to publicly pledge support for "discourse", at PBAU they embrace those things that make us an exceptional nation. In the "American Free Enterprise Statement" he passed out:
PBAU "confidently affirms the values and institutions that historically have informed American society – religious liberty; traditional Judeo-Christian morality; limited constitutional government; the Rule of Law; personal and political accountability'; and capitalism – the system of free enterprise. We believe that America is truly an exceptional nation, which was founded and has flourished under the guiding providential hand of God."
This year's new winners are: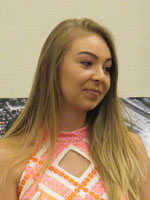 Madison Andrews, Palm Beach State University. Madison moved to West Palm Beach from Utah, and now attends Palm Beach State as a sophomore. She is involved in the PBS Art Alliance Club and Student Government Association. In high school she participated in Model United Nations and most recently, has worked with Junior Achievement of the Palm Beaches and Associated General Contractors of America. Her passion is education as the basis of making changes in our country. To quote Madison, "The trouble with learning from experience is that you never quite graduate." Her vision is to improve America's education system by ensuring that students learn the pillars of Junior Achievement: financial literacy, work readiness, and entrepreneurship.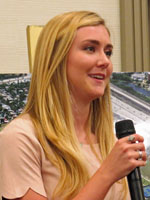 Jessica Blakely, Belmont University. Jessica, of North Palm Beach, returns to Belmont University in Nashville as a sophomore. While at Kings Academy in WPB, she was also enrolled at Palm Beach Atlantic University with courses in Public Speaking, Business and Algebra. She studied Spanish in Spain. Among her achievements, she was one of the winners of the PB POST Pathfinder Awards, a President of future Business Leaders, 2nd place winner at the PBA Entrepreneurship Challenge, and she created her own business "Make Up Doctor". At Belmont, she was elected Congresswoman in the Student Government and participated in Intramural Volleyball. Jessica has volunteered in Haiti Missions, Belle Glade Missions, and Puerto Rico Missions, through the Christ Fellowship Office. Jessica aspires to study for a Doctorate and to work as an economic analyst at the Federal Reserve.
Returning scholars this year are: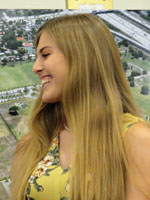 Jenna Calderaio – Florida State University. Jenna, from Jupiter and the last of 5 children, enters her Sophomore Year at FSU where she is majoring in Business and Entrepreneurship. She was politically active with the 2015 Sunshine Summit in Orlando, witnessing 14 Presidential candidate presentations. She participates in FSU's Republican's Club and is very involved in the Catholic Student Union. Jenna has been selected to work on Missionary Core for the union this upcoming year. She is very active in the pro-life movement, participating in the March for Life this past January. She has plans to join the skeet and trap club and hopes to join the FBI upon graduation. This summer, she has an internship at Congressman Brian Mast's office and another at Wall Financial Group.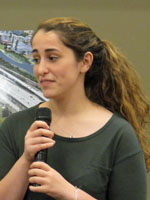 Lauren Staff – University of Florida. Lauren of Palm Beach Gardens, is entering her Junior Year at UF majoring in telecommunications. She is passionate about sports and aspires to work with ESPN or FOX Sports after she attends UF Law School. Lauren has been a staff writer for the "Florida Alligator" newspaper and also works with ESPN Gainesville radio 95.3. She has been active in Student Government, Honor Society, and Future Business Leaders and she participated in "Support our Troops" of North Palm Beach at Dwyer high school.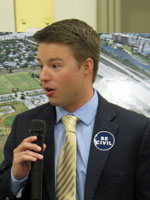 Ryan Walker – Stetson Law. Ryan, of Wellington, graduated this year from UF majoring in political science. During his career he has spent time with the campaigns of Rep. Bill Hager, Governor Rick Scott, and Candidate Chuck Clemons of Gainesville. As a REC member in PB County, he was Chair of Western Community Development and worked on the campaigns of Mayor Anne Gerwig of Wellington, and Candidate Howard Coates. He was very active at UF in the Alpha Gamma Rho fraternity. Ryan will be attending Stetson Law School this fall.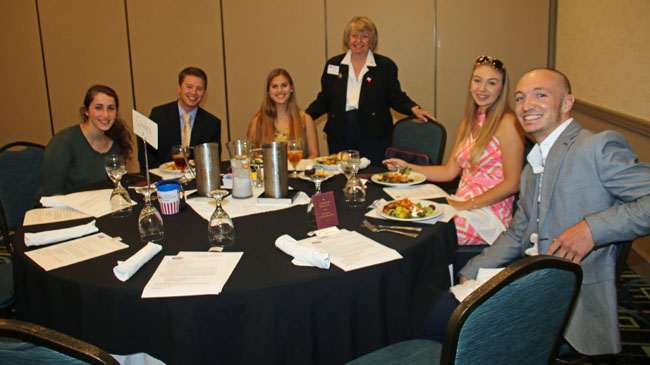 Winner's Table with Scholarship Chair Bette Anne Starkey. (Picture by Carol Porter).

Carol passed away on May 4 after a long illness. To sign the guest book or send flowers, please see: In Memory of CAROL LAPLACA
Please Join us on Wednesday, June 28, for the awarding of the 2017 Annual
Anne Roberts Scholarships
and celebrate the day with our young scholars.
Presenting the awards for the club will be our featured speaker, PBAU President William Fleming.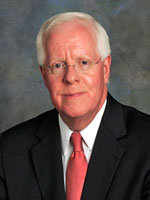 William Fleming
President
Palm Beach Atlantic University
$25/Members $30/Guests
Pay at the door.
Make sure you submit your RSVP in advance by clicking on our link below:

  Please respect Club rules: Cell Phones Silenced, Business Casual Attire, Please No Jeans
Republican Club of the Palm Beaches
PO Box 2585
West Palm Beach, FL 33402
(561) 855-0749
---
William M. B. Fleming, Jr. was elected 8th president of Palm Beach Atlantic University on May 7, 2012, after serving as interim president for the previous 14 months. Up to that time, he served Palm Beach Atlantic as vice president for development, joining the University in 1992.
Under President Fleming's leadership, the University has gained significant momentum as illustrated by ratings as a "best" choice in U.S. News & World Report and The Princeton Review, and inclusion in the President's Higher Education Community Service Honor Roll. During President Fleming's tenure, enrollment has grown from 3,668 (2011) to 3,764 (2016).
The University has established five Centers of Excellence; The LeMieux Center for Public Policy, The David and Leighan Rinker Center for Experiential Learning, The Gregory Center for Medical Missions and The Center for Integrative Science Learning and the Titus Center for Franchising.
PBA was chosen as a model for community engagement by the NCAA Division II; and increasedits local economic impact to $395 million in 2016. In addition, the 80-acre Rinker Athletic Campus opened on Sept. 4, 2014. President Fleming has been instrumental in raising more than $157 million for Palm Beach Atlantic during his tenure as vice president for development and president.
Prior to coming to Palm Beach Atlantic, Fleming served in several administrative roles at Wingate University and Guilford College, both in North Carolina. He received his Bachelor of Science degree in political science from Guilford. Judson University in Illinois presented him with an honorary doctorate degree.
Civic and Community engagements include:
St Mary's Medical Center Board Member
Forum Club of the Palm Beaches Board Member
2016-18 Chairman Independent Colleges and Universities of Florida (ICUF)
Past President of two Rotary Clubs; Member West Palm Beach Rotary Club
Paul Harris Fellow
He lives in Wellington, Florida with his wife, Pam.