Professor James Todd at September Meeting
---
The Supreme Court has an outsized influence on American life, and the lifetime appointment of justices means an ideological inbalance in the court can resonate for years. The President's replacement of Antonin Scalia with Neil Gorsuch maintains the balance for now, but future vacancies will be fraught with peril.
Our guest speaker in September is an expert in this area and did his dissertation on the evolution of Supreme Court power in America. A professor at PBAU with 10 years of experience as a practicing attorney, Professor James Todd will give us his insights on the current Supreme Court dynamics.
Please join us at the Airport Holiday Inn on Wednesday September 27.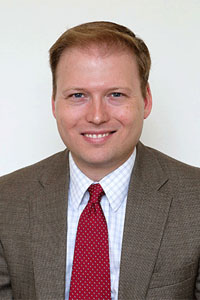 Professor James Todd
Assistant Professor of Politics
Politics and Pre-Law Department
Palm Beach Atlantic University
Wednesday, September 27, 2017
Program Noon – 1PM, Buffet starts at 11:30AM

Holiday Inn Hotel and Conference Center
Palm Beach Airport
1301 Belvedere Road
West Palm Beach, FL 33405
Phone: 561-659-3880
$25/Members $30/Guests
Pay at the door.
Make sure you submit your RSVP in advance by clicking on our link below:

  Please respect Club rules: Cell Phones Silenced, Business Casual Attire, Please No Jeans
Republican Club of the Palm Beaches
PO Box 2585
West Palm Beach, FL 33402
(561) 855-0749
---
Dr. Todd has a B.A. from Jacksonville State University, a J.D. from the University of Alabama School of Law, and a Ph.D. from the University of Alabama.
Dr. Todd joined the Palm Beach Atlantic faculty in 2015 and specializes in American governmental institutions and constitutional law. He serves as advisor to the pre-law students at PBA and directs the PBA Mock Trial team, and he teaches on the subjects of American government and politics, constitutional law, political science research methods, the Freedom in American Society core course, and courses in the humanities sequence.
His current research focuses on Supreme Court influence in American society. He has presented numerous conference papers on this topic, and his dissertation "Neither Sword Nor Purse: The Development of Supreme Court Influence over Lower Courts" traces the evolution of Supreme Court power in America. He regularly gives public talks about the Constitution and the Supreme Court in the West Palm Beach area.
Dr. Todd spent ten years in law practice, working in real estate law and as an in-house attorney in the oil and gas industry. He is a past member of the board of directors of the American Association of Professional Landmen, an oil and gas industry professional society.
In 2008, Dr. Todd won the Mont Pelerin Society's F.A. Hayek Essay Contest for his essay "Governments, Peoples, and their Uses of Technology" and received recognition for his award at the Society's meeting in Tokyo.
Outside of the classroom, Dr. Todd spends as much time as possible with his wife, Annie, their daughter, Elizabeth, and their two rescue dogs, Mr. Darcy and Buckley. He and his family attend Family Church in West Palm Beach.