Join us for Lobster Fest 2017. In addition to keynote speaker James O'Keefe, we will hear from Agriculture Commissioner and candidate for Governer Adam Putnam, Congressmen Brian Mast and Ron DeSantis, and State Senator Jack Latvala.
The Club has a table started at Headquarters under the name of Fran Hancock, so please call 561-686-1616 for reservations and say you are with the Republican Club of the Palm Beaches.
For more information, see lobsterfest.gop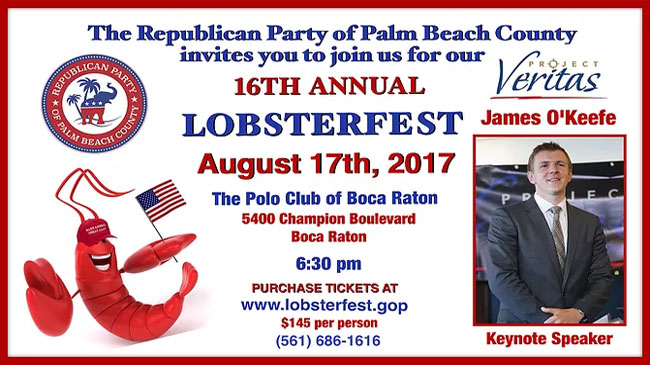 This year has been a busy one for the Palm Beach County Board of Commissioners. Approving plans for spending the sales tax windfall, dealing with the opioid crisis, sober homes, new development, the future of the Agricultural Reserve and passing bigger and bigger budgets have all been on their plate.
Join us at the Airport Holiday Inn on Wednesday August 23 to hear Commissioner Steven Abrams speak about these and other county issues.
---
Steven L. Abrams has been a member of the Palm Beach County Board of County Commissioners since 2009, winning re-election twice. He had the distinction of serving as the first mayor of Palm Beach County in 2013 and is currently the longest serving commissioner on the Board.
Commissioner Abrams has a lengthy record of public service. He is the former mayor of Boca Raton, elected in 2001 and re-elected in 2003 without opposition. In the 2005 election, Abrams received the most votes in city history and was later named mayor emeritus when he stepped down in 2008 due to term limits.
The Commissioner also served five terms as a city council member in Boca Raton from 1989 to 1999 and was a member of the city's Planning and Zoning Board between 1987 and 1989. Abrams is a past president of the Palm Beach County League of Cities and a founding board member of the Florida League of Mayors.
As mayor of Boca Raton, Abrams gained national exposure and local respect during the first bioterrorist attack in American history when anthrax was discovered at the AMI building in Boca Raton in 2001. He received the Distinguished Service Medal from the Israel National Police for his leadership during the ordeal and testified on national television on the government's response at the invitation of a United States Senate subcommittee.
Abrams is a member of the Florida and District of Columbia Bars. Prior to moving to Florida, he served in the White House as law clerk to the counsel to President Reagan and current Supreme Court Chief Justice John G. Roberts Jr.
While attending Harvard University, Abrams received the Philo Sherman Bennett Prize for the best government senior thesis and was graduated magna cum laude in 1980. He received his law degree from The George Washington University in 1985. In 2005, Everglades University awarded Abrams an honorary doctorate of humane letters.
Commissioner Abrams was born in Des Moines, Iowa and grew up in Philadelphia, Pennsylvania. He and Debbie have been married for 34 years and have two children.
Currently, Abrams serves as chairman of the South Florida Regional Transportation Authority and secretary of the Palm Beach County Solid Waste Authority. He also chairs the county's Broadband Committee, Intergovernmental Coordination Program, and the Value Adjustment Board.
In addition, he sits on the boards of the Florida Atlantic University College of Engineering Advisory Board, Metropolitan Planning Organization, National Association of Counties Transportation Policy Steering Committee, and the Kravis Center for the Performing Arts. He also serves on the Boca Raton Bowl Executive Committee.

Carol passed away on May 4 after a long illness. To sign the guest book or send flowers, please see: In Memory of CAROL LAPLACA
Presenting the awards for the club will be our featured speaker, PBAU President William Fleming.
---
William M. B. Fleming, Jr. was elected 8th president of Palm Beach Atlantic University on May 7, 2012, after serving as interim president for the previous 14 months. Up to that time, he served Palm Beach Atlantic as vice president for development, joining the University in 1992.
Under President Fleming's leadership, the University has gained significant momentum as illustrated by ratings as a "best" choice in U.S. News & World Report and The Princeton Review, and inclusion in the President's Higher Education Community Service Honor Roll. During President Fleming's tenure, enrollment has grown from 3,668 (2011) to 3,764 (2016).
The University has established five Centers of Excellence; The LeMieux Center for Public Policy, The David and Leighan Rinker Center for Experiential Learning, The Gregory Center for Medical Missions and The Center for Integrative Science Learning and the Titus Center for Franchising.
PBA was chosen as a model for community engagement by the NCAA Division II; and increasedits local economic impact to $395 million in 2016. In addition, the 80-acre Rinker Athletic Campus opened on Sept. 4, 2014. President Fleming has been instrumental in raising more than $157 million for Palm Beach Atlantic during his tenure as vice president for development and president.
Prior to coming to Palm Beach Atlantic, Fleming served in several administrative roles at Wingate University and Guilford College, both in North Carolina. He received his Bachelor of Science degree in political science from Guilford. Judson University in Illinois presented him with an honorary doctorate degree.
Civic and Community engagements include:
St Mary's Medical Center Board Member
Forum Club of the Palm Beaches Board Member
2016-18 Chairman Independent Colleges and Universities of Florida (ICUF)
Past President of two Rotary Clubs; Member West Palm Beach Rotary Club
Paul Harris Fellow
He lives in Wellington, Florida with his wife, Pam.
Please Join us on Wednesday, May 24, for
---
Rick Roth, a 37 year Wellington resident, grew up in Belle Glade. He is the President of the 5000 acre Roth Farms east of Belle Glade, and has been producing vegetables and sugar cane there since 1976.
Although never holding a public prior to the 2016 election , Rick has been involved in politics for years, including fund-raising for former Governor Bob Martinez, and he has held a variety of leadership positions with the Florida Farm Bureau Federation and the Florida Fruit & Vegetable Association and is on the board of the Sugar Cane Growers Cooperative of Florida.
Please Join us on Wednesday, April 26, for
---
Brian Mudd
is the WJNO Financial Analyst, co-host of the Palm Beaches' Morning Rush, on-air weekdays from 5AM to 9AM. Brian's career has included 19 years with iHeartMedia, including time as a fill-in host for Sean Hannity's national radio show. Brian, whose motto is "Passion plus talent is unstoppable", believes that many of our societal failures have resulted from a general willingness to distance ourselves from our founding values while embracing political correctness. He is actively involved in local events and has hosted many political forums at all levels in Palm Beach County.
The Republican Club of the Palm Beaches' Scholarship was named after a long-standing and active member of our Club, Anne Roberts.
The Anne Roberts Memorial Scholarship is available to any full or part time undergraduate or graduate student seeking to further their education. Students must have a GPA of 3.0 or above and plan to attend an accredited college. Applicants must be Palm Beach County residents and registered (or pre-registered under 18 yrs. of age) Republicans. Current members may refer applicants for this scholarship. The deadline for this application is June 2. The recipient will be eligible to receive up to $500 to be sent to the school they will attend. Award will be presented at the monthly luncheon June 28, 2017.
RCPB Scholarship application 2017
Previous Years Winners
---
In 2016, we added two new recipients to our program,
Lauren Staff
and
Jenna Calderaio
.
Lauren graduated from Dwyer High School in 2015 and is presently at Gator Land, University of Florida in her sophomore year, majoring in telecommunications. She writes for the Independent Florida Alligator Newspaper and works for ESPN Gainesville Radio 95.3 researching sports statistics. She tells us that Law School is in her future.
Jenna graduated from Jupiter Community High School this year and is headed to Seminole Land, FLORIDA STATE UNIVERSITY, to major in business and entrepreneurship looking forward to a career in product development. She attended the Florida Sunshine Summit in Orlando witnessing 14 presidential candidates which supported her goal to be a strong conservative leader for the Republican Party on a local or national level.
In 2015, our new winners were Aaron Mejias, who is studying Political Science and History at PBAU and Ryan Walker, a political science major at the University of Florida.
In 2014, our previous undergraduate recipients kept up their grades to receive additional scholarship: Dylan Brandenburg, John Clark, Jason Ferrara, and Daniel Kozell. Because of the generosity of our club members, we were able to add a fifth recipient, Hanna Matry, a junior at UF majoring in Aerospace/Mechanical Engineering and a member of the University's Rocket Team in the NASA Hybrid rocket competition.
2013 was an expansive year for our scholarship program, with 6 recipients. They went to Elizabeth Cayson, a county employee who is attending Walden University in Illinois remotely, and Danielle Madsen, who recently graduated from Palm Beach Atlantic and is working at a TV station. Three Florida State students received grants including John Clark (3rd year), Dylan Brandenburg (1st year) and Daniel Kozell (2nd year), and Jason Ferrara who is attending the University of Alabama received his third year scholarship.
In 2012, there were 5 scholarships awarded: James Schackelford in his 3rd year at Florida Atlantic University and Daniel Kozell entering Florida State University. We continued to follow John Clark, Jason Ferrara and Shirley Schaff.
In 2011, there were four scholarships awarded. John Clark attending Florida State University, Jason Ferrara attending University of Alabama, Shirley Schaff attending Northwood University and Kimberly Twoey attending Palm Beach Atlantic University.
In 2010, one scholarship was awarded to Cindy Morris, mother of 5, in her final year with 3.7 GPA at Palm Beach Atlantic College School of Education with endorsements in special education and English and a second language.
The second 2010 scholarship was awarded to James Shackelford, majoring in accounting at Florida Atlantic University. With his passion for politics, he is active in student government and volunteered for Allen West and Marco Rubio campaigns. After receiving his masters in Finance, James plans to attend law school.
The 2009 recipient, Nicole Vega, from Berean Christian High School, aspired to be a civil engineer. After much mentoring by several Club members, Nicole has changed her studies to major in Communications with a minor in Political Science at Palm Beach State College.
RCPB Scholarship application 2017