Show your support for Ron by attending this upcoming Meet & Greet. RSVP to Tom Plante, 561-236-8891.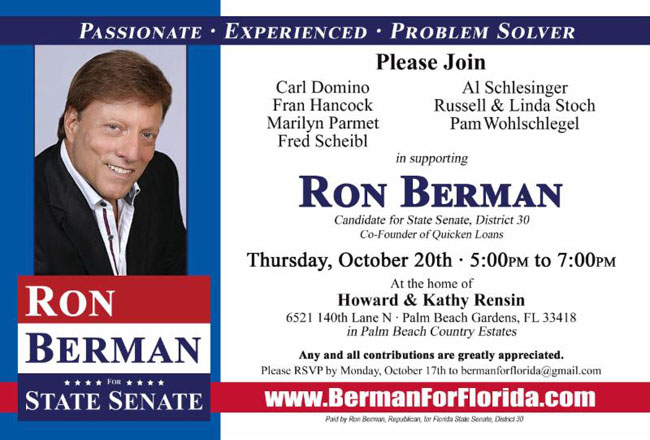 – Should the county raise the sales tax to 7%?
– Should marijuana be legalized for those with certain medical conditions?
– Should solar energy be enshrined in the Florida constitution?
All of these and more at the October lunch. We will have an overview of all the questions, with pro/con speakers on some of them, as well as a few words about the 9 judicial retention elections we are asked to decide and the local judge races.
After a brief description of the ballot questions and the implications of a "yes" or "no" vote on each from moderator Fred Scheibl, we will have a set of speakers present their arguments in favor or opposed to some of the issues.

Solar
Speaking in favor of Amendment 1 (Solar Energy) will be Cindy Tindell, Vice President of Mergers and Acquisitions at NextEra Energy, the parent company of Florida Power and Light. She has deep regulated utility experience having led Florida Power & Light utility's development and construction planning. Cindy is also the PBCGOP Committeewoman to the Republican Party of Florida and a member of this club.
Speaking against Amendment 1 will be Richard Pinsky, Public Policy Manager at Akerman, LLP. Richard has over 30 years of government affairs experience in Florida and Washington, D.C. He has an extensive background representing clients before the legislature as well as local government from helping to navigate the budget and appropriation process to issue advocacy. In the 1980s he was a campaign consultant to the RNC, the NRSC and the NRCC, and has served as general consultant to several statewide candidate campaigns and ballot initiatives.

Marijuana
Speaking in favor of Amendment 2 (Medical Marijuana) will be Raymer Maguire IV, Deputy Campaign Manager for People United for Medical Marijuana, a part of United for Care, the national organization that advocates for the issue in all the states. Raymer was a founding partner of Millenium Partners, LLC, advancing the millennial agenda by providing data focused consulting and project management, where he organized community leaders in South Florida to lobby on behalf of underprivileged students.
Speaking against Amendment 2 will be Virginia Brooks, a founder of the PBC Faith and Freedom Coalition. Virginia is active in local grassroots organizations, retired from being an associate professor of English at Palm Beach State College, and an interpreter for the deaf at her church. Virginia is also a member of this club.

Sales Tax
Speaking in favor of the county sales tax question will be Bill Perry, CEO of the Gunster Law Firm and incoming chairman of the PBC Economic Council which is campaigning for the tax increase. Bill practices real estate and business law, specializing in complex commercial and financial transactions. As a member of the Florida Chamber Foundation, he helped launch the Six Pillar Initiative and worked with the Economic Council to introduce it to Palm Beach County, resulting in a PBC strategic plan in 2013.
Speaking against the county sales tax will be Fred Scheibl, co-founder of the county budget watchdog PBC Taxpayer Action Board, which has been providing analysis of the county budget to its coalition partners since 2010, advocating for fiscal responsibility by county leaders. Fred is a founding member of the Palm Beach County Tea Party and a member of this club.
The first televised debate between Brian Mast and Randy Perkins has been RESCHEDULED for October 17th at Palm Beach State College. Tickets are free and open to the public, but you
must register ahead of time
and pick up the tickets ahead of time. I hope you can join us and show your support for Brian.
Tickets for the original date are still valid.
What
Congressional District 18 debate hosted by The Palm Beach North Chamber of Commerce
When
Wednesday October 17, 2016 from 6:00 PM to 8:00 PM EDT
5:30 p.m. Reception
6:00 p.m. Auditorium Doors Open
6:30 p.m. Auditorium Doors Close
(Due to the live broadcast, guests arriving after this time will not be allowed inside the auditorium)
7:00 p.m. Debate Begins
Where
Palm Beach State College Eissey Theatre
11051 Campus Drive
Palm Beach Gardens, FL 33410
The debate will air live on WPEC CBS12 from 7:00 p.m. to 8:00 p.m. in the West Palm Beach television market, which is comprised of households in Palm Beach, St. Lucie, Martin, Indian River, and Okeechobee Counties. It is the 38th largest television market in the nation including 825 thousand TV Households and more than 1.5 million Adults 18+.
Thank you,
Alex Melendez
Brian Mast for Congress
Cell: 727-692-3212
Please Join us on Wednesday, September 28, for
Peter will speak about getting everybody behind our Presidential candidate Donald Trump.
---
Peter Feaman was unanimously elected in 2012 by the Executive Committee of the Republican Party of Florida to be its National Committeeman to represent Florida Republicans at the Republican National Committee in Washington, DC. He currently sits on the Rules Committee of the RNC.
As a practicing trial attorney, Mr. Feaman was recognized by the Florida Trend magazine as one of Florida's "Elite Lawyers" in the field of business and commercial litigation in 2011.
In 2007, Mr. Feaman published his first book entitled "WAKE UP, AMERICA!" subtitled, "Understanding Jihad for Dummies!" His second book "THE NEXT NIGHTMARE" with a forward by former Congressman Allen West, was published in 2012. Mr. Feaman has appeared on Fox News and numerous radio talk shows throughout the United States to discuss the threat of radical Islam, current political issues and how political correctness will destroy America.
NOTE: For Tickets call Fran Hancock, 561-855-0749.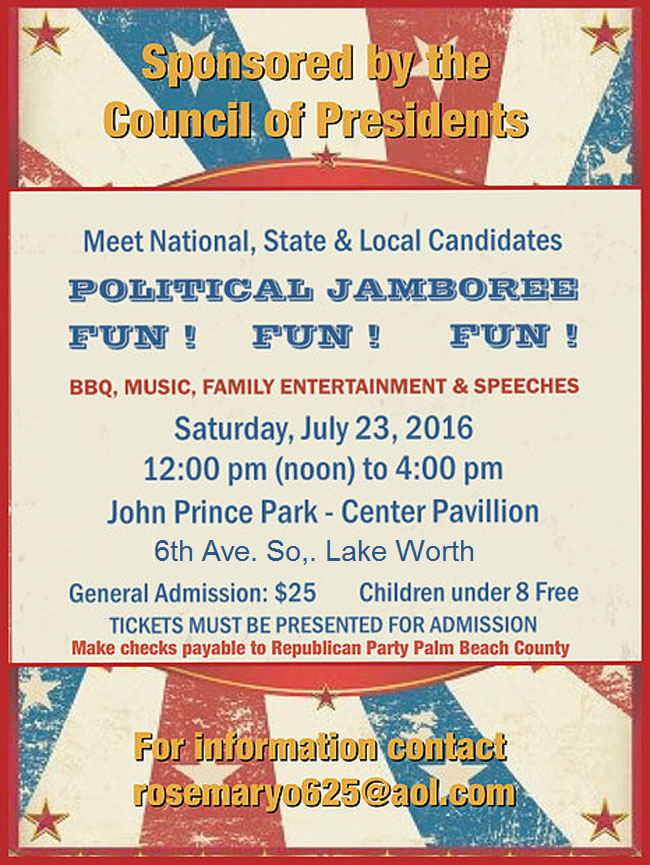 Christine will speak about the current operation of the PBC Supervisor of Elections Office and how we can do better.
---
Christine Spain is a former Chairman and Vice Chairman of the Broward Republican Party and served as Chair and Alternate Chair of the 23rd Congressional District Caucus of the State Executive Committee of the Republican Party of Florida.
Christine is an Attorney and a Certified Public Accountant in private practice in Boca Raton, concentrating in the areas of corporate law and business transactions. She has more than thirty years of experience in law, accounting and business, including 14 years working with national law and accounting firms in Miami-Dade, Broward and Palm Beach Counties.
Christine has also served on Boards of non-profit organizations serving the needs of children at risk and works with and supports veteran's organizations. Over the years, she has also been active in numerous political federal, state and local political campaigns and political causes and volunteered as an election pollwatcher. She is passionate about electoral integrity and preventing voter fraud.
Christine has resided in South Florida for more than 40 years and is a graduate of Florida universities, including the University of Miami School of Law, where she served on Law Review, Florida International University and University of Florida. She currently resides in Palm Beach Gardens with her husband Paul Spain, a candidate for U.S. House of Representatives, Congressional District 21.
Presenting the awards for the club will be our featured speaker, Dr. Wes Borucki.
Dr. Borucki will discuss the Supreme Court and its assumption of more power over time, how the stakes for the Court's nominations are so important in the coming election, and why we need to pay attention to these issues.
---
Dr. Borucki, who has taught at PBA since 2003, specializes in the antebellum South, the Civil War and Reconstruction, Colonial America, and presidential history. He teaches undergraduate history and humanities and also serves as a faculty member in the Frederick M. Supper Honors Program. Dr. Borucki's first book,
George H.W. Bush: In Defense of Principle
, was published in early 2011 by Nova Science Publishers as part of its First Men: America's Presidents series. His second book,
Ronald Reagan: Heroic Dreamer
, was published as part of the same series in 2014.
The history of sports is one of his side interests: his article "Moving on Up?: Whether Leaps to Division I-A in American College Football Benefit Universities" was published in June 2015 in The Journal of Sports Management and Commercialization; and in 2003, his article, "You're Dixie's Football Pride: American College Football and the Resurgence of Southern Nationalism," was published in the journal Identities: Global Studies in Culture and Power.
Dr. Borucki has written book reviews for The Journal of Southern History, The Register of the Kentucky Historical Society, and The Alabama Review. He had the honor of serving as both a junior fellow and senior fellow in The University of Alabama's Blount Undergraduate Initiative, in which he taught the freshman sequence of this interdisciplinary studies program that is similar to PBA's humanities core program in its subject matter. At Alabama, he served as editor-in-chief of the journal Southern Historian in 1998-1999. He is a contributor to Oxford University Press's Encyclopedia of African American History, Macmillan Press' multi-volume Civil Rights in the United States, and the Gale Group's Women in World History. His dissertation, "Yankees in King Cotton's Court: Northerners in Antebellum and Wartime Alabama," was the basis of presentations at the Families at War Conference at the University of Richmond, the Alabama Studies Symposium in Montgomery, and local historical group meetings for the Alabama Humanities Foundation's Speakers Bureau. Dr. Borucki is a long-standing member of the Lutheran Church-Missouri Synod and is currently the secretary of the vestry of Redeemer Lutheran Church in West Palm Beach. He served as a lay delegate to the Lutheran Church-Missouri Synod's convention in St. Louis in 1998 and to the LCMS's Florida-Georgia District Conventions in 2006 and 2015.
Dr. Borucki has a B.A from Michigan State, an M.A from the University of Massachusetts – Amherst, and a Ph.D. from the Univerity of Alabama.
United States Secret Service
Dan proudly joined the ranks of the U.S. Secret Service in 1999 as a Special Agent where he graduated the Secret Service training academy with academic honors. Beginning his career in the New York Field Office, he was assigned to investigate federal crimes including but not limited to protective intelligence, computer crimes, bank fraud, credit card fraud and counterfeiting. His early career was marked by a number of investigative successes. Although the details of his signature investigation are still for official use only, it involved over 300 million dollars in potential financial fraud and a nexus to international terrorism. This joint investigation in cooperation with the FBI, IRS, SSA and a number of local police agencies, was responsible for shutting down a major international fraud ring. The investigation earned Dan the Department of Justice recognition award, along with other agency specific awards, for excellence in investigations.
Dan left the New York Field Office in 2002 to become an instructor at the Secret Service Training Academy in Beltsville, Maryland. He was the project manager for the re-design of the investigative tactics training program which he subsequently taught to incoming trainees. Dan was awarded a number of commendations for his work in researching and re-designing the investigative curriculum to reflect current trends crime trends.
Presidential Protection Division
In 2006, Dan entered into duty on the elite Presidential Protection Division in the administration of President George W. Bush, graduating at the top of his class in the difficult detail training program. Dan distinguished himself early by becoming one of the earliest tenured Special Agents to be given responsibility for an operational section of the protective detail. Dan remained on protective duty during the change in administration to President Barack Obama and again distinguished himself by quickly becoming the highest ranking member of his operational shift of agents. With this distinction came greater responsibility and Dan quickly rose to the challenge. He was designated as the lead agent responsible for the coordination of the President's trip to Prague for the signing of the START treaty, his trip to Jakarta, Indonesia, amongst a myriad of terror threats, and finally as the lead agent responsible for the President's visit to an active war zone in Afghanistan. With the successful coordination of these historic events, Dan was awarded a series of commendations and left the protective detail as one of the most distinguished agents in their history.
Learn More:
---
Join us in April as Representative Pat Rooney (FH85) brings us up to date on the legislative session that has just concluded.
Join us. Be informed. Get Involved.
---
The March lunch consisted of a 6 way candidate forum for Congressional District 18. Please refer to the table below to watch a video of the candidates remarks.
Originally conceived for nine, the group was reduced by the departure of Carla Spalding to NPA status, and Paul Spain to run in CD21 to our south. Another candidate, Noelle Nikpour could not be reached to invite.
After an introduction to the district by moderator Fred Scheibl, each candidate was introduced and given 6 minutes to address in general terms a slate of topic areas provided to them beforehand. The areas are:
Your vision for the country
The role of Congress in a post-Obama government
The experience you bring to the job
Any specific policy proposals you will pursue in the Congress
The committees you would like to be selected for if elected
The caucuses in the House with whom you would align (eg. Freedom Caucus, Republican Study Committee, etc.)
Why you are the best choice to represent District 18