You watched the debates, you took our survey (or didn't), attended the PPP Event or looked at the Voters' Guide. Now it's your chance to vote for the GOP Presidential Candidate of your choice. For most of us, it'll be a difficult choice – but don't use that as an excuse! If you anticipate for any reason that you won't be able to make it on Election Day, January 31st – then vote early – by either going to an Early Voting Location or voting by Absentee Ballot.* Always check with the Supervisor of Elections if you have any questions either on their website or at (561) 656-6200..
Important – if you aren't registered as a Republican – you will not be able to vote in the Presidential Preference Primary.
EARLY VOTING STARTS THIS SATURDAY!
Presidential Preference Primary Election
DATES
Saturday, January 21, 2012 through Saturday, January 28, 2012
HOURS OF OPERATION
Monday – Friday 10:00 am – 6:00 pm
Saturday & Sunday 10:00 am – 2:00 pm
VOTING LOCATIONS
Jupiter Branch Library, 705 Military Trail, Jupiter 33458
Palm Beach Gardens Library, 11303 Campus Drive, Palm Beach Gardens 33410
Supervisor of Elections Office, 240 South Military Trail, West Palm Beach 33415
Wellington Branch Library, 1951 Royal Fern Drive, Wellington 33414
Hagen Ranch Road Library, 14350 Hagen Ranch Road, Delray Beach 33446
Lantana Branch Library, 4020 Lantana Road, Lake Worth 33462
Belle Glade City Hall, 110 Dr. Martin Luther King Jr. Blvd West, Belle Glade 33430
Boca Raton City Hall, 201 West Palmetto Park Road, Boca Raton 33432
*ABSENTEE BALLOTS can be requested in many ways – by phone, online, requests can be faxed, a designated person can pick one up for you, you can mail in a postcard. You can also select in advance for which upcoming elections you desire an absentee ballot – so if you already know that you will be out of town for the primary in August or for the General Election in November – do it now – while you're thinking about it. For more information on how to get your Absentee Ballot and when/how to send it in click here. Or go directly to the online form.
Palm Beach Gardens Green Market:
Sunday November 20, 27, Dec 11 & 18
8:00 AM – 1:00 PM
Market is located at City Hall Complex next to PBG Fire Station # 1 at 4301 Burns Road
We will register volunteers
We will direct people to SOE web for voter registration
We will hand out information on issues and candidates
Our booth will be recognized by the American flag proudly on display and the elephant logo
Candidates can stand in the booth and speak to visitors
Candidates are allowed to walk around but not campaign as walking
All handouts can be placed at the booth
All signs can be placed at the booth
Contact person is Linda Gore- please call 686-1616 to volunteer
Join us on November 15 for a special program provided by RCPB and Americans for Prosperity.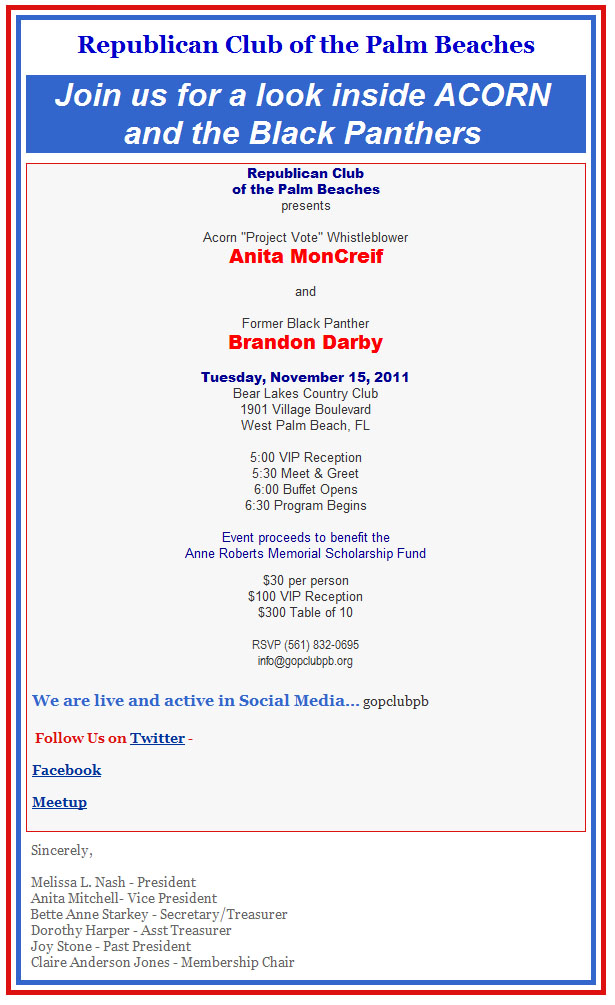 This is a call to action for next week's county budget hearing, Tuesday evening, 9/13/11 at 6:00pm. The meeting is in the county government center, 301 North Olive in West Palm Beach. Come early as the meeting is expected to be crowded.
As you prepare for the meeting, here are some resources that may be useful:
Also check the "News Articles" tab on the TAB website for the latest budget stories from the Palm Beach Post, Sun Sentinel, and others.
Those on the "receiving" side of the budget will be out in force. Those of us on the "paying" side must also have their voices heard. If you can't attend, send an email. Addresses for the commissioners and administrator can be found on right side of the TAB website, or you can email all at once at: BCC-AllCommissioners@pbcgov.org.
For some specific details about this meeting, see the 9/9 TAB email.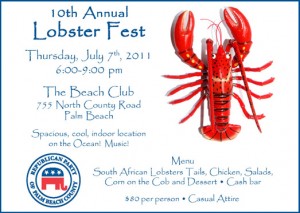 Thursday, July 7, 2011    6 – 9pm
The Beach Club
755 North County Road
Palm Beach, FL
Tenth Annual Lobsterfest!
  Spacious, cool indoor location on the OCEAN! Hear the Latest from Honorary Chairman Jeff Atwater, Florida's Chief Financial Officer, and other Elected Officials and Candidates   Menu:
South African Lobster Tails, Chicken, Salads,
Corn on the Cob and Dessert • Cash bar
$80 per person • Casual Attire
Buy your eTickets for the 10th Annual Lobster Fest- Republican Party of Palm Beach County-by clicking this link: https://www.donationtickets.com/donationticket/eventTicket.asp?guidEvent=565756
The Republican Club of the Palm Beaches' Scholarship was named after a long-standing and active member of our Club, Anne Roberts. 
The  2009 recipient, Nicole Vega, from Berean Christian High School, aspired to be a civil engineer.  After much mentoring by several Club members, Nicole has changed her studies to major in Communications with a minor in Political Science at Palm Beach State College. 
In 2010, one scholarship was awarded to Cindy Morris, mother of 5, in her final year with 3.7 GPA at Palm Beach Atlantic College School of Education with endorsements in special education and English and a second language.
 The second 2010  scholarship was awarded to James Shackelford, majoring in accounting at Florida Atlantic University.  With his passion for politics, he is active in student government and volunteered for Allen West and Marco Rubio campaigns. After receiving his masters in Finance, James plans to attend law school.
 The Anne Roberts Memorial Scholarship is available to any Republican undergraduate or graduate student seeking to further their education. Students must have a GPA of 3.0 or above and plan to attend an accredited college. Applicants must be Palm Beach County residents and registered (or pre-registered under 18 yrs. of age) Republicans. Current members may refer applicants for this scholarship. The deadline for this application is May 2.The winner will receive $500 to be sent to the school they will attend. Award will be presented at the monthly luncheon May 25, 2011.
RCPB Scholarship Application 2011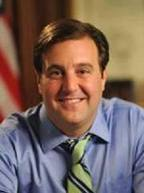 Please join us on Wednesday, February 23rd as we hear from former Majority Leader Adam Hasner.  He'll share his insight on local, state and national happenings… with time for Question & Answer.
Notice
Please mark your calendar
Immigration
Morgade Library – Salerno Road
5851 SE Community Drive
Stuart, Florida 34997
Wednesday – February 2, 2011
6 PM

Have you had the opportunity to hear Representative Bill Snyder speak on his upcoming immigration bill?
Do you have questions about the pending immigration legislation currently under discussion in the Florida Legislature?
If you want to know more and have questions, then this is a meeting you don't want to miss.
Representative Snyder will discuss his proposed bill in detail at this meeting.
Join us for an informative, non-partisan program at the Morgade Library, Salerno Road, 6PM, Wednesday, February 2, 2011.
In order to ensure that as many folks as possible have their questions answered, we ask that you submit your questions in writing at the beginning of the meeting if possible. We will supply you with pen and paper.
Free of charge and open to the public.
MAP:

Friends and Patriots at the last debate in
Palm City we were out numbered 5 to 1.
Rep. Snyder needs our support!!
PS: The last event was standing room only.
Supporters who arrived late were left standing outside.
Please get there early so the naysayers are left outside.
The representatives of the municipalities on the Inspector General (IG) Drafting Committee are balking at the oversight role of the IG. The municipalities are saying that we, the voters, didn't understand what we were voting for and that we simply didn't want 'pay to play' activities by our elected officials. They are attempting to weaken the scope of the IG, saying that the IG should not be able to review and report on mismanagement or inefficiencies or to second guess the municipalities' decisions in any way – when it is precisely those types of decisions that can 'waste' the tax-payers dollars.
ACTIONS
---
1 – Attend the Wednesday, February 9th meeting at 2pm at the Vista Center
, Vista Center Hearing Room, 2300 N. Jog Rd (just northeast of Okeechobee Rd) – listen to the discussion politely, and when there's time for public comment, please state that:
you as a voter knew what you were voting for and that you believe that the 'independent oversight of local government operations" is key to the IG's role.
It is important that we have a large turnout at this meeting. Please make every effort to attend in person.
2 – Send emails to the drafting committee members stating that you support the scope of the IG as described in the original ordinance to "detect misconduct involving abuse, corruption, fraud, waste, inefficiencies and mismanagement" and that the same scope must now apply to the municipalities. The email addresses are:
REPRESENTING THE COUNTY:
REPRESENTING LEAGUE OF CITIES
REPRESENTING OFFICE OF THE INSPECTOR GENERAL
3 – "like" the Vote Yes on Ethics facebook page (http://www.facebook.com/pages/Vote-YES-on-Ethics/104294449637067) so that you can see future action alerts or go to http://ethicspbc.com
4 – Send an email to support@ethicspbc.com with "I want independent oversight of local government" in the subject line.
Background:
---
In 2009 many of you worked very hard to see that an independent Inspector General was put in place for Palm Beach County, as well as Ethics Ordinances.. You stood up at County Commission meetings, you signed petitions, and you saw the Inspector General's office get implemented. Then in November 2010 the people voted. An overwhelming 72% of voters wanted these ordinances and for the Inspector General's scope to apply to all of the municipalities in the county.
The Charter Amendment called for a drafting committee consisting of representatives from both the League of Cities and the County, in equal representation plus the Inspector General for the IG Drafting Committee, and the Executive Director of the Ethics Commission for the Ethics Drafting Committee. The role of the IG committee is to write a new ordinance, using the original as a basis to incorporate the municipalities.
The Charter Amendment (http://www.pbcgov.com/countycommissioners/pdf/charter.pdf), in Section 8.3, defined the role of the Inspector General:
"The county shall, by ordinance, establish an Office of the Inspector General to provide independent oversight of publicly funded transactions, projects, and other local government operations"
The original IG ordinance (2009.049 – Sec. 2.422), stated that the office of the Inspector General was to "detect misconduct involving abuse, corruption, fraud, waste, inefficiencies, and mismanagement by elected and appointed county officials and employees, county agencies and instrumentalities, contractors, and other parties doing business with the county and/or receiving county funds."
The IG ordinance drafting committee has spent 3 meetings now debating the wording of the Inspector General's scope. The next meeting is to be held on February 9, 2011 at 2pm.
The South Florida 912 is collaborating with the South Florida Tea Party on this event.
We need some volunteers! Please contact me ASAP if you can help with this event.
This is a really important event! Please bring friends and people that have never been to a political event out to hear these great candidates.
This event starts with a Meet an Greet followed by a series of candidate panels moderated by Joyce Kaufman, radio commentator and powerful activist. You and your friends will have an opportunity to meet and ask questions of several Palm Beach County candidates for key offices. Our slate of participating candidates include: LTC Allen West (CD22-R), Jim Horn (CD16-D), Tom Rooney (CD16-R), Joe Abruzzo (FH85-D), Tami Donnally (FH85-R), Steven Rosenblum (FH89-R), Albert Key (FH84-R), Joe Budd (CD19-R), Pat Rooney (FH83-R), Marc Marciano (FH83-D), Lizbeth Benacquisto (FS27-R), Bill Hager (FH87-R) and Bernard Sansaricq (CD23-R).  Special guest Lou Galterio will sing the National Anthem.
MAJOR EVENT! Palm Beach County Candidate Forum
Date: Monday, October 4, 2010
Time: 6 pm Meet & Greet; 7 – 9 pm Candidate Forum moderated by Joyce Kaufman
Where: The Borland Center in Midtown
Address: 4885 PGA Blvd, Palm Beach Gardens 33418
Directions: On the north side of PGA just west of Military Trail
Seating limited to 500 people so please come early and bring your friends!
For candidate registration or for more information, please email pam@southfloridateaparty.org.
Please go here for Event Registration. If you would like to VOLUNTEER please contact Shannon 561-506-5258
or email me at Shannon411@gmail.com