February's lunch featured PBC GOP Executive Director Ryan Hnatiuk in support of the Republican candidates this March at the city and town level.
Municipal elected officials are the key to keeping Florida a "red state" – it is the farm team for filling spots at higher levels. Just next year for example, district 4 County Commissioner Steven Abrams and FH89 Representative Bill Hager are both term limited and both districts will be challenging to hold. (Abrams CC4 seat is D+1, and Hager's seat is R+2). Good candidates for both of these races are needed.
Ryan is working with candidates in Palm Beach Gardens, Jupiter, Highland Beach and Lake Worth this cycle, but cautions he cannot help if there are Republicans competing against each other (as in the Gardens group 5 race which includes Joe Russo and Kevin Easton).
Since municipal races are typically about non-partisan issues like roads, taxes, capital budgets, development, etc. – there is really no rationale to discourage anyone from running, but Republican voters should at least know which of the candidates are on our side. For this, Ryan directs you to the county GOP website at www.palmbeach.gop.
Present at the meeting were some of the Palm Beach Gardens candidates who are Republicans:
Please Join us on Wednesday, February 22, for
Join us in February as Ryan will give us the local party's view of the political events of the recent past and what to expect going forward.
We will also be inviting candidates for the March municipal elections to introduce themselves at this meeting.
---
Ryan C. Hnatiuk
is the Political and Executive Director of the Republican Party of Palm Beach County. He was born and raised outside of Flint, Michigan. He, and his wife of 13 years, have one son who is a very active toddler and is a full time job in his own right. Since coming to South Florida, Ryan has had the opportunity to work with various candidates, consultants and fundraisers primarily within Palm Beach County but has also consulted in the counties of Martin, Broward, and St. Lucie. He has worked in various sized campaigns from town council to congressional and county commission seats.
Ryan recently attained his master's degree from Nova Southeastern University in Conflict Resolution and is also a certified mediator. Prior to getting his master's degree he received his bachelor's degree in Political Science from the University of Michigan and a minor in International Relations with primary focus being on Latin American governments and their emerging markets. He is looking to use the skills he has attained to strengthen friendships, build lasting coalitions and open dialogue to attract new people to the Republican Party.
Our January meeting was anchored by newly elected state committeeman Joe Budd.
Recently returned from Washington after having witnessed the swearing in of our new President, Joe related some anecdotes from a day filled with exuberance (like standing in line next to Diamond and Silk), and interpreted Donald Trump's inauguration speech for us.
No one should be surprised at how Trump proceeds as President, as he has been remarkably consistent from the day of his announcement in June of 2015 right up to the executive orders he signed today. Joe was an early believer, jumping on the "Trump Train" in the summer of 2015 and serving as county Vice-Chair through the campaign.
Joe broke down the inaugural speech into five themes.
First, was an indictment of the DC establishment. He took direct aim at those seated around him and didn't pull any punches.
Second, was the intention to transfer power to the people.
Third, a list of the policies he intends to enact – improve our schools, make neighborhoods safer, create jobs, stop the flow of drugs, insure fair trade and secure our borders. Anyone who is paying attention should note the progress on these fronts in the first days of the administration.
Fourth, a "New Vision". Joe saw biblical references in this part, specifically from the book of Haggai, which deals with the rebuilding of the temple after a period when the people had lost their way (2:18 – "Consider now from this day forward..").
And fifth, for all Americans, the beginnings of a national pride, where "we all bleed the same red blood of patriots".
Joe also spoke about the state party and that he has secured a seat on the board, which along with County Chair (and state vice-chair) Michael Barnett, Peter Feaman and Cindy Tindall, gives the county 4 votes out of 33.
At the conclusion of Joe's talk, past President Melissa Nash auctioned off some Inaugural paraphernalia that she brought back to raise money for the scholarship fund.
---
Next month's meeting on Februrary 22 will feature County GOP Political Director Ryan Hnatiuk.
For those that live in Palm Beach Gardens, the club is co-sponsoring a candidate forum for the 9 city council candidates at the Gardens branch of the county library. The meeting will start at 6:15 on Tuesday, February 28 and will be moderated by WJNO radio host Brian Mudd.
Our Christmas lunch was enhanced by the sweet tones of Dimensional Harmony from Boynton Beach High School and their leader Sterling Frederick.
The a cappella chorus did a range of traditional Christmas songs, as well as some of their pop favorites, highlighted by some very excellent soloists.
The group will soon be performing at Carnegie Hall.
Mark your calendar's for next month's meeting on January 25 which will feature newly elected PBC Committeeman Joe Budd. Joe will discuss what to expect in the coming year, both from the Trump Administration and from RPOF.
Please Join us on Wednesday, January 25, for
Help us kick off the new year with a thoughtful discussion of the political environment under a Trump administration, and its effect on our Congressional delegation and the state party.
Can we trust Paul Ryan and Mitch McConnell to follow through on the Trump agenda other than perhaps repealing Obamacare and some tax reform? If we want to really Make America Great Again, it is going to take constant pressure by the grassroots on our members of Congress to keep them on the path.
Newly elected State Committeeman Joe Budd, who campaigned against the status quo in the recent contest, is uniquely positioned to help us stay focused as the grassroots.
Besides a quick overview of what to expect from RPOF in 2017, we will hear Joe's views on why he supported Donald Trump from the beginning (and served as county co-chair), what he expects in the first 100 days, and what we need to do as Republican activists to help our new President achieve real change in our government.
---
Joe Budd
is our newly elected State Committeeman and a member of the Palm Beach County Republican Executive Committee Board of Directors. He is the immediate past President of the Boca Raton Regional Republican Club and has been locally active in politics since his run for Congress in 2009. Joe served as a vice chair of the Palm Beach County Trump campaign helping President-Elect Trump win a decisive primary victory with 52% of the vote in our county.
Joe has been married to his wife Sherry for 31 years and has three children and one grandchild. Joe operates a successful Financial Planning firm in Boca Raton as well as an Insurance Brokerage firm.
President-Elect Donald Trump and a Republican Congress – come celebrate this great victory with your fellow Republicans.
Join us at the Holiday Inn, Airport on Wednesday, December 14th for Holiday Music from Boynton Beach High School's phenomenal "Dimensional Harmony, as they dance, sing and harmonize their way through another great and successful year! Their outstanding performance in London led to an invitation to perform at Carnegie Hall in April 2017! This group is on the move and shows what creativity is all about!
---
Dimensional Harmony is a sensational choral group of 50 extraordinarily talented Boynton Beach High School students that has received state and nationwide acclaim for its amazing singing ability!
Under the direction of innovative director, Mr. Sterling Frederick, Dimensional Harmony has been widely recognized nationwide over the past few years, winning first place gold in several competitions in New York and Atlanta; and also winning the prestigious National Show Choir Title. Members have performed their creative interpretations of inspirational songs, ballads, and popular hits live on the "Today Show," as well as at numerous theaters. Other venues for Dimensional Harmony's accomplishments include the Florida Music Educators Association Music Conference, openings for renowned gospel singers, and at events held at Donald Trump's Mar-A-Lago Resort.
Dimensional Harmony members are a proven example of the positive impact dedicated students, their dedicated leader, and the Performing Arts can have on the local community and on developing future successful, well rounded, and responsible, young individuals and citizens! With their incredible talent, grace, harmony, and unlimited enthusiasm, they deserve the opportunity to become our ambassadors and compete at the highest level.
Clear differences of opinion were expressed by our speakers at the 2016 Ballot Question Forum, hopefully providing the information needed to cast a vote for all the right reasons.
Kicked off by moderator Fred Scheibl, who gave an overview of the questions and drilled down on amendments 3 and 5, we had pro and con speakers for the solar amendment (1), medical marijuana (2) and the county sales tax increase.
Amendment 3, which adds totally and permanently disabled first responders to the list of groups getting extra homestead exemptions, is an enabling amendment. If passed, the legislature will have to fill in the details, including the amount of the exemption.
Amendment 5 is a tweak to the previously passed amendment which provides an extra homestead exemption to low income seniors by allowing the exemption to continue, even if rising valuations raise the home value above the $250K threshold.
On the Solar Energy Amendment 1, Cindy Tindell, Vice President of Nextera Energy (parent of Florida Power & Light) explained the amendment from the utilities point of view – that the desire is to not reimburse the retail price of energy to the generating consumer as is now the practice with net metering. Utility generating plants, with all their overhead, are only reimbursed at the wholesale energy price she explained, and it is unfair to treat solar generating consumers more favorably.
Not so fast, said Ackerman public policy manager Richard Pinsky. The energy that flows back into the grid from a net metering device is only returning the energy it has already paid for at the retail price. He compared the situation to a water company charging its customers for rainwater they collected in a barrel.
That the effect of the amendment turns on the pricing model for net metering was enlightening to some, as the ballot language only talks vaguely about "subsidizing the costs of backup power and electric grid access." An old rule of thumb says that if the effect of an amendment or statute is not easily understood, there is probably a reason – vote no if there is any doubt.
For Medical marijuana amendment 2, which came very close to passing (57.6%) in 2014, Bianca Garza, Communications Director of United for Care made the case for the effectiveness of marijuana derivatives for many medical conditions and the safety and good results that have been experienced in the states that have implemented similar programs.
Opposing the amendment, Virginia Brooks took us through a list of considerations, including non precise administration amounts, sourcing of prescriptions outside of the pharmacy system, use of a prescription drug not vetted through clinical trials, access to the drugs by children in the household, and other potential problems.
Regarding the county sales tax increase to 7%, Bill Perry, CEO of Gunster and the incoming chairman of the PBC Economic Council made the case based on the need for a long list of infrastructure repairs, and the advantages that a sales tax has over borrowing the money with a bond issue.
Opposing the tax, Fred Scheibl, argued that the infrastructure shortfall could have been addressed in the normal budget process but a conscious choice was made to divert Engineering and Public Works funds to other priorities like employee raises (12.5% in 5 years), and the proposal comes on top of the highest property taxes in county history. The sales tax is a "blunt instrument" and will raise the $2.7B whether it is needed or not. A bond on the other hand (which can be used if the tax is defeated) can borrow only enough money to address the really critical needs.
For more information on the ballot amendments and sales tax question, see our voters guide to the ballot questions.
Show your support for Ron by attending this upcoming Meet & Greet. RSVP to Tom Plante, 561-236-8891.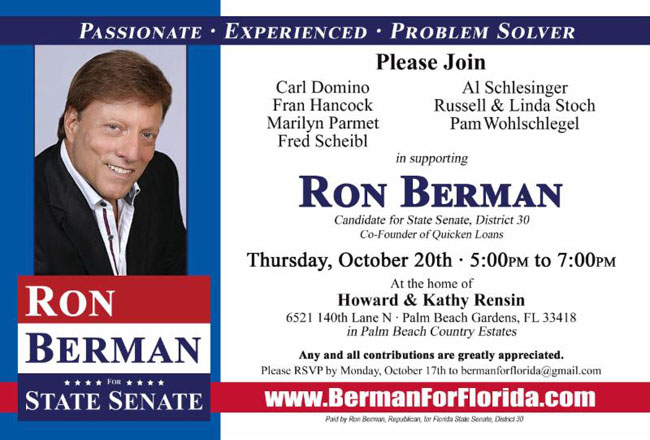 – Should the county raise the sales tax to 7%?
– Should marijuana be legalized for those with certain medical conditions?
– Should solar energy be enshrined in the Florida constitution?
All of these and more at the October lunch. We will have an overview of all the questions, with pro/con speakers on some of them, as well as a few words about the 9 judicial retention elections we are asked to decide and the local judge races.
After a brief description of the ballot questions and the implications of a "yes" or "no" vote on each from moderator Fred Scheibl, we will have a set of speakers present their arguments in favor or opposed to some of the issues.

Solar
Speaking in favor of Amendment 1 (Solar Energy) will be Cindy Tindell, Vice President of Mergers and Acquisitions at NextEra Energy, the parent company of Florida Power and Light. She has deep regulated utility experience having led Florida Power & Light utility's development and construction planning. Cindy is also the PBCGOP Committeewoman to the Republican Party of Florida and a member of this club.
Speaking against Amendment 1 will be Richard Pinsky, Public Policy Manager at Akerman, LLP. Richard has over 30 years of government affairs experience in Florida and Washington, D.C. He has an extensive background representing clients before the legislature as well as local government from helping to navigate the budget and appropriation process to issue advocacy. In the 1980s he was a campaign consultant to the RNC, the NRSC and the NRCC, and has served as general consultant to several statewide candidate campaigns and ballot initiatives.

Marijuana
Speaking in favor of Amendment 2 (Medical Marijuana) will be Raymer Maguire IV, Deputy Campaign Manager for People United for Medical Marijuana, a part of United for Care, the national organization that advocates for the issue in all the states. Raymer was a founding partner of Millenium Partners, LLC, advancing the millennial agenda by providing data focused consulting and project management, where he organized community leaders in South Florida to lobby on behalf of underprivileged students.
Speaking against Amendment 2 will be Virginia Brooks, a founder of the PBC Faith and Freedom Coalition. Virginia is active in local grassroots organizations, retired from being an associate professor of English at Palm Beach State College, and an interpreter for the deaf at her church. Virginia is also a member of this club.

Sales Tax
Speaking in favor of the county sales tax question will be Bill Perry, CEO of the Gunster Law Firm and incoming chairman of the PBC Economic Council which is campaigning for the tax increase. Bill practices real estate and business law, specializing in complex commercial and financial transactions. As a member of the Florida Chamber Foundation, he helped launch the Six Pillar Initiative and worked with the Economic Council to introduce it to Palm Beach County, resulting in a PBC strategic plan in 2013.
Speaking against the county sales tax will be Fred Scheibl, co-founder of the county budget watchdog PBC Taxpayer Action Board, which has been providing analysis of the county budget to its coalition partners since 2010, advocating for fiscal responsibility by county leaders. Fred is a founding member of the Palm Beach County Tea Party and a member of this club.