This year has been a busy one for the Palm Beach County Board of Commissioners. Approving plans for spending the sales tax windfall, dealing with the opioid crisis, sober homes, new development, the future of the Agricultural Reserve and passing bigger and bigger budgets have all been on their plate.
Join us at the Airport Holiday Inn on Wednesday August 23 to hear Commissioner Steven Abrams speak about these and other county issues.
Commissioner Steven Abrams
Wednesday, August 23, 2017
Program Noon – 1PM, Buffet starts at 11:30AM

Holiday Inn Hotel and Conference Center
Palm Beach Airport
1301 Belvedere Road
West Palm Beach, FL 33405
Phone: 561-659-3880
$25/Members $30/Guests
Pay at the door.
Make sure you submit your RSVP in advance by clicking on our link below:

  Please respect Club rules: Cell Phones Silenced, Business Casual Attire, Please No Jeans
Republican Club of the Palm Beaches
PO Box 2585
West Palm Beach, FL 33402
(561) 855-0749
---
Steven L. Abrams has been a member of the Palm Beach County Board of County Commissioners since 2009, winning re-election twice. He had the distinction of serving as the first mayor of Palm Beach County in 2013 and is currently the longest serving commissioner on the Board.
Commissioner Abrams has a lengthy record of public service. He is the former mayor of Boca Raton, elected in 2001 and re-elected in 2003 without opposition. In the 2005 election, Abrams received the most votes in city history and was later named mayor emeritus when he stepped down in 2008 due to term limits.
The Commissioner also served five terms as a city council member in Boca Raton from 1989 to 1999 and was a member of the city's Planning and Zoning Board between 1987 and 1989. Abrams is a past president of the Palm Beach County League of Cities and a founding board member of the Florida League of Mayors.
As mayor of Boca Raton, Abrams gained national exposure and local respect during the first bioterrorist attack in American history when anthrax was discovered at the AMI building in Boca Raton in 2001. He received the Distinguished Service Medal from the Israel National Police for his leadership during the ordeal and testified on national television on the government's response at the invitation of a United States Senate subcommittee.
Abrams is a member of the Florida and District of Columbia Bars. Prior to moving to Florida, he served in the White House as law clerk to the counsel to President Reagan and current Supreme Court Chief Justice John G. Roberts Jr.
While attending Harvard University, Abrams received the Philo Sherman Bennett Prize for the best government senior thesis and was graduated magna cum laude in 1980. He received his law degree from The George Washington University in 1985. In 2005, Everglades University awarded Abrams an honorary doctorate of humane letters.
Commissioner Abrams was born in Des Moines, Iowa and grew up in Philadelphia, Pennsylvania. He and Debbie have been married for 34 years and have two children.
Currently, Abrams serves as chairman of the South Florida Regional Transportation Authority and secretary of the Palm Beach County Solid Waste Authority. He also chairs the county's Broadband Committee, Intergovernmental Coordination Program, and the Value Adjustment Board.
In addition, he sits on the boards of the Florida Atlantic University College of Engineering Advisory Board, Metropolitan Planning Organization, National Association of Counties Transportation Policy Steering Committee, and the Kravis Center for the Performing Arts. He also serves on the Boca Raton Bowl Executive Committee.
This year, we were able to fund five young scholars from the Anne Roberts Scholarship Fund – three past recipients who are continuing their studies and two new winners. Eligible applicants must be attending or plan to attend an accredited institution and have and maintain a 3.0 GPA. New applicants also submit a 500 word essay on the importance of a higher education.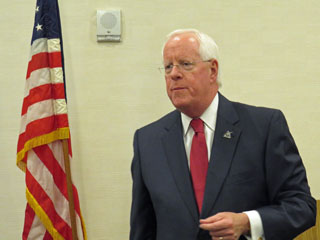 The awards were presented by William M. B. Fleming, President of Palm Beach Atlantic University. In his remarks, Mr. Fleming contrasted his institution with others which have been in the press lately with riots, shutdowns of conservative speakers and other challenges to diverse thoughts and opinions. PBAU is "not burning", he said, and there are no "safe speech zones" necessary.
Unlike those schools who feel it necessary to publicly pledge support for "discourse", at PBAU they embrace those things that make us an exceptional nation. In the "American Free Enterprise Statement" he passed out:
PBAU "confidently affirms the values and institutions that historically have informed American society – religious liberty; traditional Judeo-Christian morality; limited constitutional government; the Rule of Law; personal and political accountability'; and capitalism – the system of free enterprise. We believe that America is truly an exceptional nation, which was founded and has flourished under the guiding providential hand of God."
This year's new winners are: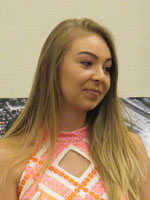 Madison Andrews, Palm Beach State University. Madison moved to West Palm Beach from Utah, and now attends Palm Beach State as a sophomore. She is involved in the PBS Art Alliance Club and Student Government Association. In high school she participated in Model United Nations and most recently, has worked with Junior Achievement of the Palm Beaches and Associated General Contractors of America. Her passion is education as the basis of making changes in our country. To quote Madison, "The trouble with learning from experience is that you never quite graduate." Her vision is to improve America's education system by ensuring that students learn the pillars of Junior Achievement: financial literacy, work readiness, and entrepreneurship.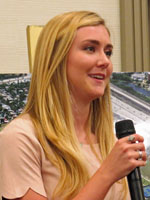 Jessica Blakely, Belmont University. Jessica, of North Palm Beach, returns to Belmont University in Nashville as a sophomore. While at Kings Academy in WPB, she was also enrolled at Palm Beach Atlantic University with courses in Public Speaking, Business and Algebra. She studied Spanish in Spain. Among her achievements, she was one of the winners of the PB POST Pathfinder Awards, a President of future Business Leaders, 2nd place winner at the PBA Entrepreneurship Challenge, and she created her own business "Make Up Doctor". At Belmont, she was elected Congresswoman in the Student Government and participated in Intramural Volleyball. Jessica has volunteered in Haiti Missions, Belle Glade Missions, and Puerto Rico Missions, through the Christ Fellowship Office. Jessica aspires to study for a Doctorate and to work as an economic analyst at the Federal Reserve.
Returning scholars this year are: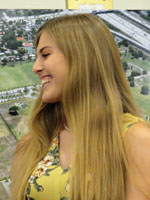 Jenna Calderaio – Florida State University. Jenna, from Jupiter and the last of 5 children, enters her Sophomore Year at FSU where she is majoring in Business and Entrepreneurship. She was politically active with the 2015 Sunshine Summit in Orlando, witnessing 14 Presidential candidate presentations. She participates in FSU's Republican's Club and is very involved in the Catholic Student Union. Jenna has been selected to work on Missionary Core for the union this upcoming year. She is very active in the pro-life movement, participating in the March for Life this past January. She has plans to join the skeet and trap club and hopes to join the FBI upon graduation. This summer, she has an internship at Congressman Brian Mast's office and another at Wall Financial Group.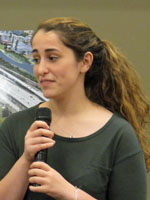 Lauren Staff – University of Florida. Lauren of Palm Beach Gardens, is entering her Junior Year at UF majoring in telecommunications. She is passionate about sports and aspires to work with ESPN or FOX Sports after she attends UF Law School. Lauren has been a staff writer for the "Florida Alligator" newspaper and also works with ESPN Gainesville radio 95.3. She has been active in Student Government, Honor Society, and Future Business Leaders and she participated in "Support our Troops" of North Palm Beach at Dwyer high school.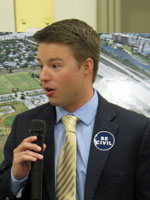 Ryan Walker – Stetson Law. Ryan, of Wellington, graduated this year from UF majoring in political science. During his career he has spent time with the campaigns of Rep. Bill Hager, Governor Rick Scott, and Candidate Chuck Clemons of Gainesville. As a REC member in PB County, he was Chair of Western Community Development and worked on the campaigns of Mayor Anne Gerwig of Wellington, and Candidate Howard Coates. He was very active at UF in the Alpha Gamma Rho fraternity. Ryan will be attending Stetson Law School this fall.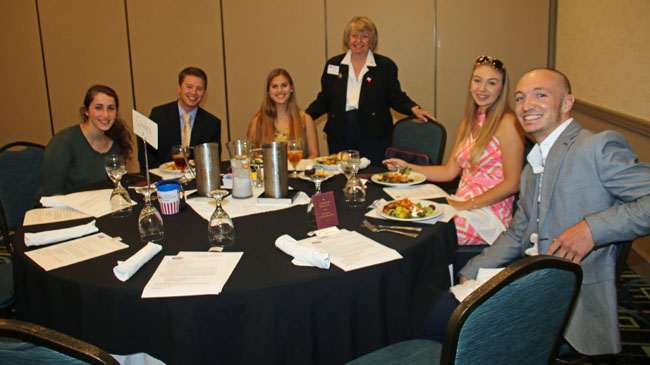 Winner's Table with Scholarship Chair Bette Anne Starkey. (Picture by Carol Porter).

Carol passed away on May 4 after a long illness. To sign the guest book or send flowers, please see: In Memory of CAROL LAPLACA
Please Join us on Wednesday, June 28, for the awarding of the 2017 Annual
Anne Roberts Scholarships
and celebrate the day with our young scholars.
Presenting the awards for the club will be our featured speaker, PBAU President William Fleming.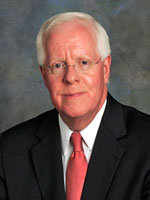 William Fleming
President
Palm Beach Atlantic University
$25/Members $30/Guests
Pay at the door.
Make sure you submit your RSVP in advance by clicking on our link below:

  Please respect Club rules: Cell Phones Silenced, Business Casual Attire, Please No Jeans
Republican Club of the Palm Beaches
PO Box 2585
West Palm Beach, FL 33402
(561) 855-0749
---
William M. B. Fleming, Jr. was elected 8th president of Palm Beach Atlantic University on May 7, 2012, after serving as interim president for the previous 14 months. Up to that time, he served Palm Beach Atlantic as vice president for development, joining the University in 1992.
Under President Fleming's leadership, the University has gained significant momentum as illustrated by ratings as a "best" choice in U.S. News & World Report and The Princeton Review, and inclusion in the President's Higher Education Community Service Honor Roll. During President Fleming's tenure, enrollment has grown from 3,668 (2011) to 3,764 (2016).
The University has established five Centers of Excellence; The LeMieux Center for Public Policy, The David and Leighan Rinker Center for Experiential Learning, The Gregory Center for Medical Missions and The Center for Integrative Science Learning and the Titus Center for Franchising.
PBA was chosen as a model for community engagement by the NCAA Division II; and increasedits local economic impact to $395 million in 2016. In addition, the 80-acre Rinker Athletic Campus opened on Sept. 4, 2014. President Fleming has been instrumental in raising more than $157 million for Palm Beach Atlantic during his tenure as vice president for development and president.
Prior to coming to Palm Beach Atlantic, Fleming served in several administrative roles at Wingate University and Guilford College, both in North Carolina. He received his Bachelor of Science degree in political science from Guilford. Judson University in Illinois presented him with an honorary doctorate degree.
Civic and Community engagements include:
St Mary's Medical Center Board Member
Forum Club of the Palm Beaches Board Member
2016-18 Chairman Independent Colleges and Universities of Florida (ICUF)
Past President of two Rotary Clubs; Member West Palm Beach Rotary Club
Paul Harris Fellow
He lives in Wellington, Florida with his wife, Pam.
The Florida Legislative session has just ended, and at our May meeting Representative Rick Roth, Florida House District 85, gave our members a helpful report on the new bills and issues.
Roth served on five committees, including Commerce, Pre-K (Education) Quality, and Agriculture and Natural Resources Appropriations. He explained that it was in committees that bad legislation could be stopped much more easily than on the floor of the House. He learned to appreciate how House Speaker Richard Corcoran set a very good tone for the legislative work. He also learned that there are twelve ways to kill a bill, but of course only one way to pass it–approval by both houses and the governor.
Some of the legislation he promoted, that is now waiting for Governor Scott's signature, include revisions to the Certificate of Need required to build a medical facility (allowing a nursing home to add on a hospice–an increasing need in Florida); limiting funds for Enterprise Florida and Visit Florida bills, to add more transparency and accountability; passing a cap on the taxes for non-homesteaded property, and improving the Stand-Your-Ground immunity for self-defense.
Other legislation that was passed included more regulation of "sober homes," a controlled substances act relating to opiod use, and insurance and non-discrimination regulations that apply to companies such as Uber and Lyft. A bill concerning choice and accountability in education increased public school funding, providing bonuses for exceptional teachers and help for low-performing schools.
Laws relating to medical marijuana did not get passed. Rep. Roth thinks that issue and the budget may be dealt with again in special sessions. He had reminded us at the beginning of his talk that none of the bills that were passed have yet been signed by the governor. (We will have to see what happens to them in the next few weeks.) It was a privilege to have Representative Roth at our meeting, and to learn about what was happening in Tallahassee from someone who is aptly representing us there.
Please Join us on Wednesday, May 24, for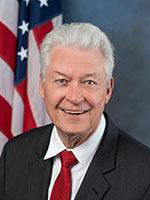 Rick Roth
Florida District 85 Representative
Rick will give us a synopsis of the recently concluded Legislative Session in Tallahassee:
$25/Members $30/Guests
Pay at the door.
Make sure you submit your RSVP in advance by clicking on our link below:

Please respect Club rules: Cell Phones Silenced, Business Casual Attire, Please No Jeans
Republican Club of the Palm Beaches
PO Box 2585
West Palm Beach, FL 33402
(561) 855-0749
---
Rick Roth, a 37 year Wellington resident, grew up in Belle Glade. He is the President of the 5000 acre Roth Farms east of Belle Glade, and has been producing vegetables and sugar cane there since 1976.
Although never holding a public prior to the 2016 election , Rick has been involved in politics for years, including fund-raising for former Governor Bob Martinez, and he has held a variety of leadership positions with the Florida Farm Bureau Federation and the Florida Fruit & Vegetable Association and is on the board of the Sugar Cane Growers Cooperative of Florida.
Please Join us on Wednesday, April 26, for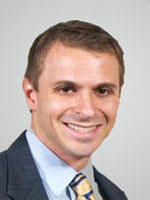 Brian Mudd
Host of WJNO's "Morning Rush"
Brian will explore:
"Can Republicans Learn how to Govern?
The Art of Political Persuasion – Advancing Republican values rather than defending them…
$25/Members $30/Guests
Pay at the door.
Make sure you submit your RSVP in advance by clicking on our link below:

  Please respect Club rules: Cell Phones Silenced, Business Casual Attire, Please No Jeans
Republican Club of the Palm Beaches
PO Box 2585
West Palm Beach, FL 33402
(561) 855-0749
---
Brian Mudd
is the WJNO Financial Analyst, co-host of the Palm Beaches' Morning Rush, on-air weekdays from 5AM to 9AM. Brian's career has included 19 years with iHeartMedia, including time as a fill-in host for Sean Hannity's national radio show. Brian, whose motto is "Passion plus talent is unstoppable", believes that many of our societal failures have resulted from a general willingness to distance ourselves from our founding values while embracing political correctness. He is actively involved in local events and has hosted many political forums at all levels in Palm Beach County.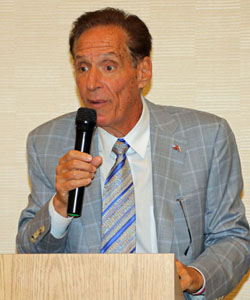 "Black People Vote on Sunday!" – with this thought, former county GOP Chairman Sid Dinerstein laid out for us all the clues that were readily available to predict the election of Donald Trump.
Describing a conversation he had with his daughter in New Hampshire on November 7, the night before the election, Sid gave us some insights into the demographics of 2016 and how it differed from when Obama was running. While at the time he wasn't sure how it would turn out, there were encouraging signs.
The re-election of Barack Obama in 2012 saw a turnout in the black community that exceeded white turnout for the first time (on a percentage basis). Many thought the Obama coalition would turn out for Clinton and insure her victory, but it was not to be. On the traditional "souls to the polls" day – the Sunday before the election, turnout in Palm Beach County was very heavy, but the proportion of black voters seemed to be less. (Editor's note: In fact, 24% of the 23K voters on 11/6 self-identified in voter rolls as black, compared to 33% on 11/3/2012.) This was happening all across the country.
Another clue was the polling, much of it designed by the media to suppress Republican vote.
Zander Lurie, CEO of Survey Monkey (the company that provides much of the polling muscle for the mainstream media), was known to have contributed $600K to the Clinton campaign. All pollsters are not dishonest of course, but when you know how the boss wants the poll to come out it can have an effect.
There are many ways to diddle with poll results. One that was used was to adjust the outcome to reflect the demographics of the 2012 race. Another was to adjust where the polling was done. If I wanted to make the case that independents were supporting Clinton with big numbers, I could have polled them in Century Village. Since many "independents" have a tendency to vote just like their neighbors, independents in heavily Democrat areas will lean that way.
Survey guru Nate Silver has usually been right about outcomes, but he is an aggregator of polls, not a pollster himself. Thus, if the majority of the polls show a Trump defeat, than he was led to draw that conclusion.
An ironic side-effect of this bias in the polls was over confidence by the Clinton campaign. They had no internal polling of their own and believed the polls that were skewed to make them appear to be running away with it. As a result, they neglected to campaign in Wisconsin and Michigan, believing those states to be solidly in their camp.
---
Also at this meeting, we heard from Steve Hyatt who is running a "candidate school" for GOP candidates down in Plantation.
The next meeting will be April 26 for which we are trying to line up a speaker from the James Madison Institute.
If you live in Palm Beach Gardens or Jupiter, please remember their is a runoff election on March 28. Republican Joe Russo is the Republican in the Gardens Group 5 race, as is Ron Delany in Jupiter District 2.