Every two years, during the summer of an election year, the county GOP hosts a "Jamboree" – an old fashioned political picnic for candidates on the upcoming ballot to introduce themselves to the party activists. With a barbecue lunch under the pavillion roof, surrounded by covered booths hosted by candidates and political clubs, it is gathering place for the GOP faithful and those who seek to represent them at all levels of government.
This year the event moved from its normal venue at the South County Civic Center to a more central location at John Prince Park. Hosted by Rosemary O'Mara and the club Presidents Council, it featured candidates for offices ranging from US Congress, the State Legislature, and Palm Beach County. Neither candidate for the only state-wide race on the ballot this year – US Senate, participated, but representatives for Marco Rubio and Carlos Beruff were in the crowd.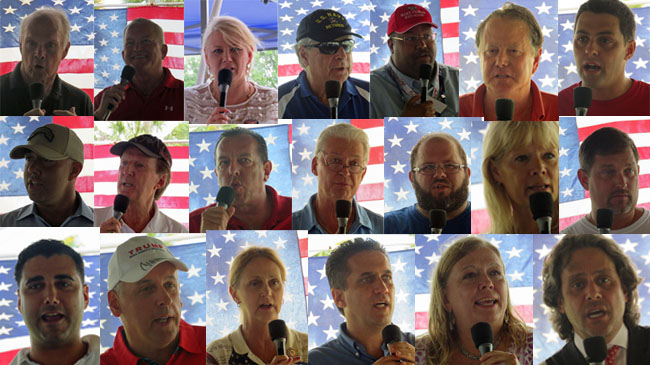 Left to right from upper left: CC1 Commissioner Hal Valeche (on the ballot 11/8), Moderator Mark Foley, Committeewoman Cindy Tindell, Carl Domino (CD18), GOP Chairman Michael Barnett, Mark Freeman (CD18), Rick Kozell (CD18), Brian Mast (CD18), Paul Spain (CD21), Rick Sessa (Sheriff), Rick Roth (FH85), Andrew Watt (FH85), Laurel Bennett (FH86), Stuart Mears (FH86), Taniel Shant (CC5), Joe Budd (State Committeeman), Christine Spain (SOE), Tom Sutterfield (SB1), Shelley Vana (Property Appraiser), William Abramson (Public Defender).
With former Congressman Mark Foley as MC, the candidates made their pitch. In the pitched battle for the CD18 seat being vacated by Patrick Murphy, we heard from August primary contenders Carl Domino, Dr. Mark Freeman, Rick Kozell and Brian Mast. Paul Spain, prepping for a rematch against Lois Frankel in CD21 will be on the ballot in November.
At the state level we heard from north county candidates for FH85 Andrew Watt (the longtime aide to Pat Rooney who is vacating the seat) and farmer Rick Roth. To the west, the FH86 primary was represented by Laurel Bennett and Stuart Mears, contenders for the seat being vacated by Mark Pafford.
On the county level we had Taniel Shant, who will face incumbent County Mayor Mary Louise Berger in the fall, Christine Spain who is facing incumbent SOE Susan Bucher, Shelley Vana who is facing fellow Democrat Dorothy Jacks for Property Appraiser, Tom Sutterfield competing in a field of 5 for School Board district 1, and William Abramson who is trying to unseat fellow Democrat Carey Houghwout for Public Defender.
Joe Budd, seeking to unseat Peter Feaman for state committeman and Cindy Tindall who is running for re-election rounded out the field.
For the club's first meeting in our new venue, the Holiday Inn on Belvedere, we invited representatives of all the Republican Presidential candidates to come and tell us why they have made their choice and why we should too.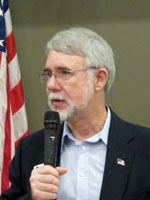 Originally we were to have 7 speakers, but since Jeb Bush, Mike Huckabee and Rand Paul dropped out, we ended up with all of the remaining candidates except John Kasich who does not have a Florida organization.
To start, moderator Fred Scheibl gave a snapshot of the race to date with four states having voted, discussing delegate counts, what states vote when, the state of the polls, and a little about campaign finance. To see the handout on these topics, click HERE.
The speakers all had different points of view (as do their candidates) but there was one common thread – they are all very passionate about their candidate and strongly believe they would make the best President. All made excellent arguments on behalf of their guy.
First, speaking for Doctor Ben Carson, was JTRO President and county coordinator Barry Carson.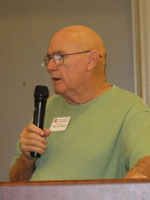 Barry spoke of the early days after Ben's National Prayer Breakfast speech that generated 10 million petition signatures for him to run. A religious man, he is in it for the children, who have no future with the amount of debt we are accumulating. He wants to heal the divisions created by Obama and seeks to heal, inspire and revive the American Spirit. Author of 8 books, including "A More Perfect Union" about the constitution, Ben Carson is running a "we the people" movement to return America to you the people.
Next up was Ted Cruz County Coordinator Marion Frank.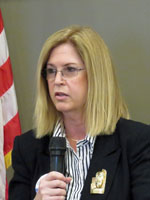 Marion relayed that she hasn't had a feeling like this since voting for Ronald Reagan. A defender of the constitution, Ted Cruz does just what he says he will do and doesn't care about being liked for it by the establishment. He has not been corrupted by Washington as he has fought Obamacare and amnesty, and seeks to abolish the IRS with a flat tax. With the prospect of multiple appointments to the Supreme Court, in which we are one justice away from a radical majority, who better to trust with these appointments? Ted has won cases before them on partial birth abortion, the 2nd Amendment (Heller vs DC), defended the 10 Commandments on the grounds of the Texas state capital, and defended us against Mexico and the UN in Medellin vs Texas. If we elect the felon or the socialist on the other side, we will lose the court for a generation. Ted is the best prepared to be Commander in Chief, destroy ISIS, and dump Obama's rules of engagement.
Next, speaking for Marco Rubio was County Coordinator Pam Wohlschlegel and Teenage Republicans leader Daniel Scroggins.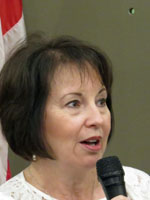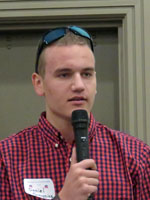 Marco is a real conservative with a lifetime score of 98% from the American Conservative Union and a Heritage rating 10th out of 535. On immigration, Marco saw the need as a new senator for immigration reform and joined the gang of 8, but the other 7 were very liberal, including the three Republicans. He showcased his ability to find shared values and improved the legislation with increased border security, mandatory e-verify, and eliminated the pathway to citizenship. He is someone who can work with the other side to get something positive for our side. Unfortunately, the bill was withdrawn and we now have nothing. Anyone who says we can round up and deport 12 million people is crazy. Dan told us that on the economy Marco sees tax reform as the key to jobs and higher wages. On national security he will be a Commander in Chief who will protect us at home and rebuild our military.
Lastly, speaking for Donald Trump was former Palm Beach Councilman Bill Diamond.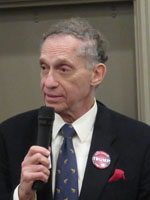 A new Trump supporter, who was for Marco Rubio only recently (and who he still likes very much), Bill feels that the time has come to unite the party with a winner. Having known Donald for 40 years going back to Queens, he feels the party must rally around someone who can turn on as he has millions of independents and Republicans who never vote. He has made an impression that no one has been able to do, and he is "sui generis" – one of a kind. Bill believes that Donald Trump is the nearest thing to Ronald Reagan. He has worked with government very successfully over many years, and Bill watched him build the Newark courthouse. He is practical, reasonable and a winner. Opening up the Republican party to millions who never vote, Donald is not ideological but there is something else in the air here. We have a winner who will change this country for the better. He is strong, tough, does what he says and his aim is "Lets Make America Great Again".
---
Also introducing themselves at the meeting were candidates
Rebecca Negron
(CD18),
Robert Goldberg
(County Commission 5),
Peter Noble
(Greenacres Council), and surrogates John for
Rick Kozell
and Linda Ivell for
Marc Freeman
(CD18).
Our meeting next month will be on the usual 4th Wednesday of the month, March 23 at the Holiday Inn. With the Presidential Primary for Florida over and done with, we will turn our attention to Congressional District 18 and host a forum for the 9 candidates in that race. Watch the website and email for details.
The Sunshine Summit, last weekend's gathering of the Republican grassroots in Orlando, brought together 14 of the 15 candidates currently competing for presidential primary votes, along with most of the Senate candidates.
Unlike the events of the last two cycles in 2007 and 2011, which featured both televised debates and straw polls, this was mostly a candidate showcase – each was given 20 minutes to make their case. The extreme number of candidates this time, and the fact that Florida does not vote until March 15 – after 26 states will have already assigned their delegates, probably reduced attendance at the event. Still, there were upwards of 1000 in the hall, and the media presence was considerable. CSPAN covered the event live, and lots of recognizable on-air personalities could be seen roaming the halls.
External events played a role in what transpired, as reaction to the Paris attacks on Friday were integrated into the Saturday speeches, or in the case of Chris Christie, dominated their remarks. And the Democrat debate on Saturday night offered a unique opportunity to compare all of our contenders to Hillary Clinton and her two pesky sparring partners.
All the candidates remarks can be seen streaming on CSPAN.
After watching all the debates and attending the Heritage Action Event in South Carolina (with 10 of the candidates), I thought I had a good idea of the dynamics of the race and who was on my short list. That said, I left Orlando with a few new insights.
1. The outsiders have captured the imagination of large portions of the Republican base, even at an event comprised mostly of "insiders".
As an event sponsored by the Republican Party of Florida, with a large number of blue-badged party officials in attendance, I expected a great deal of support and enthusiasm for the "favorite sons" Jeb Bush and Marco Rubio, and less for the outsiders Trump, Carson, Fiorina, and (some would say) Ted Cruz. This was clearly not the case.
While Jeb and Marco have strong support, it was the outsiders who were the rock stars.
Ted Cruz laid out the red meat with a flourish and hit all the hot buttons from Obamacare to the border, the Iran deal, a flat tax, and support for Israel, to thunderous applause.
Donald Trump, avoiding any criticism of his rivals this time, took on illegal immigration (need a Dream Act for Americans), winning again, incompetent leaders, and suggested that college students should be taught about the first amendment. The response was widespread and overwhelming.
Ben Carson, after a quiet start discussing his upbringing, lit into an extensive litany of all the things he would do if he wanted to "destroy America" – all of which Obama has put into motion. His was the most complete and devastating attack on the incumbent President of all the candidates and the crowd responded with enthusiasm.
Carly Fiorina, the last speaker of the event, focused on the Paris attacks, the feckless and dangerous foreign policy of Obama/Clinton, and what she would be doing about ISIS. It seemed like Margaret Thatcher channeling Winston Churchill and left no doubt that she would be a serious and effective commander-in-chief. The response was loud and enthusiastic.
2. Almost all of the Republican contenders are displaying the vision, determination, skill and experience that could believably repair the damage that 7 years of Obama have wrought. Clinton is clearly not in the same league with these people, in spite of her over 25 years on the national stage, and tenure as Senator and Secretary of State.
One thing that has become obvious to many people is that there are many kinds of relevant experience besides being an elected official. The office of President is a unique job, unlike any other, and it takes a generalist to oversee a diverse set of tasks, a communicator to inspire the country and lead it in a positive direction, and a visionary to see our potential as a people and set the wheels in motion to carry us forward. Governors, Senators, Business Leaders – all have skills that are relevant to the job, and all of the candidates now in the race have been successful in their lives and bring serious qualifications and abilities to the table.
Some would say that the terrible state that the country is in – anemic growth, unsustainable debt, corruption at all levels, an abdication of world leadership – is a result of professional politicians and insiders (lobbyists, big donors, etc) having screwed everything up. Hillary Clinton, who is unarguably the stereotype of all those things, would represent more of the same, as could be seen on the debate stage in Des Moines. It was apparent in Orlando that our candidates (to a greater or lesser extent), reject the status quo and will lead the country in a different direction.
3. The weeding out process is going to be long and arduous, as very few of these contenders can be counted out, despite their current standing in the polls.
Until the first delegates are selected in the Iowa caucuses on February 1, the polls will be unreliable, as most likely voters appear to be making tentative selections. Many people, until they have to commit, will lean to the candidate that meets their ideological goals, appears to speak "for them", says the "right things", or wins debating points. When the rubber meets the road though, issues of electability, consistency, honesty, ethics, contrast with the Democrat candidate, and other issues will rise in importance. As this year is unusual in the number of candidates and the widespread dissatisfaction with elected officials, predictions are hard.
Some weeding out has already begun, as few would expect Lindsey Graham or Jim Gilmore to become the nominee, and two candidates have already left the race. But all the rest have ardent supporters and judging by the enthusiastic response at the summit to most of the candidates, there are many "acceptable alternatives". It is truly a deep bench.
Last week in Greenville, South Carolina, Heritage Action hosted a Presidential Candidate Forum at which 10 of the Republican candidates participated. Unlike the two cable news debates, this event avoided pitting the candidates against each other, and actually focused on policy.
Heritage Action Sentinel Program
This forum occurred during the annual meeting of the Heritage Action Sentinel program, which is the grass-roots arm of the Heritage Foundation. Combining the think-tank and lobbyist muscle of Heritage with a nation-wide grass-roots army of Sentinels is becoming a very effective way of advancing the Conservative agenda. If you would like to become a Sentinel or learn more about the program, visit: heritageaction.com/sentinel/
Stretching from 4:00 in the afternoon to after 9:00pm with only a short break, each candidate was given about 20 minutes on stage, with questions provided from a panel of Heritage Sentinels and CEO Michael Needham. South Carolina Governor Nikki Haley closed each session by providing a personal story about the candidate and asking them to expand on it. What came across was an in-depth look at their positions on issues, and a sampling of their human side – some that have not been seen before on the campaign trail.
From this unique format, a very good contrast can be found, and it is worth at least sampling the video from the candidates you are interested in. Links to those segments on the Heritage Action youtube channel can be found below.
Although all of the candidates were enthusiastically received by the audience of about 900 sentinels on the floor and over 10,000 more in the stands of Bon Secours Wellness Arena, two candidates really stood out.
Ted Cruz rallied the crowd with the theme of "don't elect a President to manage the decline of America", and was clearly the policy favorite with talk of judicial retention elections, a flat tax, and "breaking the cartel". But it was Carly Fiorina, when asked by Governor Haley what her most difficult job as a leader has been, who spoke from the heart about the anguish that comes from having to fire a close associate who, although competent and a satisfactory performer, proved to be ethically challenged and could no longer be trusted. Her answer revealed a very admirable mix of courage, compassion and loyalty to the goals of the enterprise.
Following is a brief synopsis of the major points made by the candidates, in order of their appearance. Click on their picture to see the Heritage video of their segment.

Jeb Bush


Need for "disruption", "change the culture"
Block grants to states for Medicaid, school vouchers, zero based budgeting
Gridlock is dangerous – Congress will come along with right leader
Energy – states should decide offshore drilling, expand leases, support XL
No federal control of education but states need high standards


Scott Walker


Cancel Iran Deal
Send power back to the states
Defund Planned Parenthood, repeal Obamacare
Refundable health tax credits, cross state lines, HSAs
Approve XL
Eliminate NLRB – make all states "right to work"


Ben Carson


Congress should call Obama's bluff on Planned Parenthood
Seal the border, cut off the "goodies", farms need workers but no citizenship
Eliminate regulations, implement a flat tax
Obama doesn't get to decide if we are a Christian Nation
Was radical liberal until heard Reagan speak


Ted Cruz


Don't need next president to manage the decline of America
Need someone as conservative as Obama is liberal to fix things
Break the "cartel", repeal Obamacare, implement flat tax
Judicial retention elections to rein in rogue judges
School choice is civil rights issue of our time
Day of appeasement and apology for America must end


Rick Santorum


"Blue collar conservative"
Flat tax, stop illegal immigration, incentivise manufacturing
Supports Ex-Im bank, federal minimum wage
Refugees – all the Syrians are Muslim, where are the Christians?
Reform social security by indexing retirement age


Marco Rubio


Reform education – emphasize alternatives to college, trade schools, etc
Must address debt and deficit, reform social security by extending age for younger people
Moral clarity on foreign policy, expand military, take care of veterans
Immigration reform: close border, e-verify, visa tracking, entry based on merit not family
Need president with "sense of urgency", term limits for Congress


Rand Paul


Lower taxes, less regulation, defend 2nd amendment
Take message to new audiences
Resist encroachments on religious liberty
Too many government agencies have swat teams
Reform social security and medicare with higher retirement age


Carly Fiorina


Fix tax code – make it 3 pages long
We never roll back regulations – just talk, want to do
After winning Senate – should have made a difference
Can lead congress through technology, public pressure
Core values matter


Bobby Jindal


Religious liberty created the USA
Need to fire everyone in DC to make things work
Don't accept there is no way to end Obamacare with Obama in White House
If Republican party can't do the job, create a new one that can
Education dollars should follow the children


Chris Christie


Make the GOP live up to its rhetoric
Entitlement reform – raise retirement age, eliminate for those >$400K retirement income
Freedom of religion not only for churches, but officials must follow the law
Would enforce federal marijuana laws on the states
Education – refinance loans, have national service option , colleges should itemize bills
In a quickly expanding field of GOP Presidential hopefuls, several candidates stand out for what they are not.
Most have been in the political arena for much of their careers and currently are sitting (or former) Governors or Senators, and few of these have made much of a mark in the private sector.
Only two – Ben Carson and Carly Fiorina, are known for their accomplishments outside of politics and have not held public office. Carson, a leading neurosurgeon, was inserted into the national psyche when he took on Obama at a national prayer breakfast. Fiorina, well known for being the first woman to lead a Fortune-50 tech company, made an unsuccessful attempt at a Senate seat from California. One of these, Carly Fiorina, visited Palm Beach County on Wednesday and spoke to a good size crowd of party regulars.
Considered a long shot, barely registering in the polls, Ms. Fiorina should not be overlooked. Since her debut on the national stage, she has rained fire on the presumptive Democrat nominee Hillary Clinton, deftly turned the tables on snarky media types like Chuck Todd and Katie Couric, and staked out her own territory in the emerging campaign narratives.
For whatever reason, Clinton is getting a pass from most of the other candidates, in spite of hiding from the press and having new scandals emerge on a regular basis. Carly Fiorina on the other hand, is not shy about pointing out Clinton's most outrageous failings, from the Benghazi coverup, to the server in her basement, to the "pay to play" aspects of Clinton Foundation slush fund collecting millions from foreign governments as she handed out favors as Secretary of State. Mrs. Clinton will not be able to hide behind the "war on women" shield with this candidate.
Speaking forcefully on the characteristics of leadership and what she can bring to the table, Ms. Fiorina's themes are compelling.
There is an uneasy feeling in the country she says, that we are losing something precious. The country that has offered the most opportunities to all people, regardless of who you are or where you came from, has lost its way. Oppressive regulations like Dodd-Frank have consolidated the too-big-to-fail banks, while driving smaller regional and community banks out of business. Crony capitalism is alive and well, and only the larger companies have the financial and legal resources to effectively deal with big government. Our foreign policy is in disarray as we curry favors with adversaries like Iran while turning back on our traditional allies like Israel and Egypt.
Carly Fiorina lays out a reasoned case that our government needs change, making the arguments without resorting to red meat and applause lines. Whether her campaign will catch fire is anybody's guess, but she brings a new perspective and should liven things up as we go forward into the debate season.