Please Join us on Wednesday, February 28, for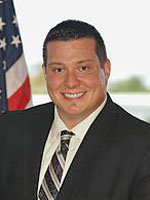 Ryan Hnatiuk
Republican Party of Palm Beach County Executive Director
Join us in February as Ryan will give us the local party's view of this election year, with particular focus on the March municipal elections.
We will also be inviting candidates to introduce themselves at this meeting.
$25/Members $30/Guests
Pay at the door.
Make sure you submit your RSVP in advance by clicking on our link below:

  Please respect Club rules: Cell Phones Silenced, Business Casual Attire, Please No Jeans
Republican Club of the Palm Beaches
PO Box 2585
West Palm Beach, FL 33402
(561) 855-0749
---
Ryan C. Hnatiuk
is the Political and Executive Director of the Republican Party of Palm Beach County. He was born and raised outside of Flint, Michigan. He, and his wife of 14 years, have one son who is a very active toddler and is a full time job in his own right. Since coming to South Florida, Ryan has had the opportunity to work with various candidates, consultants and fundraisers primarily within Palm Beach County but has also consulted in the counties of Martin, Broward, and St. Lucie. He has worked in various sized campaigns from town council to congressional and county commission seats.
Ryan recently attained his master's degree from Nova Southeastern University in Conflict Resolution and is also a certified mediator. Prior to getting his master's degree he received his bachelor's degree in Political Science from the University of Michigan and a minor in International Relations with primary focus being on Latin American governments and their emerging markets. He is looking to use the skills he has attained to strengthen friendships, build lasting coalitions and open dialogue to attract new people to the Republican Party.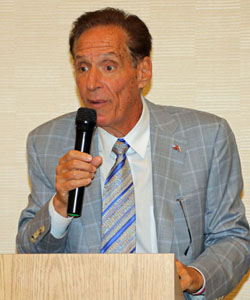 "Black People Vote on Sunday!" – with this thought, former county GOP Chairman Sid Dinerstein laid out for us all the clues that were readily available to predict the election of Donald Trump.
Describing a conversation he had with his daughter in New Hampshire on November 7, the night before the election, Sid gave us some insights into the demographics of 2016 and how it differed from when Obama was running. While at the time he wasn't sure how it would turn out, there were encouraging signs.
The re-election of Barack Obama in 2012 saw a turnout in the black community that exceeded white turnout for the first time (on a percentage basis). Many thought the Obama coalition would turn out for Clinton and insure her victory, but it was not to be. On the traditional "souls to the polls" day – the Sunday before the election, turnout in Palm Beach County was very heavy, but the proportion of black voters seemed to be less. (Editor's note: In fact, 24% of the 23K voters on 11/6 self-identified in voter rolls as black, compared to 33% on 11/3/2012.) This was happening all across the country.
Another clue was the polling, much of it designed by the media to suppress Republican vote.
Zander Lurie, CEO of Survey Monkey (the company that provides much of the polling muscle for the mainstream media), was known to have contributed $600K to the Clinton campaign. All pollsters are not dishonest of course, but when you know how the boss wants the poll to come out it can have an effect.
There are many ways to diddle with poll results. One that was used was to adjust the outcome to reflect the demographics of the 2012 race. Another was to adjust where the polling was done. If I wanted to make the case that independents were supporting Clinton with big numbers, I could have polled them in Century Village. Since many "independents" have a tendency to vote just like their neighbors, independents in heavily Democrat areas will lean that way.
Survey guru Nate Silver has usually been right about outcomes, but he is an aggregator of polls, not a pollster himself. Thus, if the majority of the polls show a Trump defeat, than he was led to draw that conclusion.
An ironic side-effect of this bias in the polls was over confidence by the Clinton campaign. They had no internal polling of their own and believed the polls that were skewed to make them appear to be running away with it. As a result, they neglected to campaign in Wisconsin and Michigan, believing those states to be solidly in their camp.
---
Also at this meeting, we heard from Steve Hyatt who is running a "candidate school" for GOP candidates down in Plantation.
The next meeting will be April 26 for which we are trying to line up a speaker from the James Madison Institute.
If you live in Palm Beach Gardens or Jupiter, please remember their is a runoff election on March 28. Republican Joe Russo is the Republican in the Gardens Group 5 race, as is Ron Delany in Jupiter District 2.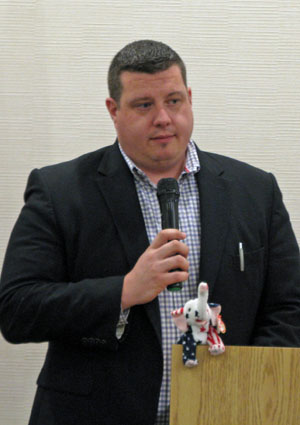 February's lunch featured PBC GOP Executive Director Ryan Hnatiuk in support of the Republican candidates this March at the city and town level.
Municipal elected officials are the key to keeping Florida a "red state" – it is the farm team for filling spots at higher levels. Just next year for example, district 4 County Commissioner Steven Abrams and FH89 Representative Bill Hager are both term limited and both districts will be challenging to hold. (Abrams CC4 seat is D+1, and Hager's seat is R+2). Good candidates for both of these races are needed.
Ryan is working with candidates in Palm Beach Gardens, Jupiter, Highland Beach and Lake Worth this cycle, but cautions he cannot help if there are Republicans competing against each other (as in the Gardens group 5 race which includes Joe Russo and Kevin Easton).
Since municipal races are typically about non-partisan issues like roads, taxes, capital budgets, development, etc. – there is really no rationale to discourage anyone from running, but Republican voters should at least know which of the candidates are on our side. For this, Ryan directs you to the county GOP website at www.palmbeach.gop.
Present at the meeting were some of the Palm Beach Gardens candidates who are Republicans: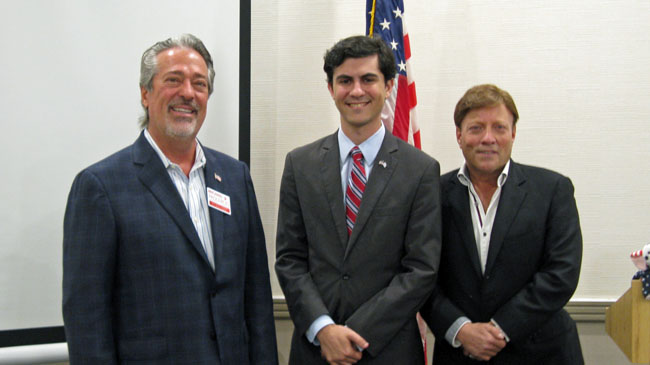 PBG Candidates Michael Paolercio (grp 1), Joe Russo (grp 5), Ron Berman (grp 3)
Show your support for Ron by attending this upcoming Meet & Greet. RSVP to Tom Plante, 561-236-8891.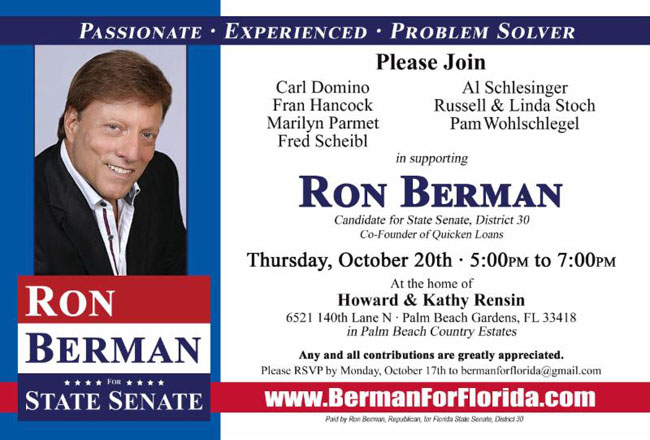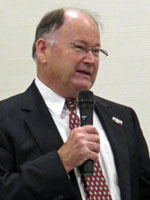 Peter Feaman, Florida Committeeman to the Republican National Committee, gave the September lunch meeting crowd his perspective on the 2016 elections.
Admitting that Donald Trump was not his first choice (or second, or third, or…..), Peter now says he is firmly on the Trump Train, given the alternative would be so devastating to the country. Many other elites are slowly coming around now, even some of the diehard Bush people, including Donald Rumsfeld and Ari Fleischer in recent days. (By one recent poll, more than 90% of Republicans nationally are supporting Donald Trump).
In Peter's view, it is the backlash against the do-nothing Republicans in Washington that is driving the Trump movement. After major gains in the House in 2010, the Senate in 2014, and state offices all across the country, there has been no effective opposition to the Obama agenda, and we are losing bigtime on the economy and the culture. It is a new populist revolt – mirrored by the Brexit vote in the UK.
Trump is the only candidate fighting the corrosiveness of political correctness, the dangers of Islamic terrorism and the invasion of illegal immigrants, and he is taking his message to places Republicans have just not gone – from the Black churches in the inner city to the Hispanic enclaves of Little Havana.
There are four requirements needed to maintain a strong country – secure borders, a common language, a shared culture, and a single strong currency. Only one candidate sees and will act on this principle.
Also at the meeting were Debbie Maken, a surrogate for her husband Sonny Maken, running for Port Commissioner, and Cindy Hite for the Rick Roth campaign (FH85).
Next month's meeting will address the pros and cons of the five ballot questions we will decide in November – including medical marijuana, solar energy regulations and the county's proposed 1 cent sales tax. Don't miss it!
The first televised debate between Brian Mast and Randy Perkins has been RESCHEDULED for October 17th at Palm Beach State College. Tickets are free and open to the public, but you
must register ahead of time
and pick up the tickets ahead of time. I hope you can join us and show your support for Brian.
Tickets for the original date are still valid.
What
Congressional District 18 debate hosted by The Palm Beach North Chamber of Commerce
When
Wednesday October 17, 2016 from 6:00 PM to 8:00 PM EDT
5:30 p.m. Reception
6:00 p.m. Auditorium Doors Open
6:30 p.m. Auditorium Doors Close
(Due to the live broadcast, guests arriving after this time will not be allowed inside the auditorium)
7:00 p.m. Debate Begins
Where
Palm Beach State College Eissey Theatre
11051 Campus Drive
Palm Beach Gardens, FL 33410
The debate will air live on WPEC CBS12 from 7:00 p.m. to 8:00 p.m. in the West Palm Beach television market, which is comprised of households in Palm Beach, St. Lucie, Martin, Indian River, and Okeechobee Counties. It is the 38th largest television market in the nation including 825 thousand TV Households and more than 1.5 million Adults 18+.
Thank you,
Alex Melendez
Brian Mast for Congress
Cell: 727-692-3212
Please Join us on Wednesday, September 28, for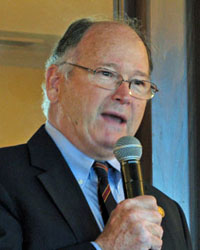 Peter Feaman
Florida Committeeman to the RNC
Peter will speak about getting everybody behind our Presidential candidate Donald Trump.
$25/Members $30/Guests
Pay at the door.
Make sure you submit your RSVP in advance by clicking on our link below:

  Please respect Club rules: Cell Phones Silenced, Business Casual Attire, Please No Jeans
Republican Club of the Palm Beaches
PO Box 2585
West Palm Beach, FL 33402
(561) 855-0749
---
Peter Feaman was unanimously elected in 2012 by the Executive Committee of the Republican Party of Florida to be its National Committeeman to represent Florida Republicans at the Republican National Committee in Washington, DC. He currently sits on the Rules Committee of the RNC.
As a practicing trial attorney, Mr. Feaman was recognized by the Florida Trend magazine as one of Florida's "Elite Lawyers" in the field of business and commercial litigation in 2011.
In 2007, Mr. Feaman published his first book entitled "WAKE UP, AMERICA!" subtitled, "Understanding Jihad for Dummies!" His second book "THE NEXT NIGHTMARE" with a forward by former Congressman Allen West, was published in 2012. Mr. Feaman has appeared on Fox News and numerous radio talk shows throughout the United States to discuss the threat of radical Islam, current political issues and how political correctness will destroy America.