Join us for our last meeting of the year, featuring Charles Bender of A Place of Hope – a private, faith-based residential child welfare organization in Palm Beach County.
---

Charles L. Bender, III
Executive Director
Charles is the Founding Executive Director of Place of Hope, a faith-based and state-licensed family-style residential child-caring agency for abused and neglected children, located in Palm Beach Gardens, Florida. He earned his B.A. degree in Sociology from Florida Atlantic University and also studied at the University of South Florida in Tampa, Florida.
Charles came to Place of Hope in 1999 following many years of work with various housing, social, and human services organizations throughout Palm Beach County. He has participated in numerous community committees, task forces, special initiatives, and boards. He has been a team member of several other local leading organizations including: Palm Beach County Housing and Community Development, Adopt-A-Family of the Palm Beaches, Inc., the City of Delray Beach Community Development Division. The majority of Charles' work has involved low-income individuals and families, homeless and substance abusing populations, and at-risk/dependent children and youth. Prior to spearheading implementation of Place of Hope, Charles was a primary volunteer in the multi-year visioning and development processes while still a "vision" of Christ Fellowship (founding church).
Charles has significant experience developing and administering social programs and low-income housing initiatives, executing growth plans, implementing federal, state, and local funding programs, building organizational capacity and community coalitions, enhancing service delivery systems, raising capital and annual operating funds, and managing overall non-profit operations.
The October lunch featured Florida House Speaker Will Weatherford. A Wesley Chapel resident, representing District 61 in Pasco County since 2006, Will is currently the youngest Speaker in America at 33.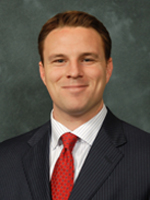 Speaker Will Weatherford
Warmly introduced by District 85 Representative Pat Rooney who said he ran again last year "to serve under Will Weatherford as Speaker", Speaker Weatherford returned the compliment, describing Rooney as "soft spoken, but one who has a lot to say when he speaks".
He began his remarks referring to the government shutdown, which he said, "however you felt about it, at least it pointed out that there are 800,000 federal employees that are non-essential."
In Florida, the GOP gets things done. In the country, we are less free than we were four years ago, but people are voting with their feet – leaving the high tax states with their high unemployment and moving to Texas and Florida and others. FL unemployment is 7% and falling, the HS graduation rate is the highest its ever been, the economy is expanding, and the population has grown by 316,000 people.
Of the three major issues facing Florida today and in the future he listed:
1. Education – the major generator of economic growth – today's unemployment picture is the inverse of what is should be as younger workers aged 20-30 are less likely to find and keep a job than those over 30 – in large part because of problems in our education system. He is not a supporter of Common Core and predicted that the Florida Legislature will not adopt a national curriculum, but will work to set higher standards.
2. Healthcare – next year's session will not expand medicaid in the state – it is a program that doesn't work – instead they will seek free market alternatives.
3. Water infrastructure – there will be focus on the problems of pollution from runoff in the Indian River lagoon and elsewhere, and the security of our water supplies.
Addressing more global issues that he sees as new opportunities for the Republican Party, he cited youth unemployment, particularly what the Obama economics has done to minorities (23% of black youth are unemployed). The younger generations will be asked to bail out their predecessors and the $17 Trillion national debt, while at the same time sacrificing to make lives for themselves.
He spoke of "generational poverty" – that it is caused by government, not capitalism. The fix for it, he said, is not redistribution of wealth, but redistribution of knowledge and opportunity. We need better schools by offering parents a choice of where to send their children. Using the view of the Korean peninsula from space (the south glows brightly, the north is dark), he ended with the thought that the party should endeavor to make Florida shine as bright as anywhere.
---
In other business, VP Anita Mitchell said her goodbyes as she is expected to emerge as the next PBC Party Chair.
Carol Hurst reported that her nominating committee has defined a slate of candidates for the November 6 club election. These include Rick Kozell to return as President, Meg Shannon as VP and Secretary, and Bette Anne Starkey as Treasurer.
Candidates present included Ellen Andel, Alan Schlesinger and Ilya Katz who are competing for Patrick Murphy's CD18 seat, and Henry Colon to challenge Ted Deutch in CD21. Ellen Andel's campaign got a boost this week when former Congressman Allen West came out to support her along with 7 sitting Republican Congresswomen from around the country.
Some pictures from Fred and Delia

The Republican Club of the Palm Beaches is honored to be joined on November 6 by Colonel Arthur DeRuve for a Veterans' Day Tribute to our troops.
Colonel DeRuve was commissioned as a second lieutenant and served for two years with the 2nd Armored Division as a Cold War soldier in Germany. He continued to serve in the Army's active reserve for an additional 28 years, including 11 years as a military liaison officer for West Point. He is a graduate of the Army's Artillery & Guided Missile School, the Command & General Staff College, and the Army War College.
WHEN: Wednesday, November 6, 2013
WHERE: Bear Lakes Country Club, 1901 Village Boulevard, WPB 33409
TIME: 11:30 (Doors Open) Noon (Program Begins)
COST: $20 Members / $25 Guests
RSVP: 561.832.0695 | info@gopclubpb.org |
Call or e-mail by Noon, November 4.
We expect exceptional turnout!
BEAR LAKES COUNTRY CLUB
1901 Village Blvd.
West Palm Beach, FL 33409
(Valet Parking)
Members / $20 Guests / $25
(Join/Renew your membership through December 2013)
Pay at the door | RSVP "No-Shows" will be invoiced.
Please respect Club rules:
Cell Phones Silenced
Business Casual Attire
Please No Jeans
REPUBLICAN CLUB OF THE PALM BEACHES / BEAR LAKES/ WED OCT 30 / LUNCH
Hear Ye…Hear Ye…… "The Speaker Is Coming…..The Speaker Is Coming!!"
Speaker of The Florida House of Representatives, Will Weatherford, will be the star luncheon speaker at The Republican Club of the Palm Beaches.
WHERE:
Bear Lakes Country Club
1901 Village Boulevard
WPB 33409
TIME:
11:30 Doors Open noon program begins
DETAILS:
Buffet Lunch / cell phones silences / no blue jeans
COST:
$20 Members / $25 Guests
RSVP: 561 832-0695 / info@gopclubpb.org
Call by October 18th; We expect exceptional turnout.
Join us at Bear Lakes Country Club for a reception with Governor Rick Scott.

Join us for Lobster Fest 2013. Use the [PRINT] link (upper right) to print the form and send it (along with a check) to the address noted.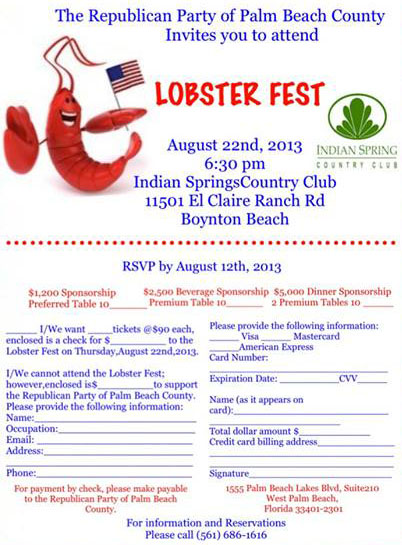 Palm Beach County is for the most part, run by Democrats. Only 2 members of the county's state delegation (senators and representatives) are Republican, one of the county Constitutional Officers (Property Appraiser Gary Nikolits – a club member who was present today), and 2 of the 7 county commissioners. The latter includes newly elected district 1 commissioner Hal Valeche, and today's speaker, Chairman and Mayor Steven Abrams.
Appointed to the district 4 seat in 2009 by then Governor Crist to replace Mary McCarty, he was unopposed in the 2010 elections, and now serves as the agenda-setting Mayor of the county.
In his remarks, Mayor Abrams touched on his record opposing tax increases in the yearly budget cycles (not always successfully as it takes 4 votes to prevail), and how he has pushed for spending where it is necessary, such as road maintenance. This year, as the Administrator wants to raise the tax rate to bring in $25M more than last year, blaming it mostly on the Sheriff and his $510M budget (8.3% increase), the Mayor has asked that the Sheriff "sharpen his pencil so the taxpayer doesn't have to sharpen theirs".
His outlook on the county economy was upbeat, as he sees rising property valuations, and evidence of economic upturns as disparate as Tri-Rail ridership (he is on the Tri-Rail board) and divorce filings in the courts.
Taking some questions, the Mayor addressed beach replenishment funding (asked by Town of Palm Beach Councilman Bill Diamond), moving to non-partisan elections at the county level (not enough votes for it), who pays for the Singer Island sand pumping plant (Town of Palm Beach), federal sequestration (not much of a county impact), putting the IG under the Clerk's Office (just an idea – would have to go to the voters), how to rein in the Sheriff's budget (commission has limited ability in this area).
On the somewhat controversial topic of 7/50 (the 7 county, 50 year plan), he said that some regional planning is a good thing (for Tri-Rail expansion for example), while some other areas are better decided locally. Kevin Foley, a former chairman of the Treasure Coast Regional Planning Council, cautioned that 7/50 is not "Agenda 21″, and should not be confused with that much maligned program. (For more information on 7/50, see: SE Florida Prosperity Plan ).
Prior to Mayor Abrams, we heard from Florida's GOP National Committeeman Peter Feaman, who painted an upbeat picture of the national party (beating the Democrats in fundraising) as well as local (don't believe everything you read in the papers).  He cautioned us to stop "eating our own" and please give Marco Rubio the benefit of the doubt, even if you oppose his immigration reform plan.
Also present were district 18 congressional candidates Alan Schlesinger and Ellen Andel, and district 23 candidate Ilya Katz.
There will be no club lunches in July and August. The November meeting will feature American Conservative Union Chairman Al Cardenas.
Don't miss hearing the important issues facing our County from this very insightful and knowledgeable public official…County Mayor Steve Abrams
Wednesday, June 19, 2013
11:30 am…Doors Open; Registration
11:45 am…Buffet Begins
12 pm to 1 pm…Program
Bear Lakes Country Club, 1901 Village Boulevard, WPB 33409 (Valet Parking)
Members/$20 Guests/$25
Pay at the door / Affirmative RSVP "no-show" will be invoiced.
RSVP by Monday, June 17 via email: info@gopclubpb.org or phone: (561) 832-0695 (leave message)
Join/Renew your membership through December 2013
Please respect Bear Lakes Club Rules: Cell Phones Silenced / Business Casual Attire (No Jeans Please)
Speaker Biography
---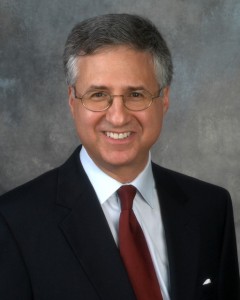 Club members and guests will find another star spangled luncheon as they have the pleasure of hearing from Palm Beach County's Mayor, Steve Abrams. The Mayor's credentials are not only impressive but show how clearly qualified he is to be the leader of our County Commission as its Chairman.
Many will remember how effectively Mayor Abrams, who served as Mayor of Boca Raton from 2001-2004 guided Boca through the Anthrax scare at the AMI building in his City. He won high praise Nationally for his adept leadership under incredible circumstances. Before becoming Mayor, Steve served 5 terms on the City Commission. Known for his steady and calm leadership style he brought those skills to the County where he was appointed in 2009 and elected to a full 4 year term in 2010…without opposition.
Remember this month we will be meeting JUNE 19th, the third Wednesday in June, and RSVP's are a MUST. Word is out that Mayor Abrams is our headliner and RSVP's are already coming in.
This will be our last meeting until September…a great way to end the season and give all of you "Happy Summer" wishes.
Please join RCPB for a legislative wrap up by two of our most ardent Republican leaders – State Senator Joe Negron and Representative Pat Rooney and our 2013 Anne Roberts Memorial Scholarship Presentation.
Wednesday, May 22, 2013
11:30 am…Doors Open; Registration
11:45 am…Buffet Begins
12 pm to 1 pm…Program
Bear Lakes Country Club, 1901 Village Boulevard, WPB 33409 (Valet Parking)
Members/$20 Guests/$25
Pay at the door / Affirmative RSVP "no-show" will be invoiced.
RSVP by Monday, May 20 via email: info@gopclubpb.org or phone: (561) 832-0695 (leave message)
Join/Renew your membership through December 2013
Please respect Bear Lakes Club Rules: Cell Phones Silenced / Business Casual Attire (No Jeans Please)
Speaker Biography
---
Senator Negron represents District 28 in Florida' state senate.  Prior to serving in his current role, Mr. Negron served in Florida's House of Representative, and was the 2006 Republican candidate in the congressional race for the 16th district of the U.S. House of Representatives.  Mr. Negron has been a strong leader on a number of conservative issues: he has served as Vice Chair of the Budget Committee, he has been a defender of needy children in our communities, and he has been a voice for the long-term preservation of Florida's natural resources.
Representative Rooney represents District 85 in the Florida House of Representative.  Mr. Rooney has been an integral part of the South Florida business community for years and he brings to Tallahassee a wealth of private sector experience.  In the State Capital, he has been a strong supporter of pro-growth, pro-job fiscal policies, and he has been a champion of improved education for all students in our state.
Mr. Negron and Mr. Rooney will provide our Club with a wrap-up of this past legislative session and will offer their insight into the future for the State of Florida.
The Anne Roberts Memorial Scholarship is available to any Republican undergraduate or graduate student seeking to further their education. Students must have a GPA of 3.0 or above and plan to attend an accredited college. Applicants must be Palm Beach County residents and registered (or pre-registered under 18 yrs. of age) Republicans.  Please join RCPB on May 24th as we present four $500 Scholarships for 2013.
Dan Martell will highlight our April lunch at Bear Lakes
Wednesday, April 24, 2013
11:30 am…Doors Open; Registration
11:45 am…Buffet Begins
12 pm to 1 pm…Program
Bear Lakes Country Club, 1901 Village Boulevard, WPB 33409 (Valet Parking)
Members/$20 Guests/$25
Pay at the door / Affirmative RSVP "no-show" will be invoiced.
RSVP by April 22. via email: info@gopclubpb.org or phone: (561) 832-0695 (leave message)
Join/Renew your membership through December 2013
Please respect Bear Lakes Club Rules: Cell Phones Silenced / Business Casual Attire (No Jeans Please)
**NOTE** Apply Now for the 2013 Anne Roberts Memorial Scholarship.
Speaker Biography
---
Daniel Martell
Daniel Martell is President and CEO of the Economic Council of Palm Beach County, a not-for-profit, non-governmental, non- partisan organization established in 1975. Its members come from all geographic areas of the county, represent all major business categories and encompass all sizes of businesses. Its mission statement is simply, "Create an environment to help business prosper."
Mr. Martell came to the Economic Council of Palm Beach County from local sugar company, Florida Crystals Corporation as Vice President of Real Estate. His responsibilities at Florida Crystals included overseeing local government affairs, corporate land development, and real estate investments.
Beginning his career as the Director of Government and Political Affairs for the Gold Coast Builders Association, he was responsible for the regulatory and political issues confronting the home building industry in Palm Beach and Broward counties. He received his undergraduate degree in Political Science from the University of Florida, Juris Doctor from the Shepard Broad Law Center at Nova Southeastern University, and obtained a Certificate of Corporate Finance from Cornell University in 2011.