Sid Dinerstein Talks about the Trump Victory
---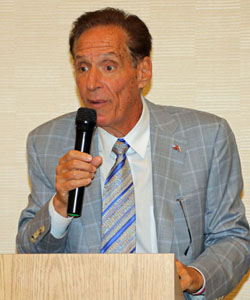 "Black People Vote on Sunday!" – with this thought, former county GOP Chairman Sid Dinerstein laid out for us all the clues that were readily available to predict the election of Donald Trump.
Describing a conversation he had with his daughter in New Hampshire on November 7, the night before the election, Sid gave us some insights into the demographics of 2016 and how it differed from when Obama was running. While at the time he wasn't sure how it would turn out, there were encouraging signs.
The re-election of Barack Obama in 2012 saw a turnout in the black community that exceeded white turnout for the first time (on a percentage basis). Many thought the Obama coalition would turn out for Clinton and insure her victory, but it was not to be. On the traditional "souls to the polls" day – the Sunday before the election, turnout in Palm Beach County was very heavy, but the proportion of black voters seemed to be less. (Editor's note: In fact, 24% of the 23K voters on 11/6 self-identified in voter rolls as black, compared to 33% on 11/3/2012.) This was happening all across the country.
Another clue was the polling, much of it designed by the media to suppress Republican vote.
Zander Lurie, CEO of Survey Monkey (the company that provides much of the polling muscle for the mainstream media), was known to have contributed $600K to the Clinton campaign. All pollsters are not dishonest of course, but when you know how the boss wants the poll to come out it can have an effect.
There are many ways to diddle with poll results. One that was used was to adjust the outcome to reflect the demographics of the 2012 race. Another was to adjust where the polling was done. If I wanted to make the case that independents were supporting Clinton with big numbers, I could have polled them in Century Village. Since many "independents" have a tendency to vote just like their neighbors, independents in heavily Democrat areas will lean that way.
Survey guru Nate Silver has usually been right about outcomes, but he is an aggregator of polls, not a pollster himself. Thus, if the majority of the polls show a Trump defeat, than he was led to draw that conclusion.
An ironic side-effect of this bias in the polls was over confidence by the Clinton campaign. They had no internal polling of their own and believed the polls that were skewed to make them appear to be running away with it. As a result, they neglected to campaign in Wisconsin and Michigan, believing those states to be solidly in their camp.
---
Also at this meeting, we heard from Steve Hyatt who is running a "candidate school" for GOP candidates down in Plantation.
The next meeting will be April 26 for which we are trying to line up a speaker from the James Madison Institute.
If you live in Palm Beach Gardens or Jupiter, please remember their is a runoff election on March 28. Republican Joe Russo is the Republican in the Gardens Group 5 race, as is Ron Delany in Jupiter District 2.