In November, RCPB Honors Veterans
---
Please join us on Wednesday, November 19th at Bear Lakes for our annual event honoring Veterans.
Our Speakers will be retired JSOC Explosive Ordnance Disposal Expert Staff Sgt. Brian Mast and Ms. Chris Noel, founder of Vetsville in Boynton Beach.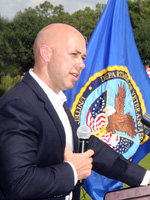 Staff Sergeant Brian Mast retired in June, 2012, from the U.S. Army's elite Joint Special Operations Command (JSOC) as an Explosive Ordnance Disposal Operator (EOD), or Bomb Tech, following the amputation of both legs while serving in Afghanistan. He Honorably served his country for 12 years, has been named an honorary member of the 75 Ranger Regiment for his many life-saving actions while assigned to them, been recognized by the President of the United States, and has been awarded among many other medals for Valor, Merit and Sacrifice: The Bronze Star Medal, The Army Commendation Medal.
SSG Mast now resides in Ft. Lauderdale, FL with his wife of 8 years, Brianna, and his 4 and 2 year old sons Magnum and Maverick, and are expecting a little girl in February.
He is a full time student of Economics at Harvard University, an Explosive Specialist with the Department of Homeland Security, and a tireless advocate working to bring awareness to many veteran and non-profit organizations.
Ms. Chris Noel is a native of West Palm Beach, and has worked tireless for many, many years to provide housing for homeless veterans. She travels nationally speaking to groups to raise money for VETSVILLE located in Boynton Beach.
A former actress/singer who went to Vietnam in the 1960's with Bob Hope and the USO to entertain and support veterans when most of the Hollywood" crowd did not, Chris played opposite Steve McQueen and also in a movie with Elvis Presley.
---
Wednesday, November 19, 2014
Program Noon – 1PM, Buffet starts at 11:45AM
$20/Members $25/Guests
Pay at the door (RSVP "No Shows" will be invoiced.)
Make sure you submit your RSVP in advance by clicking on our link below:

Please respect Club rules: Cell Phones Silenced, Business Casual Attire, Please No Jeans
Republican Club of the Palm Beaches
PO Box 2585
West Palm Beach, FL 33402
(561) 855-0749