March Meeting Will Feature Larry Horist
---
The Republican Club of the Palm Beaches
Invites You to Attend its upcoming meeting
on Wednesday March 25
featuring:
Conservative Speaker Larry Horist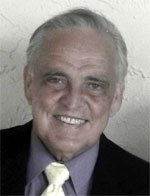 LARRY HORIST speaks on a wide variety of subjects' but is most noted for his presentations on current events, politics and government. He is considered an authority on public policy, and has appeared on scores of radio and television public affairs programs, including his own radio show on WIND. He has been a guest lecturer at colleges and universities, including Harvard, Northwestern, DePaul, Loyola, Knox College and Hope College, and had multiple appearances at the Conservative Political Action Conference (CPAC). His opinions often appear on newspaper editorial pages, most recently in the Miami Herald, Washington Times, Chicago Tribune, Sun-Sentinel, the Palm Beach Post and Crain's Chicago Business.
Horist was the first conservative winner of the "golden pickle" debate trophy from the liberal leaning Bughouse Square Debates – a long time Chicago tradition. Also, Loyola University political science students voted Horist the best guest speaker of the semester – in a lecture serious that featured a number of nationally prominent political figures.
Wednesday, March 25, 2015
Program Noon – 1PM, Buffet starts at 11:45AM
$20/Members $25/Guests
---
Pay at the door .
Make sure you submit your RSVP in advance by clicking on our link below:

Please respect Club rules: Cell Phones Silenced, Business Casual Attire, Please No Jeans
Republican Club of the Palm Beaches
PO Box 2585
West Palm Beach, FL 33402
(561) 855-0749