Please join us as the Republican Club of the Palm Beaches
hosts a Florida Legislative Update
on Wednesday April 27th.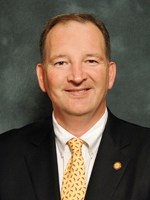 Pat Rooney
Join us in April as Representative Pat Rooney (FH85) brings us up to date on the legislative session that has just concluded.
Join us. Be informed. Get Involved.
---
Wednesday, April 27, 2016
Program Noon – 1PM, Buffet starts at 11:30AM
Holiday Inn Hotel and Conference Center
Palm Beach Airport
1301 Belvedere Road
West Palm Beach, FL 33405
Phone: 561-659-3880
$25/Members $30/Guests
Pay at the door.
Make sure you submit your RSVP in advance by clicking on our link below:

  Please respect Club rules: Cell Phones Silenced, Business Casual Attire, Please No Jeans
Republican Club of the Palm Beaches
PO Box 2585
West Palm Beach, FL 33402
(561) 855-0749
The March lunch consisted of a 6 way candidate forum for Congressional District 18. Please refer to the table below to watch a video of the candidates remarks.
Originally conceived for nine, the group was reduced by the departure of Carla Spalding to NPA status, and Paul Spain to run in CD21 to our south. Another candidate, Noelle Nikpour could not be reached to invite.
A Word about the Video
---
The video of the event, recorded for youtube by South Florida Grassroots Research, can be viewed in full HERE. The video icons in the table below are links into the full video that start with the candidate of interest. If you have trouble viewing any of it, you can click on the "youtube" link under the video frame and view it there using the index provided.
After an introduction to the district by moderator Fred Scheibl, each candidate was introduced and given 6 minutes to address in general terms a slate of topic areas provided to them beforehand. The areas are:
Your vision for the country
The role of Congress in a post-Obama government
The experience you bring to the job
Any specific policy proposals you will pursue in the Congress
The committees you would like to be selected for if elected
The caucuses in the House with whom you would align (eg. Freedom Caucus, Republican Study Committee, etc.)
Why you are the best choice to represent District 18
CD18 Candidate Forum

Carl Domino

Carl Domino knows the value and reward of hard work and the gift of the American Dream. After working his way through college and earning a degree from Florida State University, he completed active duty service as a Naval Officer in Vietnam and then earned his M.B.A. from Harvard University. Carl retired from the Navy as a Commander in the U.S. Navy Reserves.

Carl has built two businesses from scratch, creating more jobs and opportunity for his neighbors in the Palm Beach Treasure Coast region.

In 2002, Carl was elected to the Florida House of Representatives where he served for eight years and is best known for his property tax reduction proposal called "portability," which enabled local homeowners to move to newer properties without losing the property tax benefits of the home they left.

Carl is a longtime resident of Jupiter where he resides with his wife Sharon and 16-year-old twins Reagan and Mason.

Carl wants to reduce the federal debt, reform the tax code, support the 2nd amendment and reduce federal regulations including repealing Obamacare.

Dr. Mark Freeman

Dr. Mark Freeman grew up in Springfield Massachusetts and attended the University of Massachusetts at Amherst, followed by Boston University Medical School. He spent several years in emergency room medicine in the northeast, then became a primary care physician in Boynton Beach where he owns and runs five Humana Medicare Advantage Centers and an Urgent Care Center.

A veteran, Mark was a Lieutenant Commander in the Naval Reserve and is committed to improving health care for veterans. On his first foray running for office, he seeks to repeal Obamacare, secure our borders, energize our economy, and strengthen our national security.

Rick Kozell

A local resident for 25 years, Rick Kozell is a Jupiter High School graduate who obtained a degree in Business Administration from Wake Forest and started a small marine services business in northern Palm Beach County. Later, he returned to school, earning a law degree from Georgetown University Law Center in Washington, DC in 2010. While at Georgetown, Rick served as a law clerk to the ranking Republican member of the Senate Judiciary Committee. He later served in a similar role for Senator George LeMieux; and then for Senator Tom Coburn, and was Counsel to a member of an administrative court in cases involving federal regulation of small business.

Locally, he has been involved with many community organizations including Place of Hope, the PBC Land Development Regulation Advisory Board, the Heritage Foundation, the James Madison Institute and the Republican National Lawyers Association. Rick is also a past President of this club.

Rick supports lower taxes and regulations, local control of education, a strong national defense, and limiting the power of government.

Brian Mast

Growing up in western Michigan, Staff Sergeant Brian Mast enlisted in the military after high school in 1999. For 12 years, he served in the US Army, including time with the Joint Special Operations Commnand (JSOC) as a bomb disposal expert, where he was on the front lines against Radical Islam, finding and disarming improvised explosive devices (IEDs).

While on his last deployment in Afghanistan, he suffered catastrophic injuries resulting in the loss of both his legs, and was awarded the Bronze Star, the Army Commendation Medal for Valor, the Purple Heart and the Defense Meritorious Service Medal.

Throughout his long rehabilitation, he provided his expertise to the National Nuclear Security Administration, the Bureau of Alchohol, Tobacco and Firearms, and the Department of Homeland Security, and recently donned the uniform of the Israeli Defense Forces.

Moving to Florida after his retirement in 2012, he is currently working on a Harvard degree, and would like to continue his service to our country as a US Congressman. He would like to repeal Obamacare, strengthen our support for Israel, stop the implementation of the Iran nuclear deal and oppose the lifting of the Cuban embargo.

Rebecca Negron

A 30 year resident of Martin County, Rebecca Negron has a BS degree in Nursing from Indiana Wesleyan University, and has practiced as a registered nurse in the field of obstetrics for 15 years.

Having served on the Martin County School Board since 2012 she was re-elected without opposition in 2014. Rebecca is married to Senate President designate Joe Negron.

Rebecca opposes common Core, would like to balance the budget, simplify the tax code, repeal excessive regulations and replace Obamacare, defund Planned Parenthood and fix the VA.

Rick Roth

Rick Roth, a 37 year Wellington resident, grew up in Belle Glade. He is the President of the 5000 acre Roth Farms east of Belle Glade, and has been producing vegetables and sugar cane there since 1976.

Although never holding a public office, Rick has been involved in politics for years, including fund-raising for former Governor Bob Martinez, and he has held a variety of leadership positions with the Florida Farm Bureau Federation and the Florida Fruit & Vegetable Association and is on the board of the Sugar Cane Growers Cooperative of Florida.