Presenting our annual Anne Roberts Scholarships to 2 new recipients and two continuing students, PBAU Professor Wes Borucki gave us his thoughts on the Presidential election and its implications for the Supreme Court.
A Ted Cruz supporter who is now supporting our presumptive nominee Donald Trump, Wes talked about the need for party unity. Trump may be a "roll of the dice" he said, but that is much preferable to the certainty of a what a Clinton win would mean.
Hoping to avoid a court that legislates from the bench, we must avoid the kind of liberal judges Clinton would appoint, and the list that Donald Trump has published is very encouraging. Wes noted the disappointment we have had with some justices in the past, even those appointed by Republican Presidents, Roberts on Obamacare for instance. It was Hamilton, writing in the Federalist Papers who admonished the court to follow the constitution and not their personal views.
Regarding the electoral choices, Wes cautioned to beware the Libertarians – just look at how a Libertarian taking votes from Ken Cuccinelli installed Clinton Crony Terry Mcauliffe as Governor of Virginia. (Mcauliffe won by 2.5% with Libertarian Robert Sarvis taking 6.6% of the vote).
Quite frankly, major party realignments happen every 20 or so years. Perhaps it is time.
---
The 2016 Ann Roberts Scholarship winners are:
TWO NEW SCHOLARSHIPS: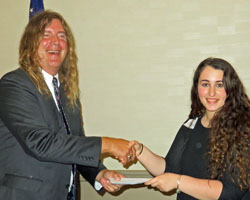 Lauren Staff (Palm Beach Gardens – New Scholarship)
Lauren graduated from Dwyer High School in 2015 and is presently at Gator Land, University of Florida in her sophomore year, majoring in telecommunications. She writes for the Independent Florida Alligator Newspaper and works for ESPN Gainesville Radio 95.3 researching sports statistics. She tells us that Law School is in her future.
Jenna Calderaio (Jupiter – New Scholarship)
Jenna graduated from Jupiter Community High School this year and is headed to Seminole Land, FLORIDA STATE UNIVERSITY,to major in business and entrepreneurship looking forward to a career in product development. She attended the Florida Sunshine Summit in Orlando witnessing 14 presidential candidates which supported her goal to be a strong conservative leader for the Republican Party on a local or national level. (Jenna could not attend the meeting.)
RETURNING SCHOLARS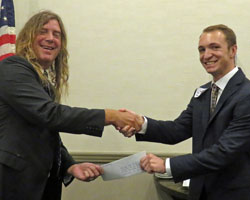 Dylan Brandenburg ( North Palm Beach – Returning Scholar)
Dylan will graduate in December this year from Florida State. As a major in criminology, is working this summer in our local State Attorney's office in the White Collar Crime and Public Corruption area. He has also worked in Tallahassee with the Police Benevolent Association as well as under our CFO Jeff Atwater in the Division of Insurance Fraud. Dylan received 'best witness" at this year's UF Charity Mock Trial Tournament representing FSU of course! After graduation, he hopes to go to Florida State's Law School.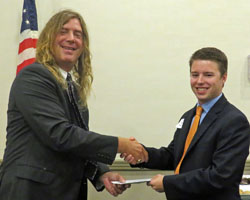 Ryan Walker (Palm Beach County / Glades – Returning Scholar)
Ryan is at the University of Florida ready to graduate next year in political science and international relations. He is very active in his fraternity, Alpha Gamma Rho, which is rooted in agriculture and philanthropy. He helped raise $28,000 for charities that help cancer patients. Ryan is also minoring in Agricultural and Natural Resource Law; he sees Law School in his future. Ryan is involved with Alachua Republicans, College Republicans and is volunteering with the State House for Chuck Clemons (R)
---
Candidates in attendance included
Christina Spain
(SOE),
Paul Spain
(CD21), and
Ron Berman
(FS30), along with surrogate Jim Watt for his son
Andrew Watt
(FH85).
Allen Schlesinger
, who ran for CD18 in the last cycle, said he is contemplating a run for FS30. The meeting was kicked off with a patriotic song from
Chris Noel
.
Please Join us on Wednesday, July 27, for
"How Do You Know Your Vote Is Counted? Taking Back the Supervisor of Elections Office"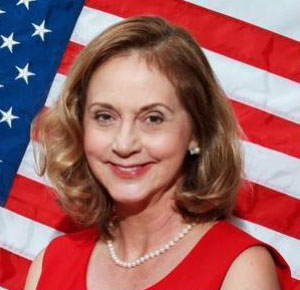 Christine Spain
Former Broward GOP Chairman and
Candidate for Supervisor of Elections
Christine will speak about the current operation of the PBC Supervisor of Elections Office and how we can do better.
$25/Members $30/Guests
Pay at the door.
Make sure you submit your RSVP in advance by clicking on our link below:

  Please respect Club rules: Cell Phones Silenced, Business Casual Attire, Please No Jeans
Republican Club of the Palm Beaches
PO Box 2585
West Palm Beach, FL 33402
(561) 855-0749
---
Christine Spain is a former Chairman and Vice Chairman of the Broward Republican Party and served as Chair and Alternate Chair of the 23rd Congressional District Caucus of the State Executive Committee of the Republican Party of Florida.
Christine is an Attorney and a Certified Public Accountant in private practice in Boca Raton, concentrating in the areas of corporate law and business transactions. She has more than thirty years of experience in law, accounting and business, including 14 years working with national law and accounting firms in Miami-Dade, Broward and Palm Beach Counties.
Christine has also served on Boards of non-profit organizations serving the needs of children at risk and works with and supports veteran's organizations. Over the years, she has also been active in numerous political federal, state and local political campaigns and political causes and volunteered as an election pollwatcher. She is passionate about electoral integrity and preventing voter fraud.
Christine has resided in South Florida for more than 40 years and is a graduate of Florida universities, including the University of Miami School of Law, where she served on Law Review, Florida International University and University of Florida. She currently resides in Palm Beach Gardens with her husband Paul Spain, a candidate for U.S. House of Representatives, Congressional District 21.
Please Join us on Wednesday, June 22, for the awarding of the 2016 Annual
Anne Roberts Scholarships
and celebrate the day with our young scholars.
Presenting the awards for the club will be our featured speaker, Dr. Wes Borucki.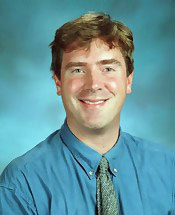 Dr. Wes Borucki
Associate Professor of History
Palm Beach Atlantic University
Dr. Borucki will discuss the Supreme Court and its assumption of more power over time, how the stakes for the Court's nominations are so important in the coming election, and why we need to pay attention to these issues.
$25/Members $30/Guests
Pay at the door.
Make sure you submit your RSVP in advance by clicking on our link below:

  Please respect Club rules: Cell Phones Silenced, Business Casual Attire, Please No Jeans
Republican Club of the Palm Beaches
PO Box 2585
West Palm Beach, FL 33402
(561) 855-0749
---
Dr. Borucki, who has taught at PBA since 2003, specializes in the antebellum South, the Civil War and Reconstruction, Colonial America, and presidential history. He teaches undergraduate history and humanities and also serves as a faculty member in the Frederick M. Supper Honors Program. Dr. Borucki's first book,
George H.W. Bush: In Defense of Principle
, was published in early 2011 by Nova Science Publishers as part of its First Men: America's Presidents series. His second book,
Ronald Reagan: Heroic Dreamer
, was published as part of the same series in 2014.
The history of sports is one of his side interests: his article "Moving on Up?: Whether Leaps to Division I-A in American College Football Benefit Universities" was published in June 2015 in The Journal of Sports Management and Commercialization; and in 2003, his article, "You're Dixie's Football Pride: American College Football and the Resurgence of Southern Nationalism," was published in the journal Identities: Global Studies in Culture and Power.
Dr. Borucki has written book reviews for The Journal of Southern History, The Register of the Kentucky Historical Society, and The Alabama Review. He had the honor of serving as both a junior fellow and senior fellow in The University of Alabama's Blount Undergraduate Initiative, in which he taught the freshman sequence of this interdisciplinary studies program that is similar to PBA's humanities core program in its subject matter. At Alabama, he served as editor-in-chief of the journal Southern Historian in 1998-1999. He is a contributor to Oxford University Press's Encyclopedia of African American History, Macmillan Press' multi-volume Civil Rights in the United States, and the Gale Group's Women in World History. His dissertation, "Yankees in King Cotton's Court: Northerners in Antebellum and Wartime Alabama," was the basis of presentations at the Families at War Conference at the University of Richmond, the Alabama Studies Symposium in Montgomery, and local historical group meetings for the Alabama Humanities Foundation's Speakers Bureau. Dr. Borucki is a long-standing member of the Lutheran Church-Missouri Synod and is currently the secretary of the vestry of Redeemer Lutheran Church in West Palm Beach. He served as a lay delegate to the Lutheran Church-Missouri Synod's convention in St. Louis in 1998 and to the LCMS's Florida-Georgia District Conventions in 2006 and 2015.
Dr. Borucki has a B.A from Michigan State, an M.A from the University of Massachusetts – Amherst, and a Ph.D. from the Univerity of Alabama.