In our annual salute to veterans, of which there are quite a few among the club members, Army Veteran and Congressman Brian Mast recapped his first year in the House representing CD18.
Brian was introduced by Sid Dinerstein, who pointed out that although Brian's seat has been targeted by the national Democrats mainly because of the narrow (R+4) district demographics, with popular State Attorney Dave Aronberg likely sitting it out the seat is not that much at risk if we all give Brian our support.
Club President Fran Hancock echoed that theme, pointing out that although some club members live outside the district, Brian is still "our" Congressman since he is the only Republican representing any district in Palm Beach County. As such, we should give him our support, our time and our money as he runs for re-election in 2018.
Brian's remarks addressed some of the questions he was asked before the meeting got started.
A common question was "is Washington really as awful as it sounds?". The answer is somewhat mixed. One of his pet peeves about many of those that inhabit that swamp is the total disingenuousness of his colleagues. It is hard to fathom how someone can call you vile names while in front of the cameras, then come by later and act as if they are your friend seeking support for their pet legislation. Not the way real people behave.
Brian was hopeful for passage of tax reform this year, and he was one of the needed votes for it to pass the House this past Thursday. What will happen in the Senate (where hundreds of bills have gone to die) is anybody's guess, but the House has done their part. The House bill will be good for people in district 18 – statistics indicate that currently only 30% itemize, and the new standard deduction will drop that to 5-10%. What the left is spinning about tax cuts only for the rich is very misleading. Pointing out that the amount of taxes that are levied in each bracket is declining for all earners, tax reduction is real.
He spoke of his work on VA Legislation, and the fact that through his efforts, he now has a Congressional Office right in the West Palm Beach Medical Center. He encouraged veterans with problems with the system to drop by his office and seek his assistance.  He also hoped that other representatives throughout the country choose to do the same and get offices at their local VA hospitals.
In the Q&A session that followed, he was asked what we could do to help. "Bring your friends to the townhalls" he said. That is the way to create new activists when they witness the rhetoric on the left and how he stands up to it.
---
At the conclusion of the meeting, members voted on the slate of officers for 2018 who will be installed at the December 6 lunch featuring Dimensional Harmony. They are President Fran Hancock, Vice President Fred Scheibl, Secretary Claire Anderson Jones, and Treasurer Bette Anne Starkey.
Join us at the Holiday Inn, Airport on Wednesday, December 6th for Holiday Music from Boynton Beach High School's phenomenal "Dimensional Harmony, as they dance, sing and harmonize their way through another great and successful year! Their outstanding performance in London led to an invitation to perform at Carnegie Hall in April 2017! This group is on the move and shows what creativity is all about!
---
Dimensional Harmony is a sensational choral group of 50 extraordinarily talented Boynton Beach High School students that has received state and nationwide acclaim for its amazing singing ability!
Under the direction of innovative director, Mr. Sterling Frederick, Dimensional Harmony has been widely recognized nationwide over the past few years, winning first place gold in several competitions in New York and Atlanta; and also winning the prestigious National Show Choir Title. Members have performed their creative interpretations of inspirational songs, ballads, and popular hits live on the "Today Show," as well as at numerous theaters. Other venues for Dimensional Harmony's accomplishments include the Florida Music Educators Association Music Conference, openings for renowned gospel singers, and at events held at Donald Trump's Mar-A-Lago Resort.
Dimensional Harmony members are a proven example of the positive impact dedicated students, their dedicated leader, and the Performing Arts can have on the local community and on developing future successful, well rounded, and responsible, young individuals and citizens! With their incredible talent, grace, harmony, and unlimited enthusiasm, they deserve the opportunity to become our ambassadors and compete at the highest level.
At the October lunch, Daniel Peterson, Director of the Center for Property Rights at the James Madison Institute in Orlando gave us his view of the legacy of property rights in the US, and the forces that threaten them today.
Contrasting the situation that existed in the Soviet Union, where all property was owned by the state and most people lived in apartments, he described our system dating back to the Puritan colony in New England were they considered individuals as "stewards of the land".
Our system provides 5 rights associated with property: the freedom to possess property, to enjoy it without interference, to use it for our own purposes, to exclude others from it, and to dispose of it as we see fit.
Threatening these rights are three forces:
First is the "Government Estate" – ownership of land by governments that crowd out private uses. As example, 50% of all the land west of the Mississippi is owned by the federal government, including 83% of the state of Utah. This not only takes the land out of public use, but it starves state and local government of property tax revenue (sometimes offset by PILT – payment in lieu of taxes, where the locals are partially compensated by the federal landowner.)
In Florida, about a third of the state is government owned with 30% in conservation (37% in PBC). The cost of acquisition of these 2.5 million acres was about $2500 per acre under the P2000 and Florida Forever programs. Added is the cost of maintenance ($173M per year) and the cost of bonding ($145M / year).
Another threat is over reaching regulations, particularly things like the EPA's "Waters of the US", which attempted to restrict usage of most of the surface water in the country, (including presumably rain puddles in your backyard) and the "Clean Power Plan" which the Obama administration was using to destroy the coal industry and hamstring energy use and production.
The third threat is the Bureaucratic maze with its sometimes conflicting permitting requirements from all manner of jurisdictions that makes business creation or even enjoying your own property difficult.
---
Please join us next month as we salute veterans with
Congressman Brian Mast on Saturday, November 18th
. The usual lunch meeting will be free to all veterans – bring your friends!
Please join us at the Airport Holiday Inn on Saturday November 18th. As this is our annual Salute to Veterans meeting, veterans eat free! Bring your friends.
---
Prior to his election to Congress, Brian followed in his father's footsteps by serving in the U.S. Army for more than 12 years, earning medals including The Bronze Star Medal, The Army Commendation Medal for Valor, The Purple Heart Medal, and The Defense Meritorious Service Medal. While deployed in Afghanistan, he worked as a bomb disposal expert under the elite Joint Special Operations Command. The last improvised explosive device that he found resulted in catastrophic injuries, which included the loss of both of his legs.
While lying in bed recovering at Walter Reed Medical Center, Brian's father gave him advice that has stuck with him to this day–to ensure the greatest service he gave to our country and the best example he set for his children was still ahead of him. Brian took this advice to heart and dedicated himself to finding new ways to serve our country and his community.
Brian remained on active duty following the injuries and provided expertise to the National Nuclear Security Administration and the Bureau of Alcohol, Tobacco & Firearms during his recovery process. After his retirement from the Army, he continued working in counter-terrorism and national defense as an Explosive Specialist with the Department of Homeland Security. Brian subsequently received a degree from the Harvard Extension School and volunteered to serve alongside the Israel Defense Forces to show support for the freedom Israel represents throughout the Middle East and the world.
In Congress, Brian strives to serve as he did on the battlefield: without regard for personal gain or personal sacrifice. He is a member of the Transportation and Infrastructure Committee, where his priorities include fixing the pressing water quality issues stemming from Lake Okeechobee, and the Foreign Affairs Committee, where he uses his military expertise to help strengthen the safety and security of the United States.
Brian lives in Palm City, Fla. with his wife Brianna and three children, Magnum, Maverick and Madeline.
Our guest speaker in October is the Director of the Center for Property Rights at the James Madison Institute in Orlando.
The Orlando-based Coalition for Property Rights established in 2001, is incorporated under JMI as the Institute's new Center for Property Rights. Daniel Peterson, the Coalition's former executive director, is the director of this Center and continues to reside in Orlando. As the director for the Center for Property Rights at The James Madison Institute, he oversees the efforts of securing the fundamental right to property for all Floridians. Dan has been deeply involved in the central Florida business and political communities since 1999. Previously, he worked in both the Florida Senate and the Florida House as a legislative assistant. Prior to that, he was a public affairs manager for SPRINT. His responsibilities included lobbying, community affairs and serving on numerous boards.
Before moving to Orlando in 1998, Dan served as Campus Crusade's director of affairs for Eurasia (the former Soviet Union). During his 14 years of residency in Moscow, Russia, Dan traveled extensively as a seminar leader and conference speaker. Dan is also a former recording artist with SSS International Records. He still plays as a solo artist at various venues around Central Florida.
Please join us at the Airport Holiday Inn on Wednesday October 25.
The Supreme Court has an outsized influence on American life, and the lifetime appointment of justices means an ideological inbalance in the court can resonate for years. The President's replacement of Antonin Scalia with Neil Gorsuch maintains the balance for now, but future vacancies will be fraught with peril.
Our guest speaker in September is an expert in this area and did his dissertation on the evolution of Supreme Court power in America. A professor at PBAU with 10 years of experience as a practicing attorney, Professor James Todd will give us his insights on the current Supreme Court dynamics.
Please join us at the Airport Holiday Inn on Wednesday September 27.
---
Dr. Todd has a B.A. from Jacksonville State University, a J.D. from the University of Alabama School of Law, and a Ph.D. from the University of Alabama.
Dr. Todd joined the Palm Beach Atlantic faculty in 2015 and specializes in American governmental institutions and constitutional law. He serves as advisor to the pre-law students at PBA and directs the PBA Mock Trial team, and he teaches on the subjects of American government and politics, constitutional law, political science research methods, the Freedom in American Society core course, and courses in the humanities sequence.
His current research focuses on Supreme Court influence in American society. He has presented numerous conference papers on this topic, and his dissertation "Neither Sword Nor Purse: The Development of Supreme Court Influence over Lower Courts" traces the evolution of Supreme Court power in America. He regularly gives public talks about the Constitution and the Supreme Court in the West Palm Beach area.
Dr. Todd spent ten years in law practice, working in real estate law and as an in-house attorney in the oil and gas industry. He is a past member of the board of directors of the American Association of Professional Landmen, an oil and gas industry professional society.
In 2008, Dr. Todd won the Mont Pelerin Society's F.A. Hayek Essay Contest for his essay "Governments, Peoples, and their Uses of Technology" and received recognition for his award at the Society's meeting in Tokyo.
Outside of the classroom, Dr. Todd spends as much time as possible with his wife, Annie, their daughter, Elizabeth, and their two rescue dogs, Mr. Darcy and Buckley. He and his family attend Family Church in West Palm Beach.
August speaker Commissioner Steven Abrams gave us a county update, and some musings on the events of the day today at the Airport Holiday Inn.
As a term-limited Commissioner with 15 months remaining, he described the difficulty in seeking higher office for any Republican in Palm Beach County. After a successful challenge by the League of Women Voters after the 2012 redistricting, in which coastal and inland districts (aligned with unique and different interests) were forced into two east/west districts with significant Democrat majorities, we are left with CD21 (Lois Frankel's D+17 district) and CD22 (Ted Deutch's D+14 district which is mostly in Broward). There is also Alcee Hasting's minority interest district (CD20 which is D+49) and northern CD18 (R+3) which is already held by a Republican – Brian Mast.
Steven joked that Ted Deutch told him how his district had improved – with the Broward area he now has three "Century Villages" and two "King's Points" – areas where Republicans are an endangered species.
When the redistricting for county offices was in the planning stages, he looked into expanding his district 4 north into Palm Beach (it now ends at South Palm Beach). ("At least he would get invited to better parties.") Unfortunately, districts have to be contiguous and the minority interest district 7 needed a piece of the island to connect Riviera Beach and WPB sections to Boynton and Delray.
With reference to the unpleasantness surrounding the Mar-a-Lago bookings that have involved local pols, Steven said the county commission tries to stay out of the 'ideological' issues that churn in Tallahassee and Washington, and focus on the "pothole" issues – public safety, economic prosperity and quality of life.
In these areas, he described some ongoing projects – a golf development coming to non-aviation airport land, the shooting range being built on SFWMD land at Mecca Farms, and issues surrounding western development like the GL Homes projects and Minto's "Town of Westlake".
He also pitched his idea to realize a $15M savings in the budget (over several years), by NOT buying the SFWMD land in the Ag reserve that has been offered and which staff wants the county to purchase. He would rather see it sold to farming families and kept zoned for agriculture.
---
In other business:
– Fran mentioned that John Clark (one of our scholarship recipients) just got married.
– Our scholarship fund is depleted (please give!) and there will be a fundraiser later in the year.
– Linda Gore mentioned that "Furry Friends" is holding an event in Jupiter on Saturday from 9-3 where you will be able to watch dogs surfing.
Photos from Carol Porter:
Join us for Lobster Fest 2017. In addition to keynote speaker James O'Keefe, we will hear from Agriculture Commissioner and candidate for Governer Adam Putnam, Congressmen Brian Mast and Ron DeSantis, and State Senator Jack Latvala.
The Club has a table started at Headquarters under the name of Fran Hancock, so please call 561-686-1616 for reservations and say you are with the Republican Club of the Palm Beaches.
For more information, see lobsterfest.gop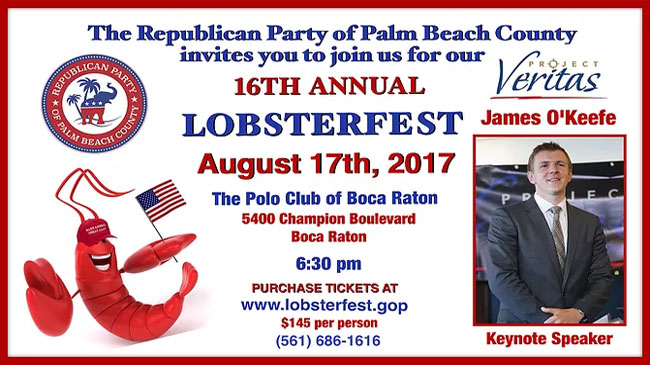 This year has been a busy one for the Palm Beach County Board of Commissioners. Approving plans for spending the sales tax windfall, dealing with the opioid crisis, sober homes, new development, the future of the Agricultural Reserve and passing bigger and bigger budgets have all been on their plate.
Join us at the Airport Holiday Inn on Wednesday August 23 to hear Commissioner Steven Abrams speak about these and other county issues.
---
Steven L. Abrams has been a member of the Palm Beach County Board of County Commissioners since 2009, winning re-election twice. He had the distinction of serving as the first mayor of Palm Beach County in 2013 and is currently the longest serving commissioner on the Board.
Commissioner Abrams has a lengthy record of public service. He is the former mayor of Boca Raton, elected in 2001 and re-elected in 2003 without opposition. In the 2005 election, Abrams received the most votes in city history and was later named mayor emeritus when he stepped down in 2008 due to term limits.
The Commissioner also served five terms as a city council member in Boca Raton from 1989 to 1999 and was a member of the city's Planning and Zoning Board between 1987 and 1989. Abrams is a past president of the Palm Beach County League of Cities and a founding board member of the Florida League of Mayors.
As mayor of Boca Raton, Abrams gained national exposure and local respect during the first bioterrorist attack in American history when anthrax was discovered at the AMI building in Boca Raton in 2001. He received the Distinguished Service Medal from the Israel National Police for his leadership during the ordeal and testified on national television on the government's response at the invitation of a United States Senate subcommittee.
Abrams is a member of the Florida and District of Columbia Bars. Prior to moving to Florida, he served in the White House as law clerk to the counsel to President Reagan and current Supreme Court Chief Justice John G. Roberts Jr.
While attending Harvard University, Abrams received the Philo Sherman Bennett Prize for the best government senior thesis and was graduated magna cum laude in 1980. He received his law degree from The George Washington University in 1985. In 2005, Everglades University awarded Abrams an honorary doctorate of humane letters.
Commissioner Abrams was born in Des Moines, Iowa and grew up in Philadelphia, Pennsylvania. He and Debbie have been married for 34 years and have two children.
Currently, Abrams serves as chairman of the South Florida Regional Transportation Authority and secretary of the Palm Beach County Solid Waste Authority. He also chairs the county's Broadband Committee, Intergovernmental Coordination Program, and the Value Adjustment Board.
In addition, he sits on the boards of the Florida Atlantic University College of Engineering Advisory Board, Metropolitan Planning Organization, National Association of Counties Transportation Policy Steering Committee, and the Kravis Center for the Performing Arts. He also serves on the Boca Raton Bowl Executive Committee.
This year, we were able to fund five young scholars from the Anne Roberts Scholarship Fund – three past recipients who are continuing their studies and two new winners. Eligible applicants must be attending or plan to attend an accredited institution and have and maintain a 3.0 GPA. New applicants also submit a 500 word essay on the importance of a higher education.
The awards were presented by William M. B. Fleming, President of Palm Beach Atlantic University. In his remarks, Mr. Fleming contrasted his institution with others which have been in the press lately with riots, shutdowns of conservative speakers and other challenges to diverse thoughts and opinions. PBAU is "not burning", he said, and there are no "safe speech zones" necessary.
Unlike those schools who feel it necessary to publicly pledge support for "discourse", at PBAU they embrace those things that make us an exceptional nation. In the "American Free Enterprise Statement" he passed out:
PBAU "confidently affirms the values and institutions that historically have informed American society – religious liberty; traditional Judeo-Christian morality; limited constitutional government; the Rule of Law; personal and political accountability'; and capitalism – the system of free enterprise. We believe that America is truly an exceptional nation, which was founded and has flourished under the guiding providential hand of God."
This year's new winners are:
Madison Andrews, Palm Beach State University. Madison moved to West Palm Beach from Utah, and now attends Palm Beach State as a sophomore. She is involved in the PBS Art Alliance Club and Student Government Association. In high school she participated in Model United Nations and most recently, has worked with Junior Achievement of the Palm Beaches and Associated General Contractors of America. Her passion is education as the basis of making changes in our country. To quote Madison, "The trouble with learning from experience is that you never quite graduate." Her vision is to improve America's education system by ensuring that students learn the pillars of Junior Achievement: financial literacy, work readiness, and entrepreneurship.
Jessica Blakely, Belmont University. Jessica, of North Palm Beach, returns to Belmont University in Nashville as a sophomore. While at Kings Academy in WPB, she was also enrolled at Palm Beach Atlantic University with courses in Public Speaking, Business and Algebra. She studied Spanish in Spain. Among her achievements, she was one of the winners of the PB POST Pathfinder Awards, a President of future Business Leaders, 2nd place winner at the PBA Entrepreneurship Challenge, and she created her own business "Make Up Doctor". At Belmont, she was elected Congresswoman in the Student Government and participated in Intramural Volleyball. Jessica has volunteered in Haiti Missions, Belle Glade Missions, and Puerto Rico Missions, through the Christ Fellowship Office. Jessica aspires to study for a Doctorate and to work as an economic analyst at the Federal Reserve.
Returning scholars this year are:
Jenna Calderaio – Florida State University. Jenna, from Jupiter and the last of 5 children, enters her Sophomore Year at FSU where she is majoring in Business and Entrepreneurship. She was politically active with the 2015 Sunshine Summit in Orlando, witnessing 14 Presidential candidate presentations. She participates in FSU's Republican's Club and is very involved in the Catholic Student Union. Jenna has been selected to work on Missionary Core for the union this upcoming year. She is very active in the pro-life movement, participating in the March for Life this past January. She has plans to join the skeet and trap club and hopes to join the FBI upon graduation. This summer, she has an internship at Congressman Brian Mast's office and another at Wall Financial Group.
Lauren Staff – University of Florida. Lauren of Palm Beach Gardens, is entering her Junior Year at UF majoring in telecommunications. She is passionate about sports and aspires to work with ESPN or FOX Sports after she attends UF Law School. Lauren has been a staff writer for the "Florida Alligator" newspaper and also works with ESPN Gainesville radio 95.3. She has been active in Student Government, Honor Society, and Future Business Leaders and she participated in "Support our Troops" of North Palm Beach at Dwyer high school.
Ryan Walker – Stetson Law. Ryan, of Wellington, graduated this year from UF majoring in political science. During his career he has spent time with the campaigns of Rep. Bill Hager, Governor Rick Scott, and Candidate Chuck Clemons of Gainesville. As a REC member in PB County, he was Chair of Western Community Development and worked on the campaigns of Mayor Anne Gerwig of Wellington, and Candidate Howard Coates. He was very active at UF in the Alpha Gamma Rho fraternity. Ryan will be attending Stetson Law School this fall.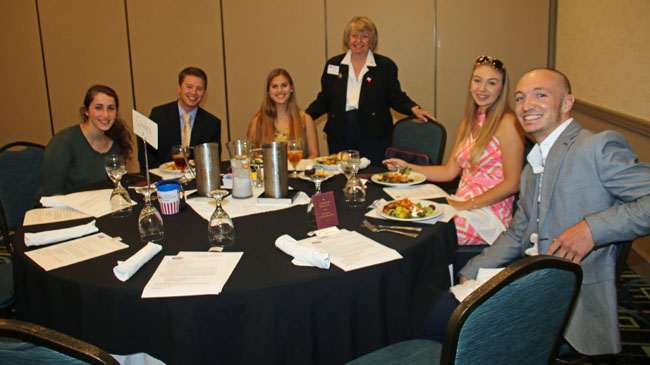 Winner's Table with Scholarship Chair Bette Anne Starkey. (Picture by Carol Porter).